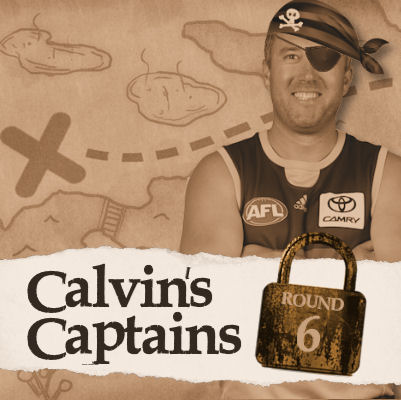 Calvin's Captain round 6. Join the chat while it lasts and fire away any #AFLFantasy questions https://t.co/rQ4WG1ZKGl

— Calvin (@CalvinDT) April 26, 2017
TOM IN TASSIE
Everyone's mate, Tom Mitchell heads to Tassie this weekend to a ground that gives up plenty of Fantasy scores. It's his first trip to the UTas ground (formerly Aurora) as he plays the Saints who are currently the 3rd easiest team to score against and the team that has given up the most 100+ scores to opposition players this year. He scored 90 and
142 on St Kilda in his most recent games and is averaging 123 with a lowest score of only 115. What a jet.
Last week, Selwood (175), Duncan (131), Touhy (131) and three other Geelong boys went bananas on St Kilda and Tom will as well, he'll be massive and might even push the 150 mark… oh and nearly made my #1 spot this week. However…
This is why he didn't… last week, Dangerfield was very slow over the first three quarters as St Kilda targeted him (with Seb Ross I believe) as the main threat. St Kilda have publicly said, they like to target one opposition player. In the final term, they moved to Selwood who was on fire, freeing up Danger who finished with a 60 odd point final term.
So who will they target this week? Isaac Smith, Hodgey… or Tom. My prediction is they probably wont target anyway, but if they do… we need to be ready.
The forecast is going to be 18 degrees and sunny, which should suit Nick Riewoldt if his ankle is 100%. Which it is, because he continued playing last week after a mild tweak. Voldt only managed 72 though, which was his lowest score since round 11 last year. Hawks are the 2nd easiest to score against at the moment and he even had 123 on them in 2016, which happened to be in Tassie.
He has great history against the Hawks and if he's fully fit, expect him to be back to his absolute best this weekend.
Got nothing to do on Saturday after the footy and you're in Tassie, find the boys and myself at the GUNNERS ARMS for a few brews and to chat all Fantasy fortunes and failures. See ya there
ZACH ATTACK
Under the Etihad roof, Zach Merrett averaged 119 last year from 9 games. The man is a monster and proved to us all (mainly me) that we can't look too deeply into stats when we are dealing with jets like him. His ANZAC Day record concerned me last week and that's why I'll be ignoring the fact he plays the Demons this week who are the hardest team to score against this week.
Zach had scored 137 and 134 in his last two games and he even had 136 against Melbourne last year. TICK, TICK, TICK… boom. Nothing more I really need to add is there?.
Speaking of people who are playing tough teams, Marcus Bontempelli and his Bulldogs team mates might be in for a long night though as they meet up with the GWS Giants who are staking their claim as one of the hardest to score against. They have given up the least 100+ scores and the least 120+ scores this year and on Friday night, I feel a few of us will get off to a slow start to the round with the likes of Macrae, Bont and Dahlhaus scoring slightly under what we have come to expect.
PIGS IN THE STY
This Saturday, Port Adelaide venture north to the Pig Sty that is the GABBA.
Now, in the past, they have had the wood over our very own Tom Rockliff restricting him to score of 76, 33* and 90. The 76 came last year when he only had 1 tackle, the 33 was a hamstring injury early in the second quarter and the 90 was back in 2015 thanks to a tag from our old mate Kane Cornes. In fact that's a lot of excuses, as over his career, Port are his worst team to score on with just 2×100+ scores coming in his career 8 games against them.
However, his form has been great with previous scores of 124 and 157 and his numbers at the GABBA are mind blowing with 157, 123, 123 and 174 coming in his last four. This my friends clearly out weighs his poor history and it must, but it all must be considered and calculated.
Last week against the Power, Carlton midfielders Cripps (121), Gibbs (101) and Marc Murphy (97) all went pretty well conserving they were pounded by 90pts and that's why we also need to consider the in form Dayne Zorko. He had 157 last week and has scored 139 and 108 at the sty in his last two games. He had 85 and 110 on Power in his last two and as he sits as the #3 player based on form (last three games) at the moment, he's in my top 5 for sure this week.
When Rocky and Zorko are flying, so is Dayne Beams who has averaged 115 in his last three games this year. His record, unlike Rocky, is amazing against the Power that has seen him score 106, 123, 136 and 125 in his last 4 against them. He misses my top 5 (just) this week.
So I'm tipping all the three little pigs here to be big once again. BUT… we must be aware of a couple of things. Port are currently the 3rd hardest team to score 120+ points against.
But when you look at it, Port have played some teams who have been struggling. They've played Sydney who only have Lloyd averaging over 100 and he's a defender. Fremantle and then GWS who only have two guys averaging over 100 and one of them is Jeremy Cameron. They've played Adelaide where Sloane had 139 and Carlton last week.
Rest easy my friends… Brisbane could even win this (maybe) and hopefully the pigs will be oinking all day.
ALARM BELLS?
When I put together Calvin's Captains there are many factors that come into it, and sometimes somethings are just too obvious to overlook. When the alarm bells ring, on some of my findings, a decision has to be made and with the #2 man based on form averaging 138, Rory Sloane is a concern for me this week. He scored 88 against Richmond last year, and the Tigers happen to be the only team in his career he hasn't scored triple figures against. Amazing!
Richmond are the 3rd hardest team to score against at the moment and even though this game is back at Adelaide Oval I am slightly, and I say slightly concerned.
Dusty Martin will be there though and he had 99 on the Crows last year and 125 last week. His form has been great and if you can ignore his injured 63 a few weeks back, he'd actually be averaging the 6th most in the game. However, you all know my take on anyone playing Adelaide in Adelaide at the moment. AVOID!
JUST QUICKLY…
Marc Murphy v Sydney @ the MCG – Although he plays the easiest team to score against, be very careful as Marc only scored 97 last week and might miss this week with a knee injury.
Luke Shuey v Fremantle @ Domain Stadium – On fire at the moment with 119 last week and 132 before that. Should continue this hot run and with only 2.2% ownership, he's very unique.
Patrick Dangerfield v Collingwood @ the MCG – saved his score last week with a huge final term. Had 107 on the Pies last year but Danger has only averaged 95 at the MCG in his last four.
Gary Ablett v Kangaroos @ Etihad Stadium – Old school Calvin's Captains right here cause Gaz nearly made my top 5. He is averaging 125 in his last three and scored 91 on North last year but 119, 119, 148 and 146 before that.
Taylor Adams v Geelong @ the MCG – 88 and 107 in his last two this year and only managed 87 on Geelong in 2016.
Nat Fyfe v West Coast @ Domain Stadium – 87 and 95 in his last two this year. Pass.
Joel Selwood v Collingwood @ the MCG – He's the #1 played over the last 3 weeks with an average of 139 after being boosted by 175 last week. Only scored 70 and 57 on the Pies in his last two and carries a highest score of just 108 at the MCG in his last 7 games there.
Jobe Watson v Melbourne @ Etihad Stadium – This on is for you Dawg. Form hasn't been super, but he is carrying a lowest score of 110 in his last four against the Demons with 143 his last effort… but that was in 2013.
Brodie Grundy v Geelong @ the MCG – 106, 122 and 105 are his last three scores on Geelong but the 'Cox Factor' struck again with Grundy only scoring 86 last week.
Stef Martin v Port Adelaide @ the GABBA – averaging 120 in his last three, Stef had 121 last week and back home at the Sty (that I keep harping on about, sorry) he has scored 114 and 121 this year.
Andrew Gaff v Fremantle @ Domain Stadium – 0x100+ in his last two this year. Pass.
Adam Treloar v Geelong @ the MCG – 144 last week and on fire. Geelong give up the 2nd most 100+ points this year, and in 2016 he scored 116 and 106 against them.  He'll be awesome again.
ODDS: For those who would like to see the odds for Calvin's Captains for round 6, please follow the link provided right HERE.