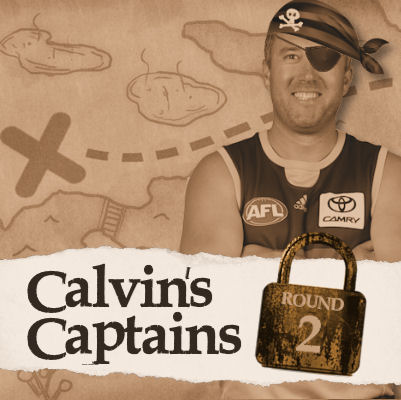 LOOP DE LOOP HOLE
On Thursday night we are presented with a very significant Loop Hole. With Collingwood and Richmond players being locked into our team at the first bounce we have the option for a double chance captain.
LOOP HOLE EXPLAINED: Place your VC on one the guys playing in this game and if they score 125+, then put a non-playing person on your field and give them the 'C'. They will then score 0 and this will make the VC score double and an emergency (you select) will cover this person as well. If you don't like the VC score, pick a captain as you usually would.
Dusty Martin was amazing in his first game with 139 and kicked 4 goals to boost his score massively. He loves playing the Pies and has scored 110, 114, 126, 109 and 107 against them in his five games. He just misses my top 5, but geez… he was awesome last week.
Starting round one with a bang was Taylor Adams who had 12 tackles for his monster score of 151. To do this he played as a pure mid and boy did he thrive. He had 101 and 95 on the Tigers last year and with his ceiling, he fits the loop hole VC option perfectly.
Scott Pendlebury racked up like he usually does with 135 last week but scored 98 and 67 on the Tigers last year.
What I like here though is… last week Carlton had 3 guys score over 120 last week against the Tigers with Marc Murphy top scoring with 139. So that's why I'm heavy on the Pies in this one.
With 33 touches and only 3 tackles, Adam Treloar scored 125 last week. He scored 97 and 115 on Richmond last year and the hardest question coaches will have here is… who do we go with?
Calvin's Captains with Calvin, the Captain of picking Captains. #AFLFantasy https://t.co/oN7GmckB9D

— Calvin (@CalvinDT) March 29, 2017
Top 15 scores between these guys from their last 20ish games played
Dusty 161
Adams 151
Pendles 148
Pendles 145
Adams 140
Dusty 139
Dusty 137
Adams 135
Pendles 135
Treloar 134
Dusty 132
Treloar 131
Treloar 129
Treloar 128
Adams 127
At the end of the night, you want a guy with a huge score, to make you decision easy. My ordering here is impacted by these scores, history and the fact that Richmond gave up so many points last week.
That's why, my top VC options for this week are in order:  Adams, Treloar, Dusty and Pendles.
Why is Treloar in my top 5 and Adams isn't… Loop Hole madness is the answer. VC and C options are completely different. There is no risk with a VC and you can chase scores, but when it comes to picking a C, it's a whole new game and 'consistency' plays are huge roll.
NEWS JUST IN… just heard that Grundy will be solo. Not changing anything here though team. Everything stays as is.
GRAND FINAL REMATCH
Friday night footy will be a cracker this week.
Last week, the Dogs gave the six Collingwood players scores of 114 or more so expect the Sydney midfielders to dominate.
Last week Collingwood's core midfield group, Adams 151, Pendles 135, Treloar 125, Sidey 124 dominated and surely that should mean that Dan Hannebery can scored better than his first round 49.
Luke Parker should score better than his 99 last week, although he did only have 58 on them in the GF, he did have 158 before that.
However, my money is on Josh Kennedy though who had 139 in last years final and 106 early that year. Fresh off 118 last week, JPK might just have shaken his predictable slow start and looks set for another huge year from the word 'go'.
BACON IS GOOD
After posting 127 from 35 touches and just 4 tackles last week, Tom Rockliff certainly silenced his critics. He is back at the GABBA this week, a ground he has scored 120+ at in six of his last seven games.
In his last three games against the Bombers he has gone gang busters with 129, 125 and 147. My only deterrent here is the fact that the Bombers are 'up and about' at the moment and only allowed one Hawk player in Tom Mitchell to crack a ton last week. I'm still very confident he's good for anything between 115 to 160+ this week.
In the same game is Zach Merrett and boy does he have bacon qualities. He scored 129 last week, and last year against the Lions be posted 130. This guy is a freak and surely the front runner to become the third pig in the pen.
GAFF ATTACK
13 marks… 144pts, the third most points by any player in round one. Well played Andrew Gaff.
This week, he plays the Saints (without Voldt) and he'll be nasty again. In his last three against them he has posted 99, 125 and 115 and this time, he's back at home at Domain Stadium.
Last week when Melbourne played the Saints, they scored 8×100+ scores, the most 100+ scores out of everyone last weekend.  The Saints bled points last weekend so expect Gaff to keep the ball rolling this week with something over 120 again.
DANGER ALERT
Who did Gaff smash last week? Who did the Eagles have five players score over 110 against?
Yes… the Kangaroos and this week, it's Patrick Dangerfield's turn. He played them last year for a massive 187, which was under the roof where he is on Sunday. That score consisted of 13 marks and 48 touches. Last week, Gaff (13), Yeo (10) and Redden (8) took many marks and boosted their scores with easy +3's all day.
Dangerfield played at Etihad five times last year for an average 130 and if the Eagle's midfield can dominate against North Melbourne… so can Danger!
JUST QUICKLY…
Gary Ablett v GWS @ SPO – 105 in his first game and only 82 on the Giants last year. He had 176, 122, 132 and 131 before that… but these Giants aren't kids anymore and they are angry coming off a shock off a loss.
Dayne Beams v Essendon @ the GABBA – 78 and 98 are his last two efforts against the Dees.
Tom Mitchell v Adelaide @ the MCG – Only managed 90 last year on the Crows and they are flying at the moment. Tough game.
Aaron Hall v GWS @ SPO – Hasn't scored a ton against the Giants in his last 6 games.
Max Gawn v Carlton @ the MCG – Over his career against the Blues, Max has scored 105, 66, 40 and 52. He is solo… though but these numbers are pretty sad.
Heath Shaw v Gold Coast @ SPO – Last three games against the Suns look like 68, 132 and 125. You never know what Heater will turn up.
Lachie Neale v Port Adelaide @ Adelaide Oval – 92 last week and maybe he won't score like he did last year now that Fyfe is back. Time will tell.
Nat Fyfe v Port Adelaide @ Adelaide Oval – 110 last week was solid, but needs another 20 more points on to that before he's seriously considered for the man job.
Dyson Heppell v Brisbane @ the GABBA – Top score of 156 last week was amazing. Can he back it up? He had 93 on the Lions in 2015 and looks sharp and in really good nick.
ODDS: For those who would like to see the odds for Calvin's Captains for round two, please follow the link provided right HERE.