Calvin's Captains – Rd. 1
It's back! The original and best captain's coverage in the Fantasy land. Need a captain? Then Calvin is your man.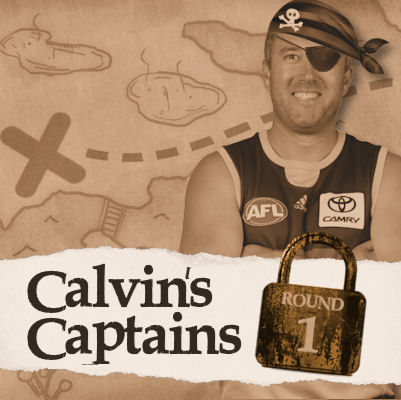 WELCOME
Hi team, welcome to Calvin's Captains for another year.
This weekly article aims to make your life very easy, by pointing you in the right direction when it comes to you selecting a Fantasy captain, who, if you don't know scores you double points.
Whatever your format is… this should help. You might even be looking at making a trade or a Draft shuffle and a piece of info or a stat in here might lean you in one way more than the other.
LOOP HOLE 
Here we go again. The 'Loop Hole' that everyone refers to is a term we created. Yes, we created here at DT Talk that refers to a double chance option when picking your captain when there is a 'partial lock-out'.
On Thursday night, Carlton and Richmond players will be locked into your teams. Therefore, if you place the VC on someone like Dusty Martin and he scores well (130pts) you can secure that score by then moving a non-playing player onto your ground from another team that will score a ZERO. This zero doesn't count and therefore Dusty's score will double. If he scores poorly, then select a captain as you usually would. Easy right?
However… I will not be using the loop hole this week. Honestly, our options from this Thursday night game are limited (excluding a couple) but the main reason is, it's round one… you do not want to have a non-playing player in your team. You want all 30 players playing, scoring and making you money from the word go.
If you need an order though here it is… Dusty, Simpson, Docherty.
HIGH RISK = HIGH REWARD
We might as well start talking about him, but we all know exactly what Tom Rockliff can produce on his day. He scored 101 against the Suns last year at Metricon and 123 before that. Against the Suns over his career he does have some massive numbers as you'd imagine with 190 topping the chart.
His role/position and all this jibberish is a concern, but you will get a huge jump on the Fantasy competition if he turns out a score we all know he can. Personally, he won't be my captain until this 'doubt' is erased, but he will be in my team.
His captain, Dayne Beams obviously didn't play much in 2016, but against the Suns in 2015 he scored 119. His pre-season has been awesome and I'm expecting another good return from him on Saturday.
Zach Merrett is a tricky one with all the other Bombers returning. He had 115 on the Hawks last year and loves playing at the MCG where he has scored 115, 152 and 115 in his last three games there in 2016. His pre-season form suggests he won't be slowing down and for those who are owners, maybe consider him based on these numbers.
Will Max Gawn be solo? This will change many teams once this comes out, but making him captain might come with a few risks. He played five teams twice last year and the Saints were one of them… and they were his worst team to play with scores of 102 and 88, with both scores coming out of Etihad.
New club will slow him down early. Right? Tom Mitchell might have other things to say about that as he plays the Bombers, a team he had 130 on last year. Easier team last year, yes, but still… he opened the 2016 season with scores of 132 and 143. Expect 10+ tackles and another nice score to start a new year as he proves a point.
When it comes to 'X-Factors', there are none bigger than Aaron Hall. The man is a Fantasy freak but his role is always questioned. He had 107 and 114 on the Lions last year and after smashing the pre-season, he should be huge… and should be in your team if you are confident his days of being 'in and out' of their best-22 are behind him.
DANGER v FYFE
Over in the west at Domain Stadium, the two best players meet in the final Sunday game of the round.
Patrick Dangerfield will go head to head with Nat Fyfe in a must see blockbuster.
As far as Fantasy goes, Danger has had his measure with previous scores of 130 and 147 in his last two games against Freo, with scores of 130 and 142 in his last couple at Domain. His score of 130 was with a tag from Michael Barlow but to get that, he did need 4 goals. This is slightly concerning as this will probably mean, Ross Lyon will look to limit his impact by sending someone to him (maybe), or back in Fyfe and let them play head to head.
Fyfe had 116 on the Cats last year and 111 and 109 before that. His form over the pre-season has been amazing with a top score of 147 coming in the final round of the JLT.
My final verdict here: Dangerfield 134 will defeat Fyfe 117.
HISTORY SAYS "NO"
The Crows have mastered shutting down the Fantasy game of Heath Shaw and if he is in your team, you need to know this.
He scored 80 on them last year, his second best score against them in his last six games. So it looks like this… 80, 61, 92, 79, 63 and 70. Yup, not pretty. I wouldn't be restructuring my team based on this, but maybe don't expect anything massive from him at Adelaide Oval on Sunday.
Lachie Neale's scores against the Cats are not good either. He had 72 last year and hasn't scored over 100 against them in his career four games. Maybe a guy to avoid in Match-Day.
5.5% of coaches are gambling on the fact that Gary Ablett is back and after a solid JLT hit out, he might just be back to his best. Brisbane tag him with Mitch Robinson who held him to just 63 last year, before Gaz left in the 4th quarter with an injury. He kept him to 83 before that though and although you might be gambling on having Gaz in your team, I wouldn't be making him captain.
TRY STOPPING HIM
Will someone please try and stop Nick Riewoldt?
WARNING: After reading this, you may want to completely restructure your team to squeeze him in.
The Voldt averaged 122 from 13 games under the roof last year and in round one he meets Melbourne there… a team he smashes. 99 and 126 was what he posted on them last year and prior to that it went 112, 124, 125 and 114. That's top 3 material in Calvin's Captains… Go Voldt!
Todd Goldstein will be rucking against… insert cricket noise.
Last year against the Eagles, he went against Scott Lycett and scored 106 from a massive 65 hit outs. This game is at Etihad and he should monster them with 70+ hit outs for the easiest 100+ score going around. Could Goldy be back to his best from the start?
JUST QUICKLY…
Jack Macrae v Collingwood @ the MCG – Jack nearly made my top 5 based on his scores of 139, 116 and 117 in his last three against the Pies. They are his favourite team to play and he loves the MCG where he scored 107, 139 and 106 in his most recent games. Get on!
Luke Dahlhaus v Collingwood @ the MCG – 112 and 135 are his last two efforts against Collingwood, a team that can bleed points on their day.
Jack Steven v Melbourne @ Etihad Stadium – Pre-season = TICK. Form v Melbourne = NOPE. Had 97 and 113 on the Dees last year and that 113 was his only score in triple figures against them in his last 6 games.
Josh Kennedy v Port Adelaide @ the SCG – The Swans dominated Port in round 20 last year, with four players scoring over 125. JPK wasn't one of them though, but he did manage 105 but … he did have 151 and 120 prior to that. Kennedy averaged 116 in his last 5 games at the SCG and if he gets off to a fast start this year, look out.
Dan Hannebery v Port Adelaide @ the SCG – 129 and 146 are his last two massive scores against the Power, so why isn't he in my top 5? It's a tough gig this, and although he should be feeling very unlucky, he did have a slow/effortless pre-season so I'd like to see what he has in the tank first.
Adam Treloar v Bulldogs @ the MCG – 128 and 119 were his last efforts against the Dogs and his record at the MCG speaks for itself. His last 3 games there were 126, 115 and 113 and he should come out firing. In thr GF let's not forget… Tom Mitchell (141) and JPK (139) both scored well against them.
THE ODDS ARE 

OFF
This website has always been a site of the people and after a few people have expressed their opinion about the dislike of the 'odds' being a part of this article… the odds have now gone.
It's a win to the people!