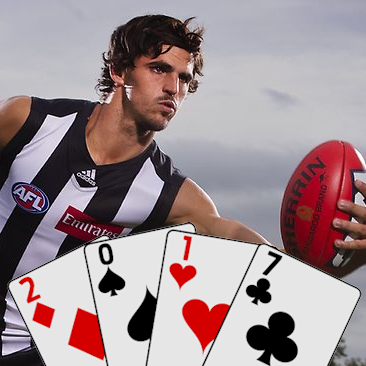 Name: Scott Pendlebury
Team: Collingwood
Position: MID
AFL Fantasy: $641,000
Bye Round: 13
2016 Average: 106.3
2016 Games Played: 22
Predicted Average: 109
Click here for DT Live profile.
Why should I pick him?
I wasn't going to do a Deck on Scott Pendlebury to start with because, you know… vanilla and all of that, but seeing that he was in less than 10 per cent of teams created on DT Live's Drawing Board, I had to think twice.
Pendles has been a star for a long time. His output from 2009, his fourth year, reads:
2009: 98.3 average (20 games)
2010: 106.5 (22)
2011: 116.6 (22)
2012: 110.3 (18)
2013: 112.4 (22)
2014: 108.4 (21)
2015: 111.0 (22)
2016: 106.3 (22)
Collingwood's captain is as cheap as he has been since 2010, relative to his previous average. He's consistently completed the season with an average that puts him in the top half-a-dozen players each year and of course, his durability is outstanding. Last season there was talk mid-late season that he would miss games. It wasn't to be as he went on to play 22 games. He has missed just 10 games in the last decade.
Dubbed Dependlebury for the reasons highlighted above, the 29-year-old is a mark of consistency. In the last five seasons he has gone below 85 on just 10 occasions whilst still pumping out the uber-premium scores going above 120 a whopping 31 times. A stat from Pete on his top 5 targets article said Pendles averaged 115.1 points when the Pies won. This is significant considering they are expected to improve and with Adam Treloar emerging as their most influential midfielder, Scott Pendlebury might be in a position to rack up like he does best.
At the end of the day, there's upside in Pendles due to a slightly down season in 2016.
Why shouldn't I pick him?
Being priced as he is, it's hard to say why you shouldn't pick him. If he pumps out the same average, then he's still valuable, but you could have gone with another guy who can take his 100 average to that 106.
There has to be concern about a role change.
Last year Pendlebury started off half-back which saw for a disappointing start with 84 and 98 in the opening two rounds before being put back in the midfield. He spent the rest of the season there with some occasional stints up forward. This was also mooted for the upcoming season when Daniel Wells was signed on. Personally I don't see this being a huge factor considering Wells is battling a calf issue this pre-season and surely Pendles is picked for a midfield role ahead of the former Roos.
It has been argued by some in the Fantasy community that the addition of Adam Treloar has had a negative impact on Pendles' game. On the surface, there is only so much ball to go around and Treloar maybe took some points away from the skipper. Treloar isn't going backwards either! Remember last season was played without Swan as well. Flipside of that though is that the Pies don't have too much trouble scoring in the midfield.
Deck of DT Rating.
ACE – A premium player at a seemingly discounted price, yes please. Scott Pendlebury is in my 'January' plans pretty much because I can see him going at 109 and despite some concerns around role (which really are only slight concerns). The Pies should improve and with that, those points in wins stat should benefit the captain. If he slides in your draft towards the end of the first round, consider him an absolute steal. I still can't believe Pendles, a man that is usually in 30%+ of teams at the start of the season is in less than 10%.
Loading ...
FOLLOW ME ON TWITTER: @WarnieDT for all thing AFL Fantasy (and more). Got something to say about the deck? Use the hashtag… #DeckofDT.