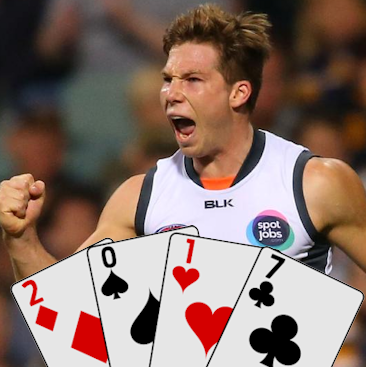 Name: Toby Greene
Team: GWS Giants
Position: Forward
AFL Fantasy: $560,000
Bye Round: 13
2016 Average: 92.7
2016 Games Played: 21
Predicted Average: 95
Click here for DT Live profile.
Why should I pick him?
Full disclosure: I have an unhealthy amount of man love for Toby Greene. (You didn't know?)
Toby burst onto the scene in 2012 (the Giants first season), and averaged an incredible 96.2 points from 19 games, which included 8 scores above 100, and a high of 146! Whilst he didn't quite replicate those highs in 2013 (a change of role saw him playing more forward than midfield, in a team that was still getting spanked from week-to-week), he bounced back in 2014 and averaged 102.9 points from 15 games. From Round 17 to Round 23, he had scores of 118, 93, 116, 127, 126, 165 and 125 – for a  MASSIVE 7-game average of 124 points – PIG LIKE! Again, a change of role was a factor in his 2015 output, when he averaged 85.6 from 22 games.
In 2016, Toby was the 9th highest averaging forward in the competition, with an average of 92.7 across 21 games, which included 8 scores above 100 and a high f 141. If you now remove those who are no longer forward eligible (Zach Merrett, Dustin Martin, Aaron Hall, Dayne Zorko, Leigh Montagna, and Michael Barlow), he becomes the 3rd highest scoring forward based on 2016 statistics. He also topped off his 2016 season with inclusion into the All-Australian team – a monumental effort.
Although very dangerous around goal (he scored an amazing 39 goals in 2016), he is not a player that opposition teams will often put a lock down defender on. His disposal, certainly not the cleanest disposal in the AFL, doesn't really 'hurt' teams (a strange thing to say for a half forward flanker who nearly kicked 40 goals), and opposition small defenders would typically go to a Deledio/Devon Smith/Stevie J type. He also floats through the midfield, where he can rack up some solid tackling numbers and inside ball.
Toby is also a very smart footballer. A genuine footballer, who is great to watch. He knows where to run, where to find there ball, and often bobs up when you don't expect him to. Surprise points, yeah! You also know he's a bit of a mongrel, you know he is lippy and get's under the skin of opposition players – it makes watching him even that bit more fun!
Why shouldn't I pick him?
As much as I love Toby, he is prone to the odd stinker. In Rounds 1 and 3 last year, he scored only 56 and 52 points. Not such a good start to the season, especially after averaging 124 in his last 7 the year earlier. He can float in and out of games, which can be frustrating. He can have a 20 point first half and end up on 110, but he can also put up a 70 points first half and end of 85.
The GWS forward line in 2017 welcomes the inclusions of Tim Taranto (from all reports, ready to go in Round 1) and Brett Deledio, both of which you will likely see up forward in 2017. They also have Stevie J and Devon Smith floating through the forward line – is there room for all 5 of them? How will this affect Toby's game? In an ideal world, this will see him push into the midfield more (where he is a ball-winning, tackling warrior), but the midfield depth at the Giants (Coniglio, Shiel, Ward, Kelly, Scully, Whitfield (albeit suspended for the first half of the year)) means that spots are tough. I think we will also see more of Jacob Hopper and Matt Kennedy in 2017 (how bloody strong is this Giants team by the way – might as well hand them the cup now!) who both are hard nut inside midfielders as well – this will almost certainly constrain Toby to the forward half of the ground.
My biggest gripe with Toby (perhaps not Toby himself, but the role he plays), is that he is a genuine midfielder, but doesn't quite get the midfield minutes because of the giants star-studded midfield, as mentioned above. At any other team in the competition, he'd be an inside midfielder that goes forward, and not a half forward flanker that pushes into the midfield. So you know how good he is, winning an All-Australian gig playing a role that isn't necessarily his best position. What he could do if he played midfield full-time!
As mentioned above – he is a bit of a mongrel. He's been suspended, he's had a few off-field 'misdemeanors', and if you follow him on Insta/Twitter, you know that he doesn't mind a bit of socialising and the odd froffy or two. But hey – it didn't effect Dusty or Swanny, did it?
Deck of DT Rating.
KING – With forward options a heck of a lot more scarce in 2017, you can't really go past a consistent young gun, who still has upside – at only 23 years of age, and an integral cog of the soon-to-be-dominant Giants team, the only way is up. At the absolute minimum I think he will average 90, but i also think he can push his average back above 100, with the right role.
Loading ...
FOLLOW ME ON TWITTER: @cruttonhutton for all thing AFL Fantasy (and more). Got something to say about the deck? Use the hashtag… #DeckofDT.