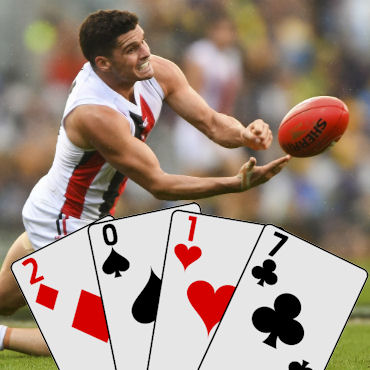 Name: Leigh Montagna
Team: St Kilda
Position: DEF
AFL Fantasy: $592,000
Bye Round: 11
2016 Average: 98.0
2016 Games Played: 22
Predicted Average: 102
Click here for DT Live profile.
Why should I pick him?
Montagna is a dead set Fantasy gun. He has averaged over 100 in four seasons, 116 (2009), 112 (2010, 2013) and 109 (2015). Age and role may mean that his days of averaging 110+ are over, however his role switch to defence changes everything. Having played off a wing for most of his career, Monty moved down back last season as St Kilda attempt to bring in their next generation of midfielders. Just go and ask Matty Boyd, this can be a positive for us Fantasy coaches. More cheap footy!
Don't let Montagna's age (33) put you off selecting him, I don't think it's much of a factor at all. Rotation talk you suggest? That's pure speculation, and at the ripe age of 32 he played the full 22 games in 2016. In fact 2015 aside (17 games) Montagna has played at least 20 games every year since '05. 2005!!! He's durable and a vital member of St Kilda's team.
If you had told me last year that I could start the season with Montagna in defence, I'd have bitten your hand off to take it. His average of 98 may point towards a gradual decline, but I disagree. Montagna scored 11 tons at a 50% hit rate last year, with four 120+ scores including a monster 160. St Kilda love to get the ball in his hands, averaging over 20 uncontested disposals per game last season. What's going to change? I'd suggest nothing!
Contrary to belief I think there's upside to Montagna this season, and it will come with St Kilda's natural progression. They have been slowly improving over the past few years, and I think they're ready for a charge at the top 8 this season. More wins should lead to more control of the footy, especially late in games. You should know what that means… I bet Monty does!
Need a sweetener? Here's Montagna's average for his first 4 games of a season over the past 8 years. 117, 105, 104, 105, 93, 103, 109 and 120. He's a notoriously fast starter and may be the perfect differential to send you flying to the top of the rankings early! Don't miss out.
Why shouldn't I pick him?
Usually we're left short on premium defenders, in which case Montagna would be close to a no brainer! However this season it's impossible to fit them all in, so much so that Montagna doesn't even make the top 6! With Taylor Adams joining the likes of Docherty, Simpson, Boyd, Shaw, Kelly, Laird and Johannisen in defence we've got a tough job predicting the top scoring defenders. There's no doubting that Montagna has the scoring potential to better them all, but he'll need to be seriously good…
Personally he doesn't fit my current structure, and his Round 11 bye is a pain. Many coaches may want to target him as an upgrade target around the byes. Even though he tonned up 11 times last season, he also dropped under 80 points on 6 occasions. That included one absolute horror show where he managed just 36. Even though that was just a freakish game, he's not the most consistent scorer when playing off half back, potentially meaning we could pick him up for a bargain price at some stage this year.
Could he be rested at some stage? Sure he could. Do I have a crystal ball to decipher this for you? I wish. I can tell you that players are only likely to be rested if the team has already locked away a finals spot, and I doubt that will be the case with the Saints. Every game will be crucial.
Deck of DT Rating.
KING – Montagna is a proven gun. He has averaged well over 100 in the past and judging by his ability to still ton up in 2016, I'm confident he can find the holy triple figures once again in 2017. Amazingly he may start as a slight POD, with many coaches going for the seemingly more 'reliable' options such as Docherty. Personally I don't think there's many more reliable Fantasy scorers than Monty, he'll dominate once again and you'd be silly to ignore him due to the age factor. There's always the chance he may explode early… Strongly consider!
Loading ...
FOLLOW ME ON TWITTER: @mattcraigDT for all thing AFL Fantasy (and more). Got something to say about the deck? Use the hashtag… #DeckofDT.