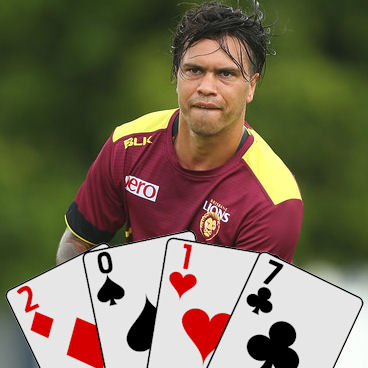 Name: Allen Christensen
Team: Brisbane
Position: FWD
AFL Fantasy: $405,000
Bye Round: 11
2016 Average: 67
2016 Games Played: 11
Predicted Average: 81
Click here for DT Live profile. 
Why should I pick him?
It's only late January and the official pre-season games aren't even on the horizon, but fantasy coaches have already identified the forward line as an area of concern. The Dusty's, Merrett's and Zorko's of 2016 have all migrated to the midfield, and we've been left with odds and ends on top of the dregs of a normally flourishing class of fantasy footballer. That's where players like Christensen come into the conversation – when mid-pricers become less taboo and more attractive and we look to bridge the quality gap up forward.
A quick history lesson: 2016 was a blip on the radar for the crafty flanker, where nothing seemed to go smoothly right from day dot. A finger cyst required surgery in the pre-season and caused him to miss all the NAB Challenge matches. A second-quarter collision against the Bulldogs in Round 5 ruled him out of the remainder of the game, and lower leg soreness plagued his effort against the Power a fortnight later. Ultimately, Bundy's bad luck reached critical mass and after 11 outings he finally succumbed to the nasty broken collarbone that spelt the end of his season.
Wait – isn't this supposed to be the positive section?
Well, 2016's stumbles are 2017's opportunities. Christensen finished on 18 and 19 in those two injured efforts and, once you remove those games, he actually averaged 78 fantasy points for the year. So instantly, he's more than 10 points underpriced before we even dust off the crystal ball. Still, he fell short of his previous work, having ticked over at 83 points per game (or better) in each of the previous three seasons.
Bundy hasn't been short of admirers this pre-season, and a good friend of DT Talk is a huge fan of what he's produced on the track this summer. Now that he's put some freak injuries behind him – Christensen himself claims that he's had "no problems at all" over the break – is it crazy to expect a career-best year out of the former Cat as he enters the prime of his career as a 26 year old?
Christensen laid down the blueprint to success in the latter stages of his first season as a Lion back in 2015, where he averaged a slither under 90 points over the last 14 games of the year – on top of playing all 22 games, mind you. It's just up to him now to follow the plan.
Why shouldn't I pick him?
While a lot of his woes last season can be attributed to injury, Christensen has a knack of going missing for large stretches. Even removing those affected games, 16 of his 31 outings as a Lion have resulted in sub-80 scores. A lot of those are in the 70's I'll admit; but strictly speaking, that's not good enough for a player of his price in your starting side. Basement is a big worry, and he'll need to make strides in that area to become viable.

That's the life of a (predominantly) Forward though, sadly… And the fact the Brisbane has been so non-competitive over the past two seasons hardly helps him from a supply perspective. What's most concerning is that his best work has often coincided with an uptick in midfield time and this is what Bundy had to say on that subject looking towards the future: "I'll probably play a lot more forward, speaking to Fages, just becoming that dangerous forward who kicks goals but also puts on a lot of defensive pressure".
Ouch.
At the end of the day, if he doesn't deliver on the 15-20 points of upside built into his price-tag, he's a failed pick. And even if he does, is an average in the high 80's enough to earn a spot inside the top 6-8 Forwards by season's end? History says probably not, meaning that he'll likely cost you a precious trade to upgrade him somewhere down the track anyway.
Also, if you can't stand students from the Chad Wingard School of Accentuating Contact, then I'd probably give Bundy a miss, with your mental health in mind.
Deck of DT Rating.
JACK – While I'm intrigued with all the love coming out the Brisbane camp on Christensen and his body of work this pre-season, it all comes down to a simple equation for mine. Can he reach that magical 90-point average this season? That would just scrape into the acceptable range for your F6 by season's end… The problem is, I don't think he can take that next step if he's anchored inside the forward 50, no matter how many opportunistic goals he snags or defensive tackles he lays – the volume and the consistency just won't be there.
However, if all the fanfare about his fitness manifests into earning a bigger slice of that midfield pie, then look out. Christensen showed over the 2013-15 seasons that he has a fantasy game when let off the chain, so keep a keen eye out for Bundy and his GPS over the pre-season competition. You might just see something you like.
Loading ...
FOLLOW ME ON TWITTER: @Tbetta9 for all thing AFL Fantasy (and more). Got something to say about the deck? Use the hashtag… #DeckofDT.