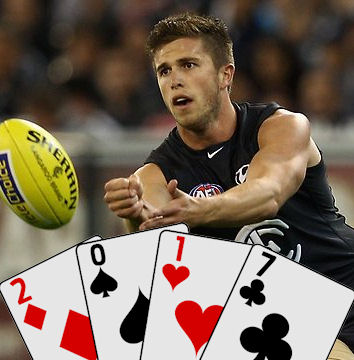 Name: Marc Murphy
Team: Carlton Blues
Position: Mid
AFL Fantasy: $482,000
Bye Round:  11
2016 Average: 80
2016 Games Played: 10
Predicted Average: 97
Click here for DT Live profile.
Why should I pick him?
It is easy to forget that Murphy is a Fantasy star, so ignore his cheap price which tarnishes his ability and listen up:
He has averaged over 100 during four seasons including 111 which put him in the elite premium category for that season.
He has averaged over 96 in seven of his 11 seasons.
He has played 20 or more games in seven of his 11 seasons.
Before injury struck last year, Murph  wasn't setting the world on fire but he was doing enough to warrant selection at this year's price tag. After opening the season with a thumping 126, he had a couple of injury concerns which caused some score fluctuations before scoring back to back 100's in rounds five and six. Following that he had scores of 85, 91 and 91 before his season ended with injury on just 15.
"I've missed 1 training session in the last 3 months."@marcmurphy3 on @RSN927

— RSN Breakfast Club (@RSNBreakfast) January 23, 2017
Assuming Murphy is good to go, those high end scores of 90+ are what we can expect this year because despite being very easy to forget… He is very good, not to mention he is the club captain of a young and improving team that requires him to have a big influence through the midfield.
Speaking of his influence through the midfield, that is still vital from the Blues perspective but the emergence of Patrick Cripps takes some of the opposition focus off him which is great news as he has been prone to disappointing scores against a hard tag.
Although it was way back in 2011, Murphy had a whopping 15 scores over 110 including a six week stretch during the middle of the season where he scored 121, 145, 117, 128, 129 and 120… Massive.
Why shouldn't I pick him?
The only reason not to pick Murphy is if he if he doesn't fit within your structure. Although he has been a Fantasy superstar in the past, many coaches have him placed clearly in that mid-priced category and are not willing to take the risk.
Although historically he has shown great durability over the years, the pattern over the last four years of 21, 20, 19 and ten is a downward trend, yet far from concerning in my book given the first three are all acceptable. This is a reflection that I am struggling to find any reasons not to pick him.
Deck of DT Rating.
Queen– I have really leaned toward starting with Murphy after writing this as I think he has huge upside for his starting price and it comes with very limited risk. He is coming off his lowest and only average of 80 or below in the last nine years and there is no way he is not bouncing back with a 15 point minimum improvement. I am about to log in and make room for him.
Loading ...
FOLLOW ME ON TWITTER: @RoyDT for all thing AFL Fantasy (and more). Got something to say about the deck? Use the hashtag… #DeckofDT.