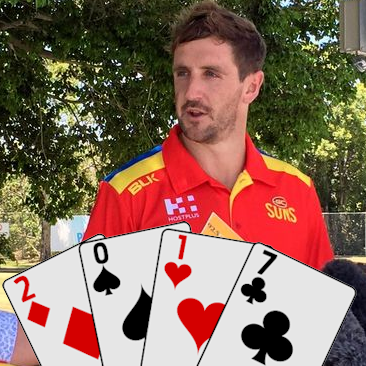 Name: Michael Barlow
Team: Gold Coast
Position: Midfield
AFL Fantasy: $583,000
Bye Round: 9
2016 Average: 96.5
2016 Games Played: 13
Predicted Average: 108
Click here for DT Live profile.
Why should I pick him?
Firstly, happy Australia Day. That may not be politically correct, but neither is an Irish pirate who drinks rum, teaches primary school kids and speaks in an American/irish/English/bogan accent.
Let talk about Mr. Barlow. It's a classic rule that when someone moves to a new club it takes them time to settle and their average tends to either drop or plateau. This is usually the case, but it's not for gun players and Barlow is certainly that.
Example #1 is Patrick Dangerfield who rose his average at Geelong from 106 to 118 in his first year.
Example #2 is Adam Treloar who averaged 104 in his final year the Giants, but rocketed it up to 112 in the first year as a Pie.
We all know the issues Barlow had in 2016. In and out of the team, tagging and role changes hindered his season… but still, he averaged 97. Ross Lyon hates Fantasy. He hates everyone who likes it and hates anyone who racks up like Barlow.
Barlow is a proven Fantasy jet and averaged 104 in 2013 and then a massive 110 in 2014. He has a ceiling, and reached it when Ross allowed him to last year with scores of 159 and 138 from only 13 games.
Another reason I really like Barlow this year is the lack of depth in the Suns midfield. With Ablett destined for more time forward and O'Meara heading to the Hawks, he is a certainty to play smack bang in the guts.
Why recruit a 29 year old ball winning machine if you're not going to use him where he plays his best footy.
Why shouldn't I pick him?
Reason number one is… Gold Coast have a sh*t bye.
In round 9, only the Suns and the Power players have a bye… and for this round, the Fantasy game soldiers on without an extra trade and without the 'best 18' rule. With all these players unavailable, it's like them all being injured at the same time and you have to have a plan in place to cover this.
Many coaches will look to get busy over this time, selecting the likes of Barlow in round 10 in preparation for the three weeks ahead.
Despite what I've mentioned above, will Barlow actually fit in?
Matt Rosa only just fitted in when he went to the Suns last year and during the pre-season he was the name on everyone's lips. He went there averaging 74 and only improved that by 2pts.
Barlow is expensive. At $583,000 you're buying him as a premium and a premium keeper. You might have the luxury of upgrading him at the end of the season, but lets be honest, if you purchase him… you will be most likely rocking with him till the very end.
Why buy Barlow when Nat Fyfe and the Bont are just $12,000 more?
Fyfe the Brownlow medallist and Bont, the future Brownlow medallists have already made so many pre-season teams and rightfully so (47% and 16% of teams). They should be more consistent and potentially have a bigger upside.
Deck of DT Rating.
KING – On the dtlive.com.au drawing board, the fans have voted and predicted Barlow to average 104. They see small growth. I see a little more. On the drawing board, he is currently owned by just 5% of coaches, and I am currently one of the those. Barlow will be unique.
I see Barlow being a key to the success of the Gold Coast Suns this year after they struggled once again. He will be let off the chain and without a tag in sight or a tagging role in sight and I'm expecting big big things for a guy who has done it all before.
Loading ...
FOLLOW ME ON TWITTER: @CalvinDT for all thing AFL Fantasy (and more). Got something to say about the deck? Use the hashtag… #DeckofDT.