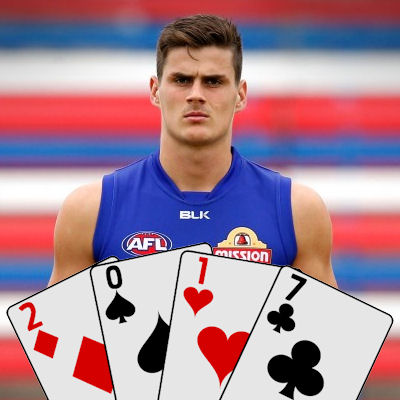 Name: Tom Boyd
Team: Western Bulldogs
Position: RUC/FWD
AFL Fantasy: $347,000
Bye Round: 11
2016 Average: 57.4
2016 Games Played: 11
Predicted Average: Boy: 61. Man: 81
Click here for DT Live profile.
Why should I pick him?
Unlike his monstrous real-life salary, Tom Boyd heads into the 2017 season at a much more affordable price for fantasy punters at just $347k. This makes him thoroughly mid-priced, a unique option for those who don't want to throw $1.1 million of your precious salary cap at two starting rucks. That's why we need to give Boyd our due diligence this pre-season, because the cash he frees up could be very useful elsewhere.

Obviously, it's pointless coming in at a modest price if you don't have the scoring punch to justify selection. We all know how Tom Boyd: The Key Forward performed last year – he averaged just 57 AFL Fantasy points over the course of the Home & Away season, starved of exposure as he collected 14 or more touches in just 2 of those 11 outings. Such was the life of being the Bulldogs' sole vertically-gifted forward target, as Boyd was constantly double-teamed or zoned out of the play whenever the Doggies attempted a traditional attacking thrust.
Then, as injury provided opportunity, we discovered Tom Boyd: The Relief Ruckman, and that's where his scoring blossomed. In the 4 finals that made up the Western Bulldogs' fairytale Premiership tilt, Boyd won 14+ possessions in each of these games and almost doubled his hitout rate, ultimately increasing his AFL Fantasy output by 22 points a game. In my personal opinion, he was robbed of a Norm Smith after kicking 3 crucial goals and holding down the fort in the ruck when required.
Tom came into 2016 a boy. He ended it a man.
The gentlemen at Champion Data acknowledged his work in the ruck towards the latter stages of last season, giving him vital DPP eligibility in a year where the bench-eligible ruck options are simply not there. Even if you do opt to go for the popular Set & Forget ruck structure, are you prepared to enter 2017 without ruck cover? There's a lot to say for slotting in a basement-priced Max King type at R4 and linking it up to a resting ruckman such as Ryder/Boyd in the FWD line – one area of the ground where we're struggling to identify Premium options anyway.
The key factor in the success or failure of Tom Boyd this year becomes simply – what will the role be? Does he anchor himself at the top of the goal square again, or will he gallop all over the ground, chasing aerial +1's?
I've thought about this in great detail, but I keep coming back to a very simple idea. It's well documented that the Bulldogs were geniuses in being able to win a premiership while overcoming two glaring holes in their list – a dominant Key Forward, and an influential Ruckman. Given that they managed to address the former with the addition of Travis Cloke but failed to lure a genuine ruckman over the off-season… I can't see the coaching staff moving Boyd out of the ruck rotation – the role where Boyd finally started to earn his paycheck.
Why shouldn't I pick him?
If you're also looking at guys like Stef Martin and Max Gawn,  the Round 11 Bye round could be an inconvenience for you. While the Best 18 system helps mitigate the possibility of not having a ruckman for that week, it does mean that if you have another guy at R3 actually playing (and you don't stagger your ruck Byes), then there'll be a week or two there where you've got someone playing on your bench but you won't have access to his score.
If you're set on a Set and Forget structure, then forget Boyd. There's nothing wrong with picking your mid-price battles and at the end of the day, you might be more 'sold' on 3-4 guys in different areas of the ground.
But honestly, the biggest concern in that he was recruited as a Key Forward, and his scoring in that capacity has been lacklustre to say the least. Boyd's averages at AFL level have been 35, 51 and 57 after three years in the system, true to the slow progression expected of young KPP's. There's every chance that he plays out long stretches of the year closer to the big sticks than the ball-ups, and historically that hasn't excited us in fantasyland.
The fact that he's never scored in the triple digits is worrying even if it isn't surprising, and you might want to see more evidence of a ceiling before you take the leap on a Boyd break-out.
Deck of DT Rating.
JACK – Tom Boyd was a big favourite of mine in DFS over the Finals series last year (cha-ching), and there's no doubt that he's a better footballer with a little more geographical freedom. Surely the Bulldogs seek to maximise his potential as a part-time ruckman, especially now that they have Travis Cloke as a focal point in attack?
With the sparsity of remotely promising bench ruckmen, I'm looking very closely at both Ryder and Boyd as R/F options; not only in the traditional R2 slot, but to possibly start in the forward line too. DPP could be a massive Get-Out-Of-Jail-Free card if things get messy with the rucks – and Boyd has improvement left in him either way.
You heard it here first – 2017, the year of Tom Boyd: The Breakout.
Loading ...
FOLLOW ME ON TWITTER: @Tbetta9 for all thing AFL Fantasy (and more). Got something to say about the deck? Use the hashtag… #DeckofDT.