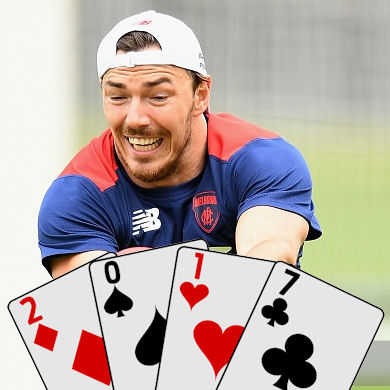 Name: Michael Hibberd
Team: Melbourne
Position: DEF
AFL Fantasy: $428,000
Bye Round: 11
2015* Average: 79.5
2015* Games Played: 18
Predicted Average: 85
Click here for DT Live profile.
Why should I pick him?
First up, he's got a 10% discount after spending the last 12 months out of the game.
Hibbo has a fantasy game about him. While not as flashy as others who run out of the back line, he has averaged more than 23 disposals and six marks in his last three seasons. The old plus six combo of a mark and kick is a highlight of owning Hibberd.
Drafted as a mature aged recruit, the 27-year-old has played five seasons with 2013 and 2014 seeing his best output with averaged of 87 (22 games) and 89.3 (18 games) respectively. In 2015, his most recent season, Hibberd played 21 games at an average of 79.5. As I have mentioned in previous Deck's, I believe the Bombers were all 'naturally discounted' as that year was a tough one mentally.
I put Hibberd averaging around 85 this season for a few reasons. He's had a year off and the change of club will no doubt do him good. But the main reason is the way I see him fitting into the Demons line up. He will most likely have the opportunity to play that half-back flank role with the likes of the McDonalds, Jetta, Hunt, etc playing the more defensive roles, freeing up Hibbo. This will be something we will have to monitor with match simulation reports and pre-season games. If he is freed up, there is no doubt that he can push up to that 85+ average again.
In his 84 games, Hibberd has scored 13 tons. While this doesn't seem huge, he is super consistent. I remember back to the start of the 2014 season when he his lowest score in the first 11 rounds was 79, scoring pretty much 90s in that time. In 2015 his numbers were a bit more up and down as he played a few more lockdown roles as well as copping a forward tag every now and then. Still, even when he had jobs to do, he was capable of scoring well for a defender.
Why shouldn't I pick him?
Although he is priced at 72 and a long way from his best, will he average enough to justify selection? With the premium defenders on offer – of which there are conceivably 10 or so that are a good chance to average 90 plus – does 85 (or even getting back to his best of 89) cut it? For a lot of coaches that answer will be no.
There's plenty of risk with predicting an average of 85 or so with Hibbo. How does he return? How does he fit in at his new club?
There were reports a couple of weeks ago that Hibberd (along with fellow returning banned Bomber Jake Melksham) are both on limited loads this pre-season. This is all about easing them back and taking a cautious approach following their 12 months out of the game, but could this mean a slow start? I don't exactly buy into that as he'll play the pre-season games and should be set. But it is something to think about.
It's an easy option to say no to Hibbo and look to go guns n rookies down back, or look to a 'cheaper mid-priced' player who could push an average of 80 or so.
Deck of DT Rating.
QUEEN – I like the idea of starting with Hibbo. I've called him my boy for a few years now, but it is off the back of some joy that I have had with him in the past. If you look at his 2015 numbers – plus the injuries he had in 2014 – the whole consistent thing about Hibbo has only really been a thing in one season. The plethora of premium defenders available might mean the upside (that is definitely there) may not be as valuable. However that 10+ points that he is almost guaranteed to improve his price by can help you step up to a fallen premium at some stage. Although he has been my boy, I think it might take something special to start with him in Classic in my current team structure… but I know I will be looking to grab him in Draft around about when other defenders at 85 or so start getting selected.
Loading ...
FOLLOW ME ON TWITTER: @WarnieDT for all thing AFL Fantasy (and more). Got something to say about the deck? Use the hashtag… #DeckofDT.