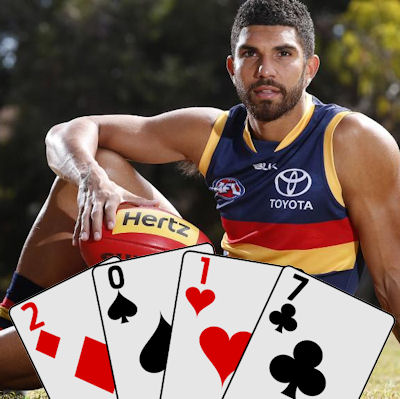 Name: Curtly Hampton
Team: Adelaide
Position: Defender
AFL Fantasy: $204,000
Bye Round: 13
2016 Average: 0
2016 Games Played: 0
Predicted Average: 80
Click here for DT Live profile.
WARNING! – This article is a little different to our usual Decks as it's more of a 'why he should be on your watchlist' rather than 'why you should or shouldn't pick him'
Why should I pick him?
You are picking Hampton because of 2 reasons.
First and put very simply, you're picking Hampton because he's cheap. Very cheap.
The reason he's so cheap is due to a mixture of injury, the sub rule and falling out of GWS best 22.
All that of course means you're now paying rookie prices for a bloke who has had 5 years in the AFL system.
If in that time you've watched him play, you'd know he was developing well as one of those rare player who seem to have time slow down for them when they're near the play. His reading of the play is elite which allows him to slice through opposition with run and carry out of defence and generally runs down anyone near him with the ball before they realise he's there.
The second reason you're picking Hampton is because you're hoping he's one of the few players where the preseason rumour of 'more midfield time' actually applies.
The Crows are spoilt for options when it comes to their defence and even more so when it comes to rebounding defenders.
Rory Laird, Brodie Smith, Paul Seedsman and Jake Lever are all well ahead of him in his position.
It's also no secret though that Adelaide have been looking for midfielders, unfortunately they lost their chance during the trade period focusing unsuccessfully on Gibbs and then losing Lyons to Gold Coast. While it's looking like Lyons spot will be given to Ellis-Yolmen first up, it seems that Hampton has been making the transition back to midfielder since returning from injury last year.
He was unable to crack into the Crows best 22 last year after missing the preseason and subsequently first 15 rounds with a foot injury, but after a few games finding touch dashing out of defence in the SANFL he was rotated more frequently through the midfield.
Once given these midfield bursts Hampton showed just what he was capable of, providing dashes of speed outside packs and linking up to drive the ball forward, including getting on the scoreboard on multiple times. Hampton played his junior years and first few seasons as a forward/midfielder before GWS moved him into the backline so it isn't a massive stretch to see him return to this position.
Considering that earlier 'more midfield time' rumour is based on the fact that Hampton has been spotted training with the midfield group this preseason, our fingers are crossed that he'll be given a chance to show his worth during the preseason matches.
70 points per game is what Hampton averaged in his 9 games to finish the season last year and if he manages to hit that at the AFL level this year then that'd be a great cash cow!
Why shouldn't I pick him?
The biggest concern facing Hampton this season is whether he can break into Adelaide's best 22. Unfortunately without that magic crystal ball we won't know where he stands until the preseason comp.
The next reason for not picking Hampton lays more with your own strategy. Depending on how your defence is set up, you may have room for only one of either Hampton or the similarly priced Thurlow, especially considering the higher priced forward rookies this season are representing a lot of value. Between the two right now though Thurlow is certainly ahead. Once again, this is a fact that could easily change by the end of the preseason comp.
Lastly, his injury history may just be enough to put him on your 'no chance' list. Since 2014 Hampton has missed 24 games through 3 seperate injuries. While all reports seem to indicate he's going strong right now that is still a concerning indication.
Deck of DT Rating.
10 – As I mentioned at the start of this article, I'm definitely not saying 'go and lock Hampton into your team right now!' This was just a piece designed to remind us of the value we're possibly overlooking.
Hampton hasn't been fantasy relevant for a few years due to the above mentioned injuries but also the fact that his scoring output was very inconsistent as a defender. It's very easy as fantasy coaches to get stuck on how a player has burnt us in the past or just on our perceptions of those players over the years. Case in point being the many people who missed out on Heath Shaw's great year because he was on their 'never again list'.
But when assessing a player like Hampton who is now at a new club facing a possible change of role into the midfield it may just be the time to bring him off the 'irrelevant list' and back onto the 'watch list'.
Chances are Hampton may not earn his spot in Adelaide's 22 in time for the start of the season, but if he continues on his form in the SANFL from last year he could certainly be a handy midyear downgrade to free up some cash.
I believe he's definitely one to watch.
Loading ...
FOLLOW ME ON TWITTER: @anthonydsmith86 for all thing AFL Fantasy (and more). Got something to say about the deck? Use the hashtag… #DeckofDT.