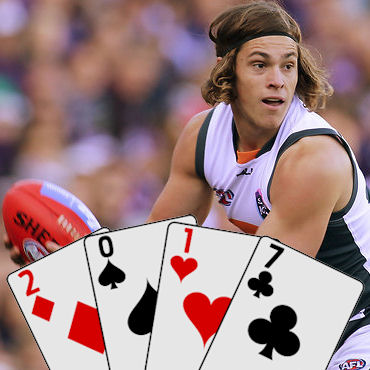 Name: Jack Steele
Team: St Kilda
Position: FWD/MID
AFL Fantasy: $432,000
Bye Round: 11
2016 Average: 71.6
2016 Games Played: 10
Predicted Average: 86
Click here for DT Live profile.
Why should I pick him?
Jack Steele is a natural ball winner, and I'm a sucker for ball winners. He has always had a brilliant Fantasy game at junior and secondary levels, as can be proven with his much famed 2016 NEAFL stats. Yes I admit the timekeepers must doze off and I could probably lay 10 tackles in the NEAFL, however even that considered a DT average of 156 must be recognised! Steele played 10 games, kicking 15 goals and averaged 36 disposals, 8 marks, 8 tackles and 7 inside 50's. Wow. Even this form wasn't enough to break into GWS' stacked midfield, which might be a bigger reflection on the quality they have rather than suggesting Steele can't make it at AFL level.
What Steele lacked at GWS was opportunity, he hardly ever got to run through the midfield, mostly being restricted to a half forward role. He adapted and did his best for the team, but it's simply not his natural position. Unsurprisingly we didn't see his best football. That's exactly why he moved to St Kilda. Do you really think he would have signed with the Saints if they hadn't promised him a midfield role? He's a contested ball beast and that's exactly where he wants to play, as suggested by the man himself last week.
There's a lack of reliable premium forward options this season, having lost many of last seasons guns to the midfield. This has resulted in many coaches turning towards some slightly riskier picks in the hope that they can either breakthrough at new clubs or gain extra midfield time. Isaac Heeney is an especially popular pick. Whilst he may be an exceptional footballer and will certainly rotate through Sydney's midfield, will he become a permanent member in 2017? I doubt it. Of all the midprice forward picks I think Steele is the most likely to be rewarded with a full time midfield role.
This spells out breakout year! Steele is primed for a breakout season, aged 21 and heading into his third year of AFL. His body has matured and I reckon he's ready to take on the competitions best contested ball winners. Whilst St Kilda have some promising midfielders running around, Billings, Dunstan, Armitage, Newnes, Acres and Freeman is hardly untouchable. Jack Steven and Seb Ross are locks in their engine room, but I think there's plenty of room for Steele to make his way in as well.
Having averaged just 71 last year there's plenty of room for growth!
Why shouldn't I pick him?
As just mentioned, he only averaged 71 last season. In fact he has never scored a ton! Even though this isn't a true reflection of Steele's potential, the fact is that he hasn't yet proven himself at the highest level. We can speculate as much as we want, and I could stare at his NEAFL stats until I go cross-eyed. It still won't help me sleep at night after putting my faith in a bloke based of his numbers in a farmers league!
Another factor playing in the back of my mind is Steele's end of season surgery last year. The young Saint had surgery on his foot in September to repair a fractured metatarsal. He's only just beginning to train with the main group, meaning he has missed out on at least a month of full training with the midfield. I think he'll be just fine as he has been running and seems to be fully fit, but I'd be much more comfortable selecting him on the back of a perfect pre-season. Not an ideal preparation.
Unfortunately Steele doesn't receive any discount in Fantasy as he played 10 games last season, meaning we're paying for the same level he produced in 2016. Even though there's plenty of evidence to suggest he can greatly improve on that 71.6 average, he sits at an awkward price leading into 2017. A big factor will be the quality of forward rookies to choose from. I'll leave this research to our man Jeppa, but if there's a heap of promising forward rooks $200k cheaper than Steele, justifying the risk will become a little harder. By the same token if we're short on quality rookies then Steele suddenly becomes a more realistic selection!
Having had a quick play around with the pre-season drawing board, I'm noticing that my early teams are stacked with Round 11 bye players, especially in the forward line. I'm not usually too fussed about bye rounds in my Round 1 team, but having over 3 keepers from the same bye round does carry an element of risk. Steele could be considered expendable before then, however things never work out as planned.
Deck of DT Rating.
JACK– In my eyes Jack's a Jack. Let's face it, it's a risky selection! It was at this time last year that I nailed Lachie Hunter (Had to mention it) in the Deck, however we don't get a free preview at the breakout contenders without the vest. It's going to require some kahunas to gamble on midpricers this season, but no great reward comes without an element of risk, otherwise we'd all be millionaires!
There's no guarantee that Steele can transfer his NEAFL form to the big time, however I truly believe that he's a gun and can make his name at the Saints. A pre-season watchlist for sure. He's in my early drafts!
Also keep an eye on him in your draft leagues, he could be a slider!
Loading ...
FOLLOW ME ON TWITTER: @mattcraigdt for all thing AFL Fantasy (and more). Got something to say about the deck? Use the hashtag… #DeckofDT.