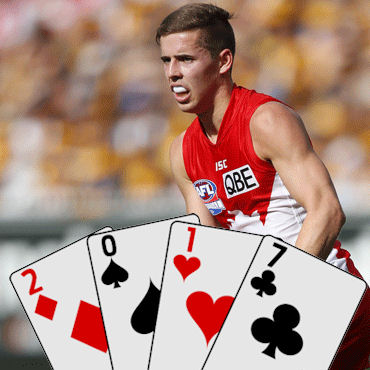 Name: Jake Lloyd
Position: DEF/MID
AFL Fantasy: $521,000
AFL Dream Team: $512,000
Bye Round: 11
2016 Average: 86.26
2016 Games Played: 25 (inc. finals)
Predicted Average: 95
Click here for DT Live profile.
Whenever the term "a pod" is heard, most people will immediately think of a group of whales merrily swimming around in the ocean but we of the fantasy/DT world know differently.  A POD in our world means a "Player of Difference" and without them we are all just one of the crowd.  Most successful fantasy squads have always started with at least one POD if not two.  In saying that, the important factor is picking successful PODs.  No value in having a team full of PODs if they are simply underperforming and sending you backwards faster than a beached whale.  Jake is one POD that you may wish to consider for your defence.
Why should I pick him?
Job security – tick.  Since making his debut in round 5 of 2014 Jake has played 69 games out of a possible 71 including all finals the Swans have played in that time.  He has wonderful endurance as illustrated by the fact he is always in the leading group of Swans in their time trials and we all know how John Longmire loves his players to be able to continue to run.  He is well and truly part of the Swan's best 22.
Midfield time – tick.  I put a tick here as a speculative one.  Longmire certainly learnt in last year's grand final that the Swans need more speed in the middle.  As good as Josh Kennedy and Luke Parker may be at getting the ball they had a lack of speedy runners to give it off to.  With his athleticism and speed Lloyd fills this need hence I do feel he will spend far more time in the guts in 2017 than he has in previous years.  With Tom Mitchell's departure, a spot has opened up in the Swan's midfield and although Isaac Heeney is likely to fill this role, I feel it will be shared by a few as the Swans have relied on too few in the past and need to spread the midfield load more evenly going forward.  He was released into the midfield in the final few games of 2016 and averaged 111.25 in the final four matches.
Rising fantasy figures – tick.  In Lloyd's first year he averaged a modest 63.3 points from his 18 home and away games.  He improved that by 15.8% in 2015 to 73.1 from 20 games and then last year jumped up a further 17.9% to a reasonable 86.2 from 22 games.  This upward trend will continue in my opinion as he is now coming into his peak condition as an AFL footballer together with the expected additional time in the midfield.  A 10% rise in 2017 will see him in the vicinity of a 95 average and I feel this is well within his reach.  Of all the players who are currently listed as defenders, a 95 average would place Jake as the 7th highest defender based on 2016 averages however there has to be some question marks surrounding many of those who are currently ranked higher than him – their age (as detailed below).  Jake was reasonably consistent in 2016 with 4 scores over 100 (3 in the last 4 games), 9 matches of 80-99 and only 3 games under 70 with a low score for the year of 59 (from 69% of game time).
Age – tick.  History has taught us over the years to be more wary (from a fantasy viewpoint) of players once they pass the magical 30 years of age mark.  Although the marvels of sports science together with diet and recovery etc have certainly lengthened player's careers over the past few years minor niggles are far more difficult to recover from for the older generation of footballers than those in their 20s.  Llyod, at 23 does not have the issues that many of those ranked above him do.  All of the following averaged above Lloyd in 2016.  James Kelly, Mathew Boyd, Kade Simpson, Leigh Montagna, Luke Hodge and Heath Shaw and they all celebrated their 30th birthday some time ago.  In fact a few of them may not even be able to remember that far back.   If two to three of these oldies were to start suffering old man injuries, this could well push Llyod into the top 6 bracket of defenders by year's end.
Why shouldn't I pick him?
There is one main reason I see in why not to pick Jake.
His team role.  Although,  as said above I do feel he will get more midfield time there is always the risk that he will be used in a negating fashion as he is one of the best run-with players at Sydney.  Although Longmire has become a far more offensive coach over the past few years and has regularly gone through games without using a tag at all however if the need arises there is every possibility he will use Lloyd in this role.  Tom Mitchell did a few of these jobs very successfully last year but of course, he is no longer there.  There is the chance that Hewitt and/or Marsh may be asked to take these roles next year as part of their education but there is always the danger it could be Lloyd.  In saying this, tagging does not ensure a poor fantasy output as many players have scored 100+ whilst still shutting down their opponents but these instances are in the minority.
Deck of DT Rating.
QUEEN – If he can get his average to the predicted 95 he will become a King but until then he is what he is.
Jake's dual positioning as a MID/DEF could be an advantage although I feel this is becoming less relevant with two trades per week in Fantasy.  He shares his bye round with popular choices in Docherty, Boyd, Simpson, Motagna, Vince, Johannisen and Hibberd.
It all comes back to my original point –
Will you go the way of the throng in picking Adams, Docherty, Laird and Hibberd who are owned on the Drawing Board by 30% or more of the field or are you gutsy enough to go with a POD or two?  At the time of writing this article Jake Lloyd was in 3.1% of AFL Fantasy teams.
Loading ...
FOLLOW US ON TWITTER: @DTTALK for all thing AFL Fantasy (and more). Got something to say about the deck? Use the hashtag… #DeckofDT.