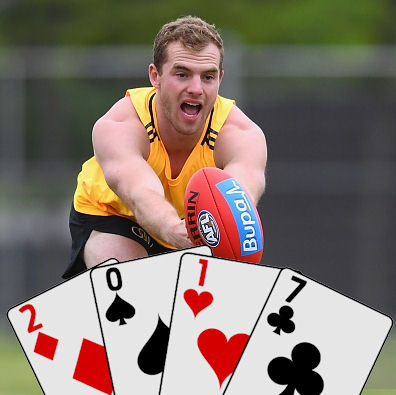 Name: Tom Mitchell
Team: Hawthorn
Position: Midfielder
AFL Fantasy: $638,000
Bye Round: 13
2016 Average: 105.6
2016 Games Played: 22
Predicted Average: 105
Click here for DT Live profile.
Why should I pick him?
Because he is a gun. Need more? Entering his 5th year in the AFL system, Titch has a career AFL Fantasy average of 100.7.
In his first season in the AFL system (2013), Titch made his debut in Round 10, and played every remaining game in the season. In his first game, he started as the sub (remember that stupid rule) and ended up with 18 touches, 6 tackles and 1 goal – for a total of 98 points. He backed up that performance with a 31 touch, 10 tackle, 1 goal performance – for a massive 144 points – in just his second game, which earnt him a rising star nomination. In his first 8 games as an AFL footballer, Titch averaged a massive 101 points! The writing was on the wall – the kid was a gun.
Nearly inexplicably in 2014, Titch played a total of only 6 games – the first 4 and the last 2 of the season. He scored 93 and 95 in Rounds 1 and 2 respectively, before being subbed out in Round 3 with a score of just 41 and scoring just 67 in Round 4.  When he finally cracked back into the senior line-up in Round 22, he scored 86 points (23 touches, 6 tackles), and backed that up with a monster 138 (29 touches, 13 tackles) in Round 23 – before being dropped for the finals series. In between, as I'm sure we can all remember, he had a 64 – SIXTY-FOUR – possession game in the NEAFL, yet still couldn't get back into the senior side. He acknowledged that 2014 was a frustrating season for him, with niggling ankle and knee injuries that meant he couldn't work on what the swans coaching department wanted him to work on – his fitness – which made it that much harder for him.
Over the next 2 seasons, he played a total of 39 home and away games, including every game in 2016, for season averages of 106.7 (2015) and 105.6 (2016). Stellar numbers. Let's not forget – he has only just completed his 4th season in the AFL system!
Requesting a trade at the end of 2016 (arguably months before that), Titch ended up at the hawks – an AFL Fantasy friendly side, and you just know that Alistair Clarkson loves the way Titch goes about it. He will have a starting position in the centre square in Round 1, and I would expect that he picks up in 2017 the way his previous two seasons ended – with a bang.
Why shouldn't I pick him?
A fresh start at the hawks, he does not have the midfield depth around him that he had at the swans. Arguably the deepest midfield in the competition, with the likes of Parker, Hannebery, Kennedy, Jack, Heeney etc, Titch was afforded freedom. With the hawks midfield no longer comprising Sam Mitchell and Jordan Lewis, Titch nearly enters the fray as the 'head honcho'. How he deals with that, at this stage, is anyone's guess.
The hawks, whilst always one of the highest averaging AFL Fantasy teams, not often had players who consistently put up big numbers. Sammy Mitchell (only 1 season where he averaged more than 105) and Jordan Lewis (only 2 seasons where he averaged more than 105) being the two expectations, the hawks midfield revolves around everyone playing their role – effectively sharing the love. Can Titch buck that trend and put up pig-like numbers in 2017?
Priced in the upper echelon of midfielders for 2017, he might be difficult to squeeze in between Danger, Neale, Rocky, Treloar, Parker, Dusty, Sloane, Pendles etc. With most only taking 3-5 premium starting midfielders, spots will be hotly contested.
Deck of DT Rating.
King. I toyed with the idea of awarding him the Ace, but with a new team, new role and new supporting cast around him, there is enough doubt in the back of my mind to peg him back. You won't be disappointed though – he is sure to go bang in 2017 – perhaps even a few 'oink's' along the way!
Loading ...
FOLLOW ME ON TWITTER: @cruttonhutton for all thing AFL Fantasy (and more). Got something to say about the deck? Use the hashtag… #DeckofDT.