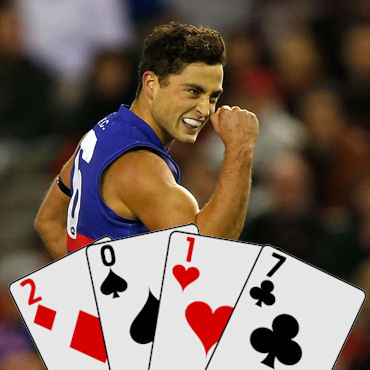 Name: Luke Dahlhaus
Team: Western Bulldogs
Position: Forward/Midfield
AFL Fantasy: $577,000
Bye Round: 11
2016 Average:92.4
2016 Games Played:  20 (Including Finals) 17 (H&A)
Predicted Average:97
Click here for DT Live profile.
Why should I pick him?
You know that old saying – "you get what you pay for"? That's exactly how I look at the decision to pick Dahlhaus in your starting squad as one of your set and forget forwards. Yes he will set you back close to $580,000 and I wouldn't pick him as a mid only at that price, but the ability to slot in a consistent 90 to 100 ppg player at F2/F3 is appealing and really helps my team structure.
In 2016 he was struck down in the first quarter of round 12 after a collision injury with team mate Campbell and missed the next 6 games. He was on 32 fantasy points at that stage, if we take that game out of his 2016 average it increases to a handy 97.3 so you can argue he is actually a little underpriced on last years form to the tune of about 5 ppg?
With the loss of many of last years favourite Fwd/Mid dpp's, Dahlhaus (even at his injury affected average of 92) is now the 5th highest averaging player available as a forward from last year. With no Merret, Dusty, Zorko or Joey to bolster our forward lines in 2017, I believe he will easily be one of the top 6 forwards (barring unforseeable injuries of course). The ability to dpp switch him between mid and fwd status could also prove to be useful, particularly around the bye rounds.
Excluding his previously mentioned injury affected score in round 12, in 2016 he had a lowest score of 75 which as a forward is still acceptable in my book. His ability to spend time on the ball means he doesn't rely on hitting the scoreboard to get points, which in my book is far more desirable than a key forward type of player like JJK or Hogan who need goals to score fantasy points.
He has a high ceiling with 2 scores of 132 last year and 8 scores over the 100 point mark, more than acceptable for a forward.
He has proven to be a durable player over the last 4 years, playing 21 or 22 games each year for the previous 3 years until last years  injury (collision not soft tissue which I believe makes it almost irrelevant in terms of his longevity and durability) reduced him to only 17 games.
Why shouldn't I pick him?
Let me be clear – unless he is injured or suspended for round 1 (remember Zorko's brain fade in last years NAB game that got him suspended for round 1?) he will be in my starting side.
His kick to handball ratio has declined every year over the last 4 seasons as he has copped increasing attention from opposition teams as they try to curtail his ability to break lines and hit targets by foot. Thankfully the emergence of other doggies like the Bont, Hunter etc has meant many teams simply don't have enough cattle to play a hard tag on Dahl and he gets to run around as he pleases for large chunks of games but teams have shown on occasions a preference to sit someone goal side of him at stoppages to prevent him getting a clean kick away towards the Bulldogs goal. This does mean Dahl can be reduced to the measly +2 for a handball to an open teammate versus the +3 kick or even the +5 give and go (handball and kick) that he needs to pad his scoring out.
Another concern could be the desire to increase the midfield time of young guns like Caleb Daniel which conceivably could mean longer stints up forward for Dahl? With only 9 goals for the year it could be a worry if he spends too much time up there, but i don't think that will happen. He tends to roam up the field anyway when playing forward and his hard running opens up +6 mark and kick opportunities.
Will the premiership hangover curb his enthusiasm for the hard running style he has displayed for the last 4 years? No one will know until the season is under way, but I find it hard to believe the Doggies will be a complacent side in 2017 with Beveridge at the helm.
Another small negative on him could be his perceived inability to go huge very often, with only 4 scores over 104 last year. Personally I don't mind this as I would much rather a player fluctuate between 85 and 105 each week than sit through the roller coaster ride of a Heath Shaw with 130 one week followed by a 60 for the same 95 average?
His round 11 bye may cause a few headaches for coaches, particularly as he shares that bye round with likely popular forwards Nick Riewoldt, Jack Macrae, Lance Franklin and Isaac Heeney. Heeney and Macrae in particular I think will be very popular selections and a lot of coaches will not want to add a third 'keeper' from that bye round in the forward line? Yes you can dpp switch him to the midfield – but given who he shares that bye round with I am thinking most coaches will have enough to deal with as the likes of Rocky, Hanners, Steven, Parker, Hunter, Beams and even Murphy have the bye that week?
Deck of DT Rating.
King – Very close to an Ace, the only reason I didn't give him an Ace is I think his bye week hurts him in the eyes of many coaches. As mentioned above I am sold on him (as much as you can be in January anyway!) and look forward to the obligatory cheer –
"Whose House? Dahlhaus!"
Loading ...
FOLLOW ME ON TWITTER: @lefty113 for mainly sport related banter. Got something to say about the deck? Use the hashtag… #DeckofDT.