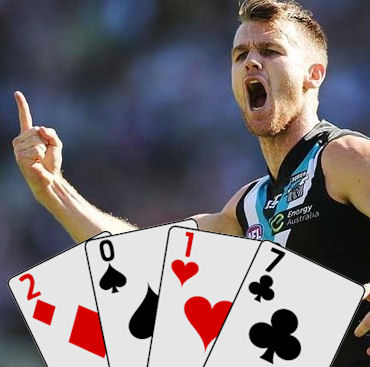 Name: Robbie Gray
Team: Port Adelaide
Position: Midfielder
AFL Fantasy: $590,000
AFL Dream Team: $579,100
Bye Round: 9
2016 Average: 97.63
2016 Games Played: 19
Predicted Average: 101
Click here for DT Live profile.
Why should I pick him?
Robbie is an excitement machine, he has heaps of class and can turn a game off his own boot.  But enough about why I love going to watch this guy at the footy.  From a fantasy perspective he has been very consistent over the last 3 seasons with averages of 97.63, 96.81 and 96.36.  This has been why he has been in many teams over the last few years.
Last year he played just the 19 games after playing 21 and 22 in the two seasons previous, .  He has been getting plenty of attention, but with Travis Boak, Ollie Wines Brad Ebert and Chad Wingard also floating through the midfield he won't always get the number one tag.  He also floats forward and kicks a goal (hence why he has been classified as a forward in recent years).  He had 25 last season and the season before, but kicked a career high 42 in 2014.
One area of his game that certainly been outstanding in the last two years is his tackling, he has had 91 tackles in each season (he played two less games in 2016), if he keeps that average up in 2017 along with his disposal count he could easily push his average over the 100 barrier this season for the first time.
Like all Power players, Robbie will be having an "out of session" bye in round 9, so whilst it is great that he would be playing throughout all three regular byes when we have to play our best 18, he will be missing in round 9.  Now, if he does gain that forward status after round 6, he may be an ideal upgrade target in round 10 after his bye.
If you are playing AFL Fantasy Draft, then Robbie is well worth a selection, just for the fact he is likely to get that Forward status at some stage during the season.
Why shouldn't I pick him?
Let's deal with the elephant in the room, the biggest thing against Robbie this year is the fact he isn't classified as a forward anymore.  He stacks up very well as a forward, but simply doesn't score big enough often enough to be in the top MIDs.  His average was only good enough to put him 41st amongst MIDs last season.  To me, that is easily enough of a reason not to select him…. from the start.  As a forward he was ranked as the 6th highest average.  So it is easy to see that he is far better value for you as a forward.
A concerning factor is that he has never averaged over 100 in a season of fantasy.  For that very reason he simply can't be considered as a midfielder for your side.
As mentioned above, there is one issue with his byes.  He will be missing in round 9, and unless you have some great backup this could seriously impact your score for that round.
Deck of DT Rating.
Queen – He will score well, but the simple problem is that as a mid only he will not provide you with the value that you are looking for.  I just can't see him being up near the top 8 scorers for midfielders at the end of the season.  If he gets his DPP status back in AFL Fantasy during the year then he would once again be worth picking up as a forward.  But really it is very hard to make a case for him as a MID.
Loading ...
FOLLOW ME ON TWITTER: @pkd73 for all thing AFL Fantasy (and more). Got something to say about the deck? Use the hashtag… #DeckofDT