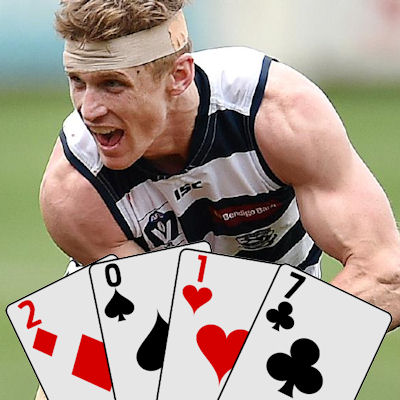 Name: Scott Selwood
Team: Geelong
Position: Midfielder
AFL Fantasy: $380,000
Real Dream Team: $330,800
Bye Round: 12
2016 Average: 79.6
2016 Games Played: 3
Predicted Average: 94
Click here for DT Live profile.
Disclaimer: I love Scooter, always have, always will. Despite leaving my beloved Eagles, Selwood has remained my Twitter (@Tbetta9) banner ever since. He's my boy, no doubt about it.
Also, here are a few Deck of DT articles on Scooter, "coincidentally" also written by myself in past pre-seasons:
Scott Selwood – Deck of DT 2013. (note that I nailed his 108-point average exactly)
Scott Selwood – Deck of DT 2015. 
Why should I pick him?
First and foremost, the reason that Scott is even on your radar initially is due to his heavily discounted price. Able to throw on the boots for just 3 Home & Away games in his first year at Geelong means that he boomerangs back at us in 2017 with a 21% discount on an 80-ish average. Plugging those numbers in a calculator – You're buying a Scooter at a price equivalent of 65 points. That's a hell of a deal!
So you look a little deeper.
After a couple of years in the AFL fantasy wilderness, it's easy to forget that Scooter is a statistical beast regardless of his role. Don't forget, this is the same guy that pumped out 108 fantasy points an outing in 2013 – 2 points better than his brother Joel in that season! He averaged 26 touches and 7.5 tackles that year; and with a full pre-season under his belt, he even linked up for 4.5 marks a game as he was unleashed as one of the few genuine two-way players left in the modern game.
Hampered by a serious ankle injury for the past two seasons, the Cats are convinced that he's over his issues and teammate Jackson Thurlow recently singled out Scooter as "absolutely flying on the training track" and warned us to "look for him to really dominate next year". I don't know about you, but these quotes have left me extremely tight in the trousers as much of Selwood's game is built around his elite endurance – he was a pre-season phenom at the Eagles and second only to perennial track-burner Chris Masten in time trials over the course of his summers out West.
So let's talk about role. Scooter, with zero pre-season and just three VFL games under his belt, walked straight into Geelong's engine room and remained there for the rest of the season. Are you telling me, that with a full pre-season in the legs and Caddy out the door, that Scooter won't be seeing every single midfield minute he can handle in 2017? It doesn't matter that he'll probably be asked to follow around the opposition's best player most weeks – Scooter has shown over his career than he's a two-way kinda guy. He can still amass possessions in the high twenties while chasing tail, and then pad out the rest with big tackle numbers – a category where he's finished amongst the Top 2 in the league in two separate seasons.
With the odds stacked against him, Scooter still went out and churned out scores of 104, 85 and 83 on the trot last season, and I can't wait to see what this former stud can do with the dice loaded in his favour in 2017.
Why shouldn't I pick him?
Like with any under-priced player, there are elements of risk and Scooter's are borne in concerns over his ankle's structural integrity. He's flying now, but who's to say that he'll survive the whole pre-season? That actually wouldn't be horrible, because we can always just scrub his name off the watchlist and leave him out of our starting squads – no harm, no foul. But what if he breaks down mid-season, as he did in 2014? With a medical chart that includes a chronic ankle injury spanning multiple seasons, there's no guarantee that he'll be able to endure a whole season of the rigours of AFL footy.
Another factor is his price tag, slotting awkwardly in that hit-or-miss zone at $380k. Many coaches are gun-shy with Mid-Pricers after being burned hard last year, and it's difficult to justify multiple midfield MPs at the best of times. You might have someone else in mind in that price neighbourhood (Swallow, Jaeger are popular options), or you might simply look to go for a strictly Guns and Rooks approach – both would rule out riding out a potentially lucrative comeback year from Scoots.
Deck of DT Rating.
QUEEN – There's no doubt that Scooter's oozing value, and his potential selection comes down to two factors for me. Firstly, he needs to have a faultless pre-season injury-wise, and show positive signs across multiple JLT outings. Secondly, he needs to fight off other candidates for a mid-pricer earmarked for the M5/M6 slot in my side. Basically, if the slipper fits (and if it's made of shatter-resistant glass) then I'll be heading Downtown on this Scooter come Round 1.
Priced at 65 means he's about 30 points under-priced by my reckoning (and I've been bang-on with Selwood-based predictions in the past, so finely-tuned are my Scooter senses) and with a coach-friendly bye week in Round 12 (only 3 other teams missing that week), I'm all in on my man crush – if he's deemed road-worthy by the mechanics down at Geelong. Are you?
Loading ...
FOLLOW ME ON TWITTER: @Tbetta9 for all things AFL Fantasy (and usually, sarcastic thoughts on much more). Got something to say about the deck? Tweet me or use the hashtag… #DeckofDT.