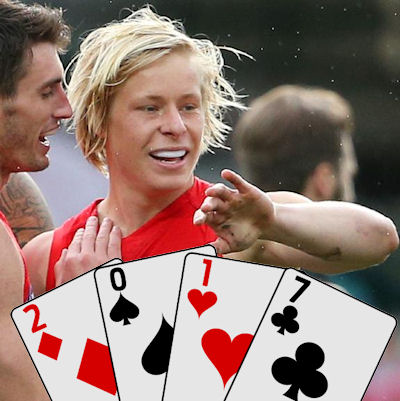 Name: Isaac Heeney
Team: Sydney Swans
Position: Forward
AFL Fantasy: $442,000
Bye Round: 11
2016 Average: 73.4
2016 Games Played: 24 (Including Finals) 20 (H&A)
Predicted Average: 89
Click here for DT Live profile.
Why should I pick him?
To be honest, Isaac Heeney is my favourite player currently playing AFL Footy, there I said it. Yes I back the Eagles, and yes I'm excited by the short term prospect of Smitch/Priddis working together, but realistically as far the long term goes, its Heeney I'm most excited about. Fresh of the back of a relatively successful year for the Swans (Barring the Grand Final of course), Isaac committed to the club for a further 5 years, keeping him in red and white until the end of 2022. As expected, his second season at Sydney produced myriad highlights and a markedly improved fantasy game. Heeney started off round 1 with a bang, gathering 23 disposals, 1 goal, 3 behinds and 2 tackles on his way to cool 101 Fantasy points. Owners at the time would have been licking their lips with excitement due to the fact he was priced at a little over $350k at the beginning of the year. Regrettably though, this form was not sustained and owners were brought straight back down to earth when he posted a lousy 47 points in both of the next two rounds (Yuck, we'll get to that below).
Nevertheless, back to why you should pick him.
I believe Heeney is entering his breakout year. It is no secret that he has been tearing up preseason and pushing his fitness to the next level. The below extract was taken from a recent interview with the man himself.
 "I'm out there running my butt off just to push and get that fitness under my belt to be able to run out a game in the midfield, so I'll be in Horse's (Swans coach John Longmire's) ear constantly just saying 'get me in there".
Heeney has publicly stated he is pushing for a coveted spot in the Sydney midfield and is aiming for that role in the 2017 season. MORE MIDFIELD TIME = MORE POINTS. Simples. I could bang on all day about durability, age, skills blah blah blah,, but realistically it's that simple. During the 2016 final series, Heeney was given licence to roam on the wing and the results speak for themselves. In the semi-final against the Crows, he registered a cool 116 AFL Fantasy points helped by a career high 32 disposals, 9 marks and a goal. In the Preliminary Final against the Cats, he went one better and posted a lazy 132 AFL Fantasy points with 28 disposals, 6 marks and 7 tackles. Although the Grand Final wasn't as extravagant as the two prior games, he still managed to post a respectable 89 points with 22 touches on the day as well. As a FWD who may potentially be playing out of position on the wing, in the elite Sydney midfield and with his footy prowess, selecting him is an absolute no brainer in my eyes.
Sidenote….. I'm 99% sure Heeney has his own fantasy team just like last year and obviously the bloke's going to pick himself, so have comfort in the knowledge that (apart from the fact it's his job….) it's in his best interest to gather up a few cheeky +6's here and there.
Why shouldn't I pick him?
Don't get me wrong, a lot of the above is based on speculation of a role change in 2017. Horse hasn't confirmed this, and nor will he, so selecting him round one, regardless of his role in the pre-season, will still be a bit of a gamble. At $442k he's awkwardly priced and sits right in the realm of a 'Mid-Priced Player'. Seasoned Fantasy coaches know how mid-pricers can really burn you early on with poor performance resulting in a heap of cash lost in the first few weeks.
Another thing that concerns me is that although he may be pushing for a midfield spot, the reality is the Swans have arguably one of, if not THE strongest midfields in the competition and breaking into it as a third-year player may be his biggest hurdle. I've no doubt he will get some game time on the wing, but it's the amount of time and when he gets it that may deter some from taking the gamble on him come round 1.
As I alluded to at the start, Heeney isn't a stranger when it comes to posting some pretty putrid scores. Last year he had three sub 60 scores within the first five weeks (47,47,57) and carried this roller coaster of form on throughout most of the year. Some weeks he'd look the goods and post consistent tons (108 and 127) in Round 19 and 20 respectively, then he'd flop and post less than average scores (65 and 42) in rounds 21 and 22 respectively.
In addition to the above, if you're looking for a 'Point of Difference' (POD) then unfortunately Heeney is not your man, as currently in the Drawing Board created by Chad at www.dtlive.com.au, he is owned by a whopping 71.9% of coaches and rising almost daily.
Deck of DT Rating.
Queen- I'm basing this call not on the quality of player he is, but more specifically on where he sits in terms of fantasy value. Make no mistake Heeney will register some solid scores in 2017 but $442k is a lot to fork out for a guy who may or may not be pushed up to the wing. If he gets the nod from Horse to play on the wing, he's as good as a pre-season lock as you're going to get, however his price and role makes selecting him a gamble that will either get you some great scores and a nice pot of gold, or leave you with a sour taste in your mouth when he dishes out a sub 50 score. Truthfully, he's a superstar in the making and will feature as a regular in Fantasy coaches' teams for years to come. The question remains, will 2017 be his breakout year?
Loading ...
FOLLOW ME ON TWITTER: @leighroyDT for all thing AFL Fantasy (and more). Got something to say about the deck? Use the hashtag… #DeckofDT.