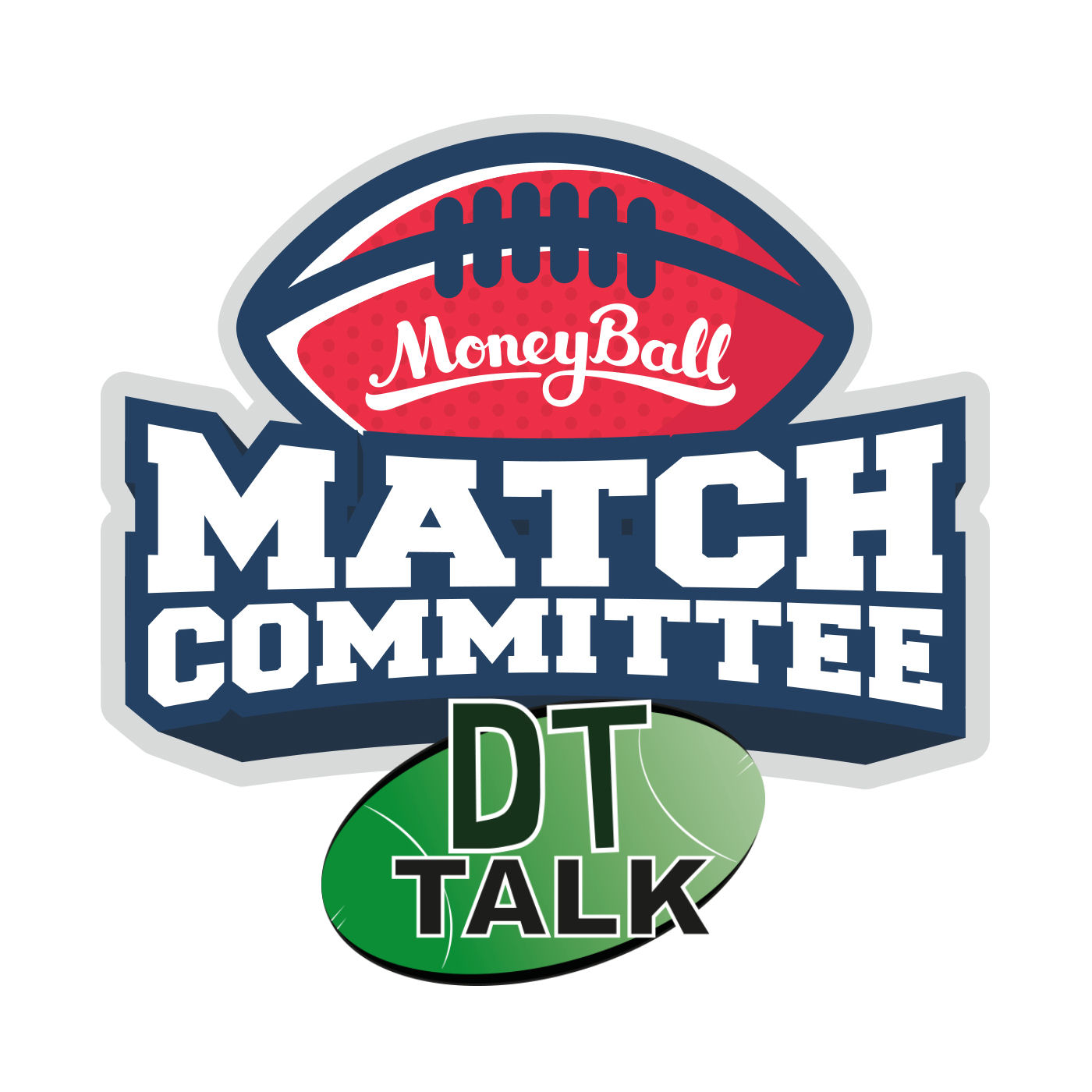 Tbetta here, and welcome to the self-proclaimed top resource for keen Aussie Rules Moneyball punters! DFS (Daily Fantasy Sports) is taking off around the world and Moneyball have the perfect platform for you to turn your AFL Fantasy prowess into cold hard cash. Signing up is easy – head to moneyball.com.au and you could be ballin' within minutes.
If you're unsure how DFS works, be sure to head to the 'Help' section for all the info you need to start cashing in on your AFL Fantasy knowledge!
Let's start Ballin' by checking out the excellent Match Committee Podcast below, starring your favourite DT Talk lads and brought to you by the legends at Moneyball:
Click here to subscribe on iTunes.

Both sides have suffered injuries to crucial soldiers in Trent Cotchin and Luke Hodge, which is sure to make things very interesting from a Premium midfielder standpoint. The temptation to go unique can certainly be indulged now, with the 'Big Four Mids' structure not looking as strong on personnel. On the rookie front, Kaiden Brand ($3,500 DEF) and Jayden Short ($3,500 MID) join the battlefield but neither whet my Moneyball whistle.
Join the $5000 guaranteed Tigers vs Hawks Special here.
Speaking in general terms, the Hawks are hardly the oppressive side they used to be. In fact, they've actually scored less fantasy points than their opposition in each of the past four weeks, with those sides averaging 1703 fantasy points per game, when the average is 1577. The Tigers aren't exactly in splendid shape themselves, but I'll still be looking at guys like B. Ellis, Grigg, Houli and Martin to take advantage of the unclaimed points that Hawthorn are conceding.
AVOID:
It could be a little harsh, but the numbers don't lie. Sam Mitchell ($9,700 MID) might be the most expensive player on offer this Friday night, but at the moment, he's not producing the goods to justify his billing. Obviously he started the season in blistering fashion, notching four-straight 110+ MB scores to start the year – but he's failed to reach triple figures in the two games since. The Hawks' lack of ball control is hurting Mitchell badly, and losing his wingman in Hodge doesn't improve matters.
SMOKEY:
It's always ballsy picking the guy who's just come off a stint in the VFL, but hear me out here. Will Langford ($6,100 MID) is a horses-for-courses type selection here and both Hawthorn and I are looking for him to replace Hodge in the clinches. He's performed that task admirably so far this year already, averaging 90 MB without Hodge in the side, yet just 65 points without him.
TOP PICK:
Even with Ivan Maric anchoring him down in Richmond's ruck department, Shaun Hampson ($4,300 RU) still managed to swat 39 hitouts last week. My expectations this week (with Maric's ghost no longer haunting him) are something that more resembles an AFL ruckman plying his trade. Something like the 34-hitout, 11-disposal, 5-mark performance that earned Hampson a tidy 101 points against Sam Jacobs and his Crows in Round 3 would be nice. It's far from guaranteed, but for $4.3k we can be happy with an eventual 70-odd score if the potential for a three-digit total was legitimately there.
We have 6 games this Saturday and with a whole raft of changes, let's focus on the cheap guys that are still on the rack. Our first nominee is Collingwood ball magnet Josh Smith ($3,500 MID), who is an absolute lock for that fourth MID slot. He's been impressive since day dot, busy churning out scores of 90 and 96 and is well placed to score big again with some midfield stars (Sidebottom, Pendlebury and the absent Adams) under injury clouds.
Sign up to Moneyball and join in on the DFS fun here.
At $700 extra is the classy Daniel Menzel ($4,200 FWD), who's been on a tear lately; scoring 92, 91, 125 in his last three starts. Menzel's form is simply too encouraging to pass up, especially within spitting distance of basement price and he even plays at Simmonds this week – where the Cats average an extra 222 AF points as a team, roughly equating to an extra 10 points per player at home.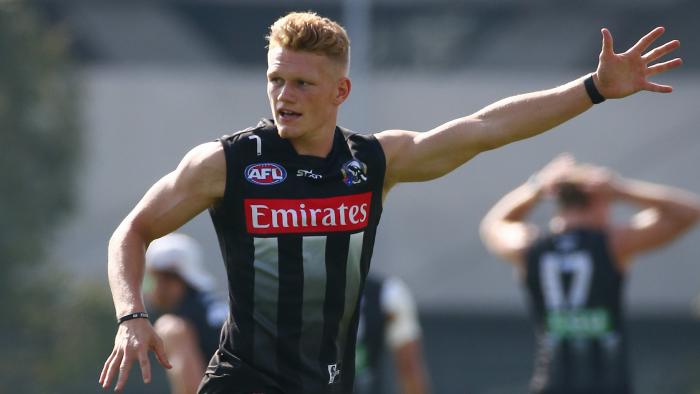 AVOID:
Unfortunately, Tom Mitchell's ($9,000 MID) form has suffered in direct correlation with his tackling in recent weeks:
First three rounds: 133 MB, 8.3 tackles
Last three rounds: 84 MB, 5.7 tackles.
So even though the Bombers have been leaking points lately, I'll be avoiding Titch at that price – until he starts upping his inside stats, of course.
In saying that, if you are hell-bent on cashing in on Essendon's fantasy pain, then Swan pair Luke Parker ($9,100 MID) & Dan Hannebery ($9,500 MID) are your prime targets. Ranked #1 and #2 for fantasy points scored in the past four weeks, they're ticking both the form and fixture boxes – think no further.
SMOKEY:
Adam Treloar ($9,200 MID) hasn't received the fantasy attention he deserves this year and it's time we rectified that. He boasts most recent scores of 126, 126, and 130, which makes him the 3rd-ranked player based on form in Moneyball – not to mention that he even ranks 5th in the league for average disposals at 31 per game. Treloar is standing up big time while other key Pies are playing hurt and won't have a whole lot of resistance against Carlton's midfield.
TOP PICK:
Gold Coast gave up a huge 13 MB tons last week, as midfield personnel issues have really started to affect both their on-field and fantasy fates. Expect the Demons to continue piling on the punishment, especially given their competitive ball-winning numbers over the past few weeks. Jack Viney ($7,300 MID) ranks as #1 for MB value of all players over $7k and demands your attention this week. He's pumped out totals of 111, 130 and 113 in last three, and leads the competition in total contested possessions this year.
Even with Matthew Lobbe out long-term, Port has opted to cut Dougal Howard and contest Stefan Martin ($8,700 RU) with part-timers in Trengove, Westhoff and Dixon. Martin isn't a great tap ruckman in general so I can understand the tactic – which just happens to have huge positive ramifications for us in Moneyball. Stef coasts to 90+ with his ground-level work (back-to-back 96-point scores leading into Round 7), but now you're going to force-feed him an extra 20 hit-outs? Sign me up!
Join the $5000 guaranteed Sunday Funday Special here.
Still on Port: Nathan Krakouer ($4,500 DEF) surprised me last week, eking his way to 86 MB in his season debut. He needed 5 marks, 5 tackles and a sausage roll to get it done though; winning just 14 possessions is a concern. I'd definitely have a crack at Krak at basement price, but at $1000 extra, you could go either way.
AVOID:
Tim Membrey ($4,300 FWD) kicked 5.1 last week for 116 MB points and that inflates the value in his 'Form' column significantly. The former Swan is cheap enough to consider but be warned – it's the first time he's kicked more than 2 goals in an AFL game. Don't expect Membrey to get close to that score again this week against the lossless Kangas.
SMOKEY:
Once again, the Brisbane KPD's let through a ton of fantasy points to key forwards, with Buddy kicking 5.3 and Tippett breezing past 120 despite the soggy conditions. Charlie Dixon ($5,200 FWD) is the nominal spearhead for Port with Schulz out and needs to be looked at that price – word is, he might sneak in a few ruck minutes, too.
TOP PICK:
Tom Rockliff ($8,000 MID) scores a season-high 133 MB, yet drops $100 in value. We'll take it! His heat map was looking great in Round 6, a promising midfield spread with 24 out of his 31 touches between the arcs. Perhaps the most encouraging stat though, was that Rocky posted a trademark 10 tackles after failing to exceed 2 man-cuddles in his previous two games.