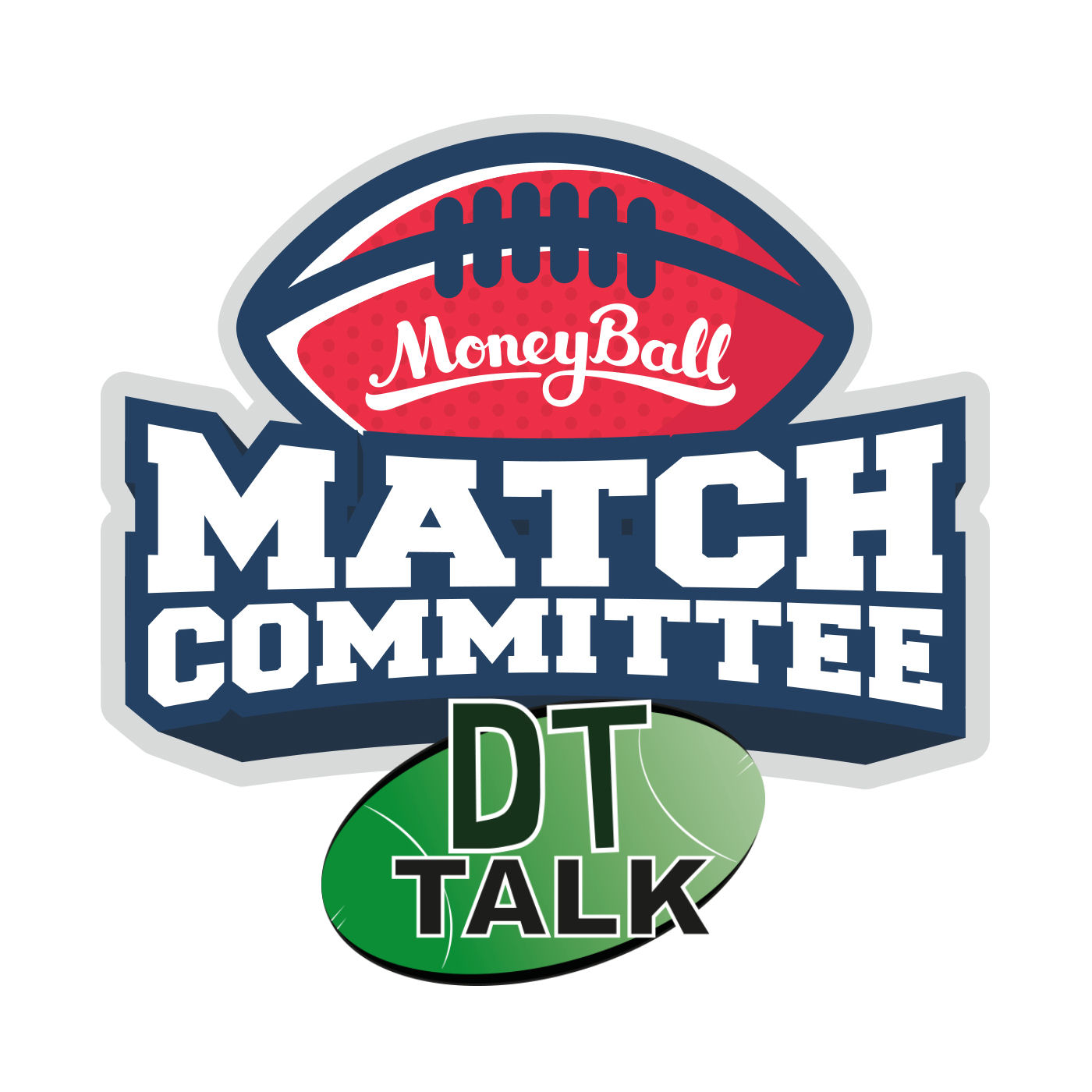 Tbetta here, and welcome to the self-proclaimed top resource for keen Aussie Rules Moneyball punters! DFS (Daily Fantasy Sports) is taking off around the world and Moneyball have the perfect platform for you to turn your AFL Fantasy prowess into cold hard cash. Signing up is easy – head to moneyball.com.au and you could be ballin' within minutes.
If you're unsure how DFS works, be sure to head to the 'Help' section for all the info you need to start cashing in on your AFL Fantasy knowledge!
Let's start Ballin' by checking out the excellent Match Committee Podcast below, starring your favourite DT Talk lads and brought to you by the legends at Moneyball:
Click here to subscribe on iTunes.

We don't have much to write home about with the team selections this week, which helps keep the water mud-free in terms of sizing up roles and scoring potential. David Mackay has pinged a hammy which is kind of a shame, because he was a $6k option pumping out 90's before injury hit. The Cats also have injuries to cheapies in McCarthy and Cockatoo to navigate, opting to replace them with similarly frugal options in Bews and Gregson. Of that pair, Jed Bews ($3,500 DEF) is the only one to vaguely interest me on a strictly value basis, having massaged out a 70-point score in his only other appearance for 2016.
Join the $5000 guaranteed Tigers vs Hawks Special here.
Without historical form, it's hard to figure out which instincts will kick in for Patty Dangerfield ($9,200 MID) against his former club – will he fight or choose flight? I'm going with the gut on this one and I think that Danger will be dominant this week for a couple of reasons. A) The Crows don't want to look like they're too Patty-conscious and have already ruled out tagging their former franchise star, and B) He looks simply unstoppable lately, averaging 122 MB points in his past three efforts.
AVOID:
It's an easy one this week – avoid splashing out on too many Crows. Geelong has been scarily oppressive from a fantasy perspective lately, and has actually conceded the least amount of fantasy points of any club this season. Additionally, the Cats rank #3 for conceding the lowest disposal counts to their opponents; making it hard to justify picking too many of the Sloane, Thompson, and Crouch brigade that might rely on possessions to keep their scores healthy.
SMOKEY:
I'm going to bend the definition of "smokey" here and talk about Jimmy Bartel ($7,400 MID) on the basis that he's been almost fantasy irrelevant over the first portion of the season. Not for long – Bartel is now well and truly on the radar with scores of 111 and 132 MB in the past fortnight. A big reason for his rejuvenation has been simply winning more of the pill – after failing to reach 23 touches in a game over the first five rounds, Jimmy has managed totals of 28 and 30 disposals in the last two weeks.
TOP PICK:
I've said it 25 times in this column but I'll say it again; Mitch Duncan ($7,700 MID) is still criminally under-priced and is approaching must-pick status. Thanks to the concussion-forced 17-point stinker rolling through his average, Duncan has escaped the wrath of the tax man – despite averaging an unencumbered 110 Moneyballers otherwise. Put another way, in an attempt to further whet your appetite: Duncan hasn't scored under 86 MB in a full game this season and has topped 110 in each of his last 3 games. Get on!
With Shaun Higgins sidelined for up to 12 weeks and Daniel Wells out this week with a cork, Aaron Mullett's ($3,500 DEF) job security swells slightly. The former fantasy padawan registered 14 kicks and 6 marks in his season debut last week(for 68 MB) and has filled Higgins' HFF/Wing role in the past for the Roos. Mullett's your typically strong DFS play on an increased-opportunity basis this week, and it's just a bonus that he's basement-priced with a lot of fixture upside against a leaky Bombers outfit.
Check out the $7k guaranteed Saturday Slam Special here.
Damn. Dan Currie's ($3,500 RU) out with a hip, which hurts us almost as much as it probably hurts him – we could have used a base-priced ruckman whose last two scores were 82 & 96 MB. The question now becomes; do we dare consider Tom Nicholls ($6,200 RU) instead? Interestingly, Nicholls actually pumped out 119 MB in his final game before he got dropped (16 disposals, 10 tackles and 37 hitouts) which raises the question as to why he was dumped in the first place. Niggling injury? Not doing the team things? Slept with Rocket's daughter? Either way, Nicholls will be keen to cement his spot this time around and is worth keeping in your thinking.
AVOID:
Bachar Houli ($8,300 DEF) is the type of guy who can win you a big Moneyball contest one week, but cooks you every other week you pick him. The ceiling is definitely there with scores of 118, 150 and 123 over the course of this season. However, more importantly, he's also included meek totals of 72, 55 and 49 MB onto his fantasy résumé in the past month. Houli's consistency – or lack thereof – is a big flapping red flag for someone who'll gut your wallet to the tune of $8.3k.
SMOKEY:
Before the Adelaide match in Round 6 this year, Michael Walters ($6,900 FWD) had only managed to reach 22 disposals in 3 of his 77 career games. But his last disposal counts in the past fortnight? 22 and a career-high 29 (previous best was 23). Walters is clearly playing further up the ground than ever before at the moment, with 74% of his possessions won outside of the F50 this season – and it's paying dividends in Moneyball, averaging 114 MB in the last three. He's playing promising footy while Freo are sucking badly, and that's enough to make him an option against the Hawks this week.
TOP PICK:
Over the last 5 weeks, Freo have given up at least 4 MB tons in every single game, and actually average 5.1 MB tons conceded for the season. The Hawks are going to absolutely destroy Freo in fantasy – especially down in Tassie, where the Moneyball points have been known to flow.
Your first picked will be Sam Mitchell ($9,500 MID), whose last 4 scores against the Dockers read: 128, 124, 155 and 119 MB! But you're concerned about him returning from a corkie, right? Rest easy; Mitchell missed single games on two occasions last season, then busted out scores of 117 and 119 MB in the comeback games from those absences!
Jackson Trengove ($3,700 DEF) played possibly his best game for Port last week, stepping into the ruck void for the Power with aplomb, collecting 25 touches and laying 6 tackles for his 100 Moneyball points. With Lobbe injured and Dougal Howard expected to drop off as an emergency, Trengove becomes an instant plug & play option for as long as he's soaking up ruck time.
Sticking to the ruck theme here with Scott Lycett ($6,200 RU), who needs to be considered this week, back at his nest at Domain Stadium and in the midst of a break-out year. The West Coast utility is averaging a hefty 104 MB over the past month (Psst! That includes a low score of 89 MB), hitting every statistical category to keep his scoring high while Naitanui takes the majority of the ruck minutes. So while Lycett's only swatting 16 hitouts per game in this period, he's making up for it with healthy averages of 14 disposals, 4.5 marks, 5 tackles and 1.75 goals!
AVOID:
With a 125-point average over the last 5 weeks, it's fair to say that Max Gawn ($9,100 RU) is in some rare form, but did you know that the Bulldogs are experts at restricting the scoring of opposition rucks? He might be too risky at his price based on the following stats:
No ruckman has scored more than 96 MB against the Doggies this year,
Only 1 ruckman has exceeded 27 hitouts against them (Goldstein with 40), and
Only 1 ruckman has won 15+ touches against them (Stef Martin with 18).
With those surprising figures in mind, I'll be looking a lot closer at Tom Campbell ($4,100 RU), who's actually enjoying strong form of his own with a three-week average of 90.
SMOKEY:
It seems that it's unfashionable to talk up Elliot Yeo ($7,500 MID) this week, but bear with me. Many will be scared off by his 55-point average on the road, but we're back at Subiaco this week and it's a whole different ball game for Yeo.  The young Eagle has a lowest score of 105 MB at home this year, and even has some solid form against the Saints with 99 & 102 against them last season. The Yeo-Yeo is always up at Domain, and you'll be sure to get a unique pick with his MID status and a week-long bashing in the media.
TOP PICK:
Following on from Round 7 – where we started to really target the reliable defenders rather than running the gauntlet on cheaper options – is Kade Simpson ($8,000 DEF), who's an excellent embodiment of that ideology. After all, what's more consistent than churning out scores of 106, 105, 108 and 109 in the past month?! Don't think, just click.