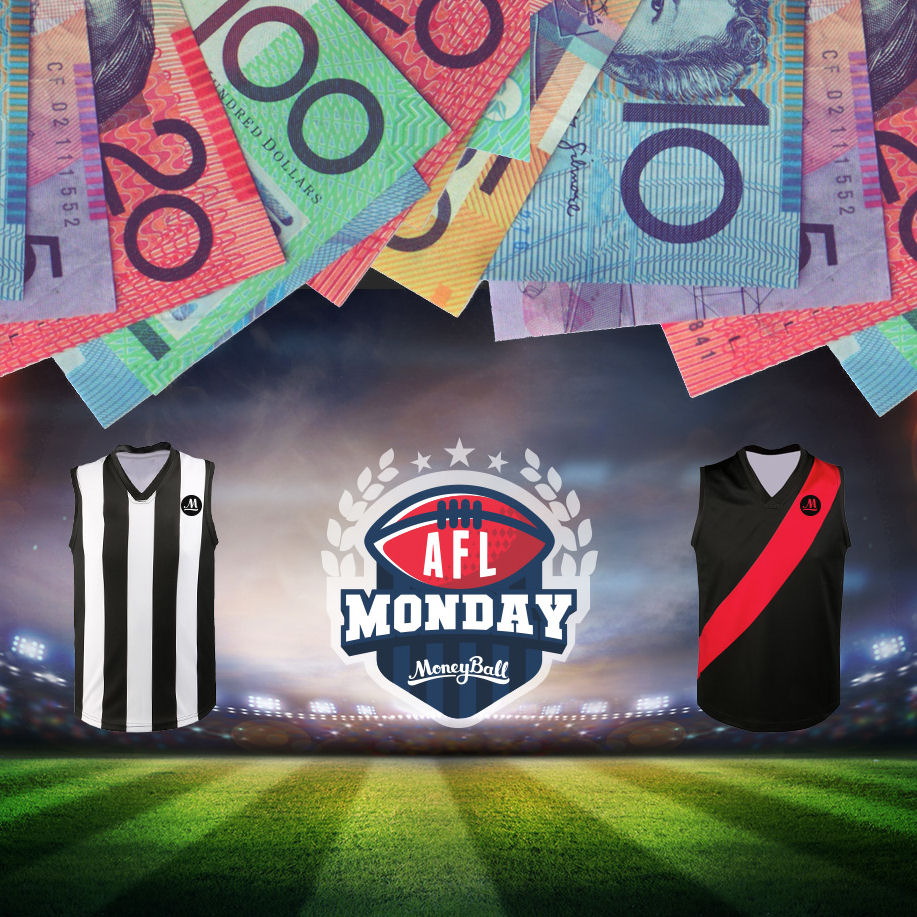 Tbetta here, and welcome to the self-proclaimed top resource for keen Aussie Rules Moneyball punters! DFS (Daily Fantasy Sports) is taking off around the world and Moneyball have the perfect platform for you to turn your AFL Fantasy prowess into cold hard cash. Signing up is easy – head to moneyball.com.au and you could be ballin' within minutes.
If you're unsure how DFS works, be sure to head to the 'Help' section for all the info you need to start cashing in on your AFL Fantasy knowledge!
Let's start Ballin' by checking out the excellent Match Committee Podcast below, starring your favourite DT Talk lads and brought to you by the legends at Moneyball:
Click here to subscribe on iTunes.

There aren't too many changes to worry about between two of the most in-form sides in the competition, with both the Hawks and Crows coming off three-straight victories. Charlie Cameron ($4200 FWD) is the sole inclusion for Adelaide in a like-for-like with Milera and honestly, one would have to be brave to pick up the goalsneak without any exposed form.
Join the $5000 guaranteed Hawks vs Crows Special here.
Josh Gibson ($7,800 DEF) is the headline act here and he deserves your consideration after averaging 121 MB points before hamstring soreness (cough rested cough) sprung up last week. He's the centre of gravity in the Hawks backline and as a result, he'll never bomb hard enough to hurt you catastrophically given his access to cheap kick-mark combos. Plus, here's a fun fact: his career-best score came against the Crows in 2012, collecting 29 touches, clunking 15 marks and laying 6 tackles for an eye-popping 166 MB points. One for the superstitious 'Ballers out there.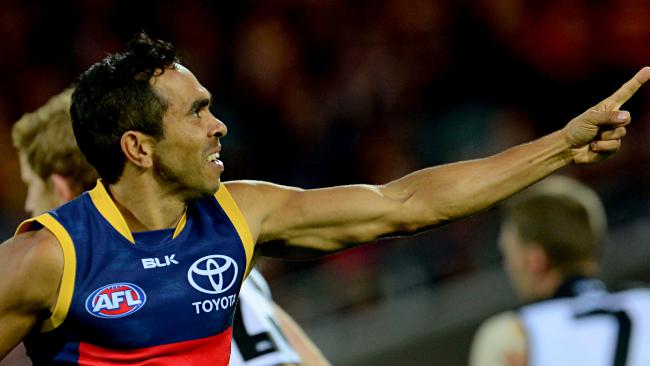 AVOID:
Despite averaging a healthy 100 MB this year, Eddie Betts ($6,500 FWD) flat out cannot play football against the Hawks. Whether it's team dominance or structural strangulation that afflicts him, Betts' recent scores against (43, 36 and 42 MB) Hawthorn basically writes this paragraph for me. It starts with "he's going to struggle" and ends with "don't pick him".
SMOKEY:
He's often a footnote in fantasy despite a solid career in the imaginary version of the game, but it's time to acknowledge that Scott Thompson ($7,900 MID) is winding back the clock recently. No, seriously! He's actually averaging a tidy 28 disposals and 9 tackles for  119 MB over the past three weeks. Thompson is a big reason why the Crows are 3-1, and you can feel safe in the knowledge that he's basically Adelaide's version of Sam Mitchell – allowed to run around all day, doing what he likes.
Just a quick word about last week's 'Smokey' – Jarryd Lyons ($3,600 MID) was once again solid in a high half-forward role, and the coach would love his forward pressure with 8 tackles. He's still available this week at a slither above base price,  averaging 77 MB as Brad Crouch's direct replacement – and he's been named on the field.
TOP PICK:
It's hard to look past Sam Mitchell ($8,600 MID) in his current form – I mean, the 48 year old (or something) has scored the equal most MB points of anyone over the past 3 weeks. One could point out that he seems to struggle to go big against Adelaide historically; in his last 6 tries, he's exceeded 105 MB just once.
However, form is form, and the Sam Mitchell of 2016 is thriving in a much different environment than years past, especially when you consider how the interchange cap (and all its other domino effects) has benefited players of Mitchell's ilk. Back him in if you've got the cash!
The Suns have pulled a massive surprise on us with their ruck contingent, dropping Tom Nicholls after a hefty 119 MB for the perma-bridesmaid Daniel Currie ($3,500 RU). I have to suspect there is something else at work here, even if they just believe that the more solidly-built Currie is better suited for battle against the oppressive Todd Goldstein ($9,600 RU).
Join in on the $7k Saturday Slam fun here!
Both are extremely relevant – Currie should outscore his price through exposure alone, while Goldy should smash a NEAFL-quality ruckman into the ground. It's a big tactical choice that might frame your Moneyball Saturday.
AVOID:
Sam Gray ($6,200 FWD) is fast making my naughty list. Despite earning AFLCA votes in Round 1 (the coaches award voting), he's been played increasingly deep forward rather than rolling around in that midfield role we were all drooling over during the pre-season. To put it in perspective, Gray has averaged a lukewarm 69 AF points over his past 3 games. In the previous 4 games, he averaged 118 AF points. Something's clearly changed, and I'm not paying $6k-odd for him until I find out what.
SMOKEY:
Caleb Daniel ($5,100 FWD) sits in the top 5 for Moneyball value at his current price, and he's yet to fail us with a lowest score of 86 MB. As long as he's pumping out 100's, I'll be riding the wave until it crashes. Daniel is hardly a household name, so there's always the chance that he's being overlooked by other 'Ballers while you benefit from the little fella's big scoring.
TOP PICK:
It's time we talk about Jarrad Waite ($6,800 FWD). I've been hesitant to jump on because we've seen key forwards have these quick starts in the past that dry up really quickly. However, four-straight MB tons on the trot is undeniable form, and that includes 3 scores of 128+ MB. Waite comes up against a Gold Coast defence missing May (suspension) and Thompson (injury), so things could get messy. At sub-$7k, he's low risk with massive upside – which is the not-so-secret formula to Moneyball success!
Our low salary stocks have copped a bit of a hit this week, with rookie-priced players Matt Jones and Clayton Oliver both being managed with soreness. We'll have to get a bit clever when it comes to picking those cheap guys, but one guy we unfortunately won't be able to consider is Christian Petracca ($3,500 MID). While he's been named on an extended interchange, Petracca will drop off as an emergency according to coach Paul Roos. Still, he's one to get excited about in future weeks.
Brett Deledio ($8,000 FWD) has also been added to the squad for his first game of 2016, but I have serious doubts as to whether he'll actually play. Definitely avoid in the 'Sunday Funday Special' due to the doubt surrounding his fitness, as we won't know final squads until after lockout hits.
AVOID:
It would be hard to pick an underdone Ivan Maric ($6,900 RU) in his comeback game in normal circumstances, but it becomes borderline idiotic when you realise his opponent is Max Gawn ($7,800 RU). After a slow start to the year, the Demon ruckman has averaged 50 hit-outs on his way to firing out scores of 127 & 115 MB in the past fortnight.
SMOKEY:
Josh Wagner ($3,500 DEF) is a base-priced defender – which is always welcome – but it's his form that demands attention after 105 MB last week. 24 touches, 6 marks and 5 tackles are elite numbers that he probably can't sustain, but at least now we know that the potential is there. Add to the mix that he's been named on wing, and I'm starting to think Wagner's a risk worth taking.
TOP PICK:
Melbourne has conceded 17 MB tons in past three weeks, including 7 scores over 125 MB – most of which were to gun midfielders. This is excellent news for all the Richmond MIDs, but I'll be looking closely at one of my favourites in this article. I'm talking about the freewheeling Brandon Ellis ($8,600 MID) of course, who is averaging 115 MB over his last three as he continues to ignore his direct wing opponent in favour of hunting easy backline ball.
My first concern ofter I saw that Mason Cox ($3500 RU) was confirmed for his debut was, how will it affect Brodie Grundy? After scanning through the line-up and absorbing Twitter chatter, I've calmed down. It looks like Cox will be there on key forward duty with a sprinkle of ruck relief, as there are some suggestions that Cloke won't even play on ANZAC day. Either way, Cox probably won't score enough to be Moneyball useful, but at least he won't be capping Grundy's potential in the meantime.
Join the massive $7k ANZAC Day Special here!
For the Bombers, there isn't much to write home about; especially as all seven players on the extended interchange are fantasy nobodies. One thing that caught my eye though, was Craig Bird ($4500 FWD) named in the rover slot. I'm a long way from forgiving the Birdman for his efforts and absences early this season, but last week's 80-point score was a big step towards winning back my trust.
AVOID:
This is a public service announcement: Matt Dea ($6,900 DEF) is the only player to change price this week, as it looks like he flew under the radar in Round 4's wave of changes. Despite the low brand power his name holds, Dea's actually been scoring well (83 MB average) so far… But is a tick under $7k too much to pay?
SMOKEY:
How can I claim Orazio Fantasia ($3,500 DEF) as Monday's 'Smokey' and also shout from the rooftops how much of an absolute lock he is? Ignoring the oxymoron, Fantasia is as safe as they come at rock-bottom price, pumping out scores of 96 and 199 MB in his last two. He hasn't dropped below 23 touches this year, is named on a wing and comes up against the leakiest club in the competition. Make sure you're on board.
TOP PICK:
Of the four ruckmen ticking over at more than 99 MB points, Brodie Grundy ($7,400 RU) is the only one to not be averaging at least 30 hitouts, and by a fair margin too. Grundy looms as a very low-risk prospect because of his slightly cheaper price, his healthy basement of 96 so far, and the fact that he earns his bread with ground work and not necessarily his aerial prowess. In fact, Grundy's averaging 19 touches and 4 tackles to form the foundation of his scoring, rather than relying on hit-outs (21 per game) to earn his salary as has been the downfall of many premium ruckmen in this new fantasy landscape.