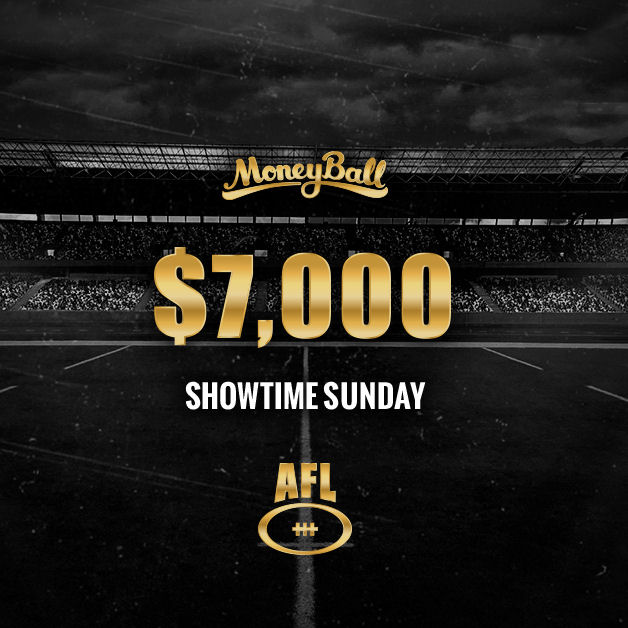 ---
Tbetta here, and welcome to the self-proclaimed top resource for keen Aussie Rules Moneyball punters! DFS (Daily Fantasy Sports) is taking off around the world and Moneyball have the perfect platform for you to turn your AFL Fantasy prowess into cold hard cash. Signing up is easy – head to moneyball.com.au and you could be ballin' within minutes.
If you're unsure how DFS works, be sure to head to the 'Help' section for all the info you need to start cashing in on your AFL Fantasy knowledge!
Let's start Ballin' by checking out the excellent Match Committee Podcast below, starring your favourite DT Talk lads and brought to you by the legends at Moneyball:
Click here to subscribe on iTunes.

AVOID:
With Ivan Maric given another week off to prove his fitness due to a tough 5-day break (as he played in the VFL last weekend), that leaves part-timer Shaun Hampson ($3,900 RU) with the unenviable task of quelling Nic Naitanui's ($7,500 RU) aerial influence this week. Normally I'm all over cheap solo rucks like Hampson (Hickey comes to mind), but this might be a mountain too steep – which is ridiculous to say about the guy currently snuggling up next to a supermodel each night.
Join the $5000 guaranteed Eagles vs Tigers Special here.
Once Sandilands went down in the Derby, Naitanui absolutely punished the Freo bandaid ruckmen and if I'm being honest, Hampson at times looks like he's new to the gig himself. Am I being horribly disrespectful to Hammer after he notched a season-high 101 MB points against Sam Jacobs last week? Perhaps. But if you give me $12k to spend on a Ruck/Fwd combo, I'm taking Naitanui/Lennon over Hampson/Kennedy for the ceiling every time.
SMOKEY:
While we're on the topic of Ben Lennon ($4,600 FWD), let's look a little closer into the cheap Tiger. He'll certainly be a unique pick, mainly because no one has any idea who he is. In his 16 AFL games prior to this season Lennon was used exclusively in the forward line; but, boasting a tidy kick and half a footy brain, the Richmond coaching staff sent Lennon to defence this season.
So far, it's a success with Lennon gathering 81 MB points in a promisingly loose role down back in Round 3. This is the definition of a "high risk, high reward" kind of pick, and I suspect his final score will more reflect the state of the game and the role he played rather than his footballing ability against the Eagles.
TOP PICK:
After crawling to 64 MB in Round 1, it looked like this new halfback role would kill off Brandon Ellis ($8,600 MID) in fantasy. With the benefit of hindsight, we know that's not the case – it was just a warm up apparently. He's now scored 111 and 150 in his last two games, forming a double-headed rebounding threat out of defence with Bachar Houli ($7,700 DEF) that West Coast will find hard to quash completely.
AVOID:
As a club, Carlton have been bleeding points, both in real life and fantasy. In the last two weeks they've conceded 13 MB tons to their lucky opponents, and now they come up against the highest scoring fantasy side this year. With the Bulldogs playing a possession-dominant brand of footy and Carlton seemingly preferring not to win it, things could get messy.
In general, it would be a very smart move to avoid Carlton options and target Western Bulldogs players instead this week, particularly in the Saturday Slam. The Pups have a long list of relevant players but one that seems to slip under the radar is Jack Macrae ($8,300 MID), despite his impressive fantasy resume.
Join in on the Moneyball fun here.
As an outside player, Macrae should be one of the prime beneficiaries of Cartlon's uselessness, in complete juxtaposition to what an oppressive Hawks accomplished in holding him to 77 MB last weekend. The silky wingman has only played the Blues twice in his career, but they were healthy scores of 125 and 114. I'm on board.
SMOKEY:
If we're looking to risk it to get the biscuit, then Jarryd Lyons ($3,600 MID) is a sneaky option that many will shy away from due to the unknown factor. He directly benefits from Brad Crouch's dodgy hamstrings and although he started forward last week, he won most of his touches in the midfield. Lyons finished with 84 MB points against the Tigers and his SANFL form suggests that he's only just getting started.
If you're after something a little more mainstream or risk-free, then you could do much worse than settling for Mitch Duncan ($6,600 MID). Thanks to being ironed out by raging Mummy, Duncan missed the big price rise this week that he was always destined for. With scores of 107 and 127 MB in his full games this year, Geelong's midfield heir apparent won't be this cheap for long. You should invest now while you can.
TOP PICK:
Tom J. Lynch ($7,100 FWD) is close to a must-pick this week against the Lions. Check out what the Brisbane defenders have allowed in previous weeks – JJK had 8.2 for 198 MB, Waite had 5.1 for 138 MB and Hawkins managed 4.4 for 90 MB. Averaging 116 MB points and kicking at least 4 goals each week this season is a wicked baseline to work with; then once you in the Brisbane factor, you can lock in Gold Coast's Lynch without a second thought.
Do I really need to mention Marcus Adams ($4,300 DEF) here? Probably not, but just to satisfy my OCD, I will reiterate that Adams is still ridiculously underpriced based on what we've seen over the past two weeks – which is basically a fantasy star being forged. He's the linchpin of the Bulldogs' switches, clocking up +7 combos at will and he'll likely continue this with ease against the Blues.
AVOID:
Don't get too worked up over Jack Ziebell's ($7,500 MID) 19-tackle game last week that resulted in 142 MB points. His tackle counts for the first two rounds were 3 & 4, failing to reach 90 MB in either of those games. This is the classic outlier case if I ever saw one – even if it did come in a particularly bizarre game down in Hobart.  I mean, one ruckman kicked 5 goals, while his opponent amassed 63 hitouts. Let's just file that game under the X-Files and simply remove it from our Moneyball thinking, yeah?
SMOKEY:
After missing two weeks due to suspension, many 'Ballers won't have Steele Sidebottom ($8,500 MID) at the forefront of their fantasy minds. But I do, and that's because Sidey is a comeback specialist. Hear me out:
After missing 3 weeks in 2014, Steele returned with a 158 MB point monster.
Last year, Sidey scored 90 MB in Round 1 before missing the next six weeks due to suspension and injury. His next two games upon return were 114 and 139.
In almost identical fashion, Sidebottom returns this week after scoring just 88 MB in Round 1… Hint, hint. Nudge, nudge.
I'm predicting a big score is on the cards for Sidey, and he's helped with the fixture, coming up against a leaky Saints side.
The last time Jonathon Griffin ($4,600 RU) played without Aaron Sandilands in the side was early 2013 before getting injured himself. However, in those first six games he averaged a potent 92 MB; even picking up a couple of Brownlow votes in that time. Unfortunately, Griffin comes up against the league's premier ruckman in Todd Goldstein ($9,600 RU), which significantly dampens my expectations… Although, he is priced at $5k less than Goldy, so could he still be worth the gamble?
TOP PICK:
Tom Scully ($7,500 MID) is a now a legitimate option, especially while his form streaks ahead of his price worm. Scully is one of only 4 MIDs to average at least 29 touches and 90% TOG this year, with the other three being Robbie Gray, Gary Ablett and Sam Mitchell; pretty decent company by anyone's definition. Scully's certainly worthy of your attention against a struggling Port outfit, especially when you factor in his scores of 99, 150 and 113 in what can only be described as a breakout season.