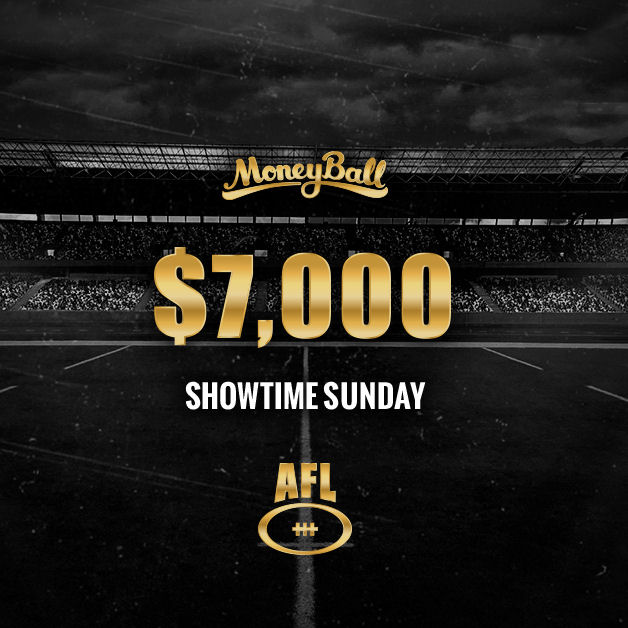 Tbetta here, and welcome to the self-proclaimed top resource for keen Aussie Rules Moneyball punters! DFS (Daily Fantasy Sports) is taking off around the world and Moneyball have the perfect platform for you to turn your AFL Fantasy prowess into cold hard cash. Signing up is easy – head to moneyball.com.au and you could be ballin' within minutes.
If you're unsure how DFS works, be sure to head to the 'Help' section for all the info you need to start cashing in on your AFL Fantasy knowledge!
Let's start Ballin' by checking out the excellent Match Committee Podcast below, starring your favourite DT Talk lads and brought to you by the legends at Moneyball:

Click here to subscribe on iTunes.

Man overboard! The Pies have copped a big hit to their engine room, losing both Swanny and Sidebottom for this week's clash. The pair of ball magnets averaged 222 MB points per game between them last year, which means we have a lot of stats to distribute to the next wave of Pies midfielders. This is the perfect segue to introduce James Aish ($4,000 MID), who unfortunately is a MID and not a DEF in Moneyball, yet should see enough of the action to justify his selection.
While we're on the Pies, Brodie Grundy ($7,400 RU) replaces the injured Witts and has been a competent scorer when flying solo in the past. Given how useless Shaun Hampson ($3,500 RU) was last week (47 MB), I'm tempted to spend the extra $4k on a ruckman with actual footballing ability.
Join in on the $5000 guaranteed Magpies vs Tigers Special fun here.
It's a similarly sad story for the Tigers personnel-wise, with Deledio and Maric still on the road to recovery, plus the clever Shaun Edwards an inductee into their rehab posse. Jayden Short ($3,500 MID) earns his opportunity amidst the crisis but you've have to be a brave 'Baller to roll the dice on an untried rookie in one of your precious MID slots.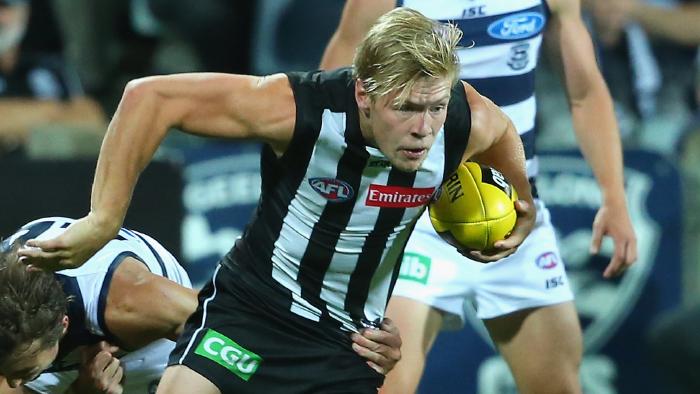 AVOID:
A lot of Moneyballers are going to remember Kane Lambert's ($4,900 MID) 123-point effort on the dawn of the Round 1 and immediately lock him in without a second thought – but you really need to have that self-check. Who remembers that time when Kyle Reimers kicked 8 goals in a game? Or when Lachie Hansen had 30 touches and 17 marks on that fateful day?
While I won't offend Lambert by suggesting that he's on the same spudness level as those two guys, it's important to remember that last Thursday was just his 2nd career MB ton – notching career-bests in disposals, marks and tackles. The point is, this lightning bolt is unlikely to strike in the same place twice, so value Lambert accordingly.
SMOKEY:
As I mentioned earlier, the forward line options here are thinner than Josh Walker's hairline so we need to get a little creative. Jarryd Blair ($5,600 FWD) is not someone I usually consider in fantasy of any description but there's no denying that we have a Moneyball crisis that's given Blair a big opportunity. He managed 90 MB in a belting from the Swans last week, sneaking into the midfield post-Swanny to post healthy numbers of 19 touches and 7 tackles. Consider.
TOP PICK:
The top play for Friday night is easily Jordan De Goey ($4,800 MID) on both a value basis and the increased potential to score in the absences of prime movers in Swanny and Sidebottom. The young Pie was chained to the forward line for hefty chunks of the Sydney clash and still managed 82 MB – excellent value for his price as it is. Add in a large slice of Sidebottom's midfield minutes and De Goey will have every opportunity to reel us in a three-digit score.

We've covered Mitch Robinson in depth over a very productive past month, but unfortunately his calf couldn't keep up with his insatiable hunger for Moneyball points. His loss is Dayne Zorko's ($7,200 MID) gain though, a like-for-like who'll soak up all those tasty midfield minutes in his return from suspension. An eerily similar engine room vacancy was filled by Zorko at the end of last season with great success, ticking along at 107 MB points per game over the last 11 weeks of the season. I'm all in on this one.
Many moons ago, some famous philosopher made up a law stating that with any action, comes an equal and opposite reaction. So when you add one giant Aaron Sandilands ($7,200 RU) to a Fremantle side, two measly ruckmen in Griffin and Clarke are displaced, apparently. Jokes aside, Sandilands will have to shoulder a huge amount of TOG in the guts and we've seen in the past that he can put up monster scores off his own back. No idea why there was so much anatomy in that paragraph.
AVOID:
With the Saturday Slam contest primarily in mind (although this still applies to the WBD vs STK standalone pools), I find it hard to splash out on the big money defenders like Matthew Boyd ($8,800 DEF). Not because Boyd isn't a great pick mind you – he managed 99 MB last week and did all the Boyd-like things we've come to expect of him after a decade of fantasy dominance. However, you're missing out on a huge amount of value in the $4k to $6.5k range and I think that cash can be handy elsewhere. This is simply a fiscally responsible decision.
SMOKEY:
Tom Hickey ($4,400 RU) definitely slipped past me last week, registering 20 touches and 56 hitouts for 119 MB points. I clearly didn't give him enough respect as to what he can do as the sole ruckman, even if it was against a mid-range threat like Lobbe. Hindsight is 20/20 though and it suggests that he may have been anchored by Longer in past timeshares, but no more – and he'll only have to face Jordan Roughead on Saturday. Form, fixture and value are in his favour, so I can't see anything wrong with gambling on Hickey this week if you want to use the coin elsewhere.
TOP PICK:
There are so many names I could slap down here and words of praise would just vomit out of me – Sam Gray ($5,900 FWD), Aaron Hall ($5,800 MID), Gary Ablett ($6,400 MID), the list goes on. It's going to be a Battle Royale in the value stakes and this guys are the headline acts. So let's focus on someone a little less obvious, shall we?
He might not first-billed for the Demons but Jack Viney ($6,300 MID) is certainly rising fast up the fantasy ranks. An excellent pre-season culminated in a monster 119-point season debut and he's coming up against a gutted Essendon squad on Saturday. Need I say more? Probably not, but I'll leave you with this; 5 Gold Coast players scored Moneyball tons against the Bombers last week and… they were all midfielders! Nom nom nom!
The @Moneyballcomau Saturday Slam is now worth $7500! 45 mins until lockout. https://t.co/MqmCJKGZCE #AFLFantasy pic.twitter.com/82lJO0ND6S

— DT Talk (@DTTALK) April 2, 2016
AVOID:
Josh J Kennedy ($7,200 FWD) is well known for his downhill skiing tendencies, often bullying weaker sides and kicking bags on fresh defenders. Obviously, 25 touches, 16 marks and 8 sausage rolls is a fat serving of anecdotal evidence out of Round 1. Logically, it follows that he must find it more difficult against the better sides with hardened defensive units, right?
This assertion definitely seems to fit with JJK's recent record against the Hawks, managing scores of just 74 and 48 last season. After last week's 198-point monster I can see short-sighted punters chasing another big total, meaning you might be able to gain an advantage by breaking away from the pack stalking Kennedy.
SMOKEY:
The Hawks are going to need midfield help with Hodge, Hill and Shiels out, throwing a couple of cheaper second-tier options into viability. Is the pack-busting Will Langford ($5,400 MID) worth a look after his 20 touches, 8 tackles, and 94 MB in Round 1? What about the line-breaking Billy Hartung ($4,900 MID) after his 24 touches for 85 MB?
These two have form behind them, but don't overlook the freshly-added Daniel Howe ($3,500 DEF) either, who should come in as a straight swap for Hodge on the back on huge PPM numbers in the pre-season competition.
TOP PICK:
I feel like a broken record here but, once again, the FWDs are trash so it might be wise to simply lock in Lance Franklin ($6,500 FWD) now. Buddy is coming off a 92 MB score last weekend, smashed out 114 against the Blues two weeks ago and even destroyed them  to the tune of 7 goals, 22 touches and 7 marks for 154 MB points last year. Take my money now.