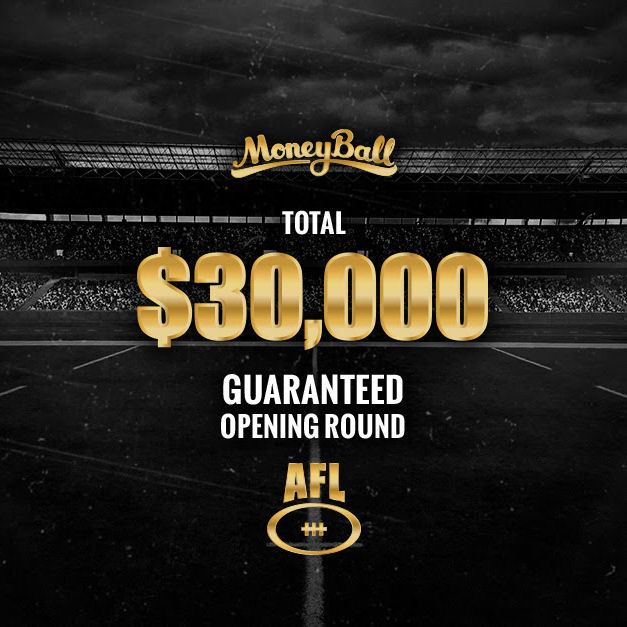 Tbetta here, and welcome to the self-proclaimed top resource for keen Aussie rules Moneyball punters! DFS (Daily Fantasy Sports) is taking off around the world and Moneyball have the perfect platform for you to turn your AFL Fantasy prowess into cold hard cash. Signing up is easy – head to moneyball.com.au and you could be ballin' within minutes.
If you're unsure how DFS works, be sure to head to the 'Help' (https://moneyball.com.au/#/help)  section for all the info you need to start cashing in on your AFL Fantasy knowledge.
Let's start Ballin'!
Click here to subscribe on iTunes.

TONIGHT'S GAME NOW $6000!
As expected, the arrival of mastermind SOS and new coach Brendan Bolton has brought in a new wave of Blues for us to consider in fantasy circles. A quick glance confirms that pre-season Moneyball studs in Nick Graham ($5,200 MID) and Sam Kerridge ($4,500 MID) have been selected, although interestingly, I think you'll find it difficult to fit them both in as midfielders while getting anywhere near the $60k cap. Likewise, tackling machine Jacob Townsend ($4,700 MID) earns his stripes for Richmond but is another mid-range option of which we can only indulge in so many.
With Ivan Maric ruled out of proceedings, we'll see support ruckman Shaun Hampson ($3,500 RU) thirsty for revenge against his old side. Hammer had 30 touches and 8 possessions against the Power in a similar solo capacity, finishing with 80 MB – essentially obliterating the 43-point breakeven the price of $3.5k implies. On the flipside, Matthew Kreuzer ($6,700 RU) has actually been named at Full Forward and will have to split time with newbie Andrew Phillips ($3,500 RU), possibly capping his fantasy potential.
AVOID:
There was once a time when we considered Andrejs Everitt ($6,200 FWD) a Premium fantasy option – but no more. Incredibly, Everitt was Carlton's leading goalkicker last year with 31 majors and it looks like the Blues will try and milk a few more sausage rolls out of the utility, rather than deploying him in his more fertile wingman role.
After scores of 31, 33 and 30 this pre-season, I'm not waiting around for Everitt to get comfortable and neither should you.
SMOKEY:
Alex Rance ($6,000 DEF) is one of the few backmen who regularly gets his hands on the pill, yet we rarely give him the time of day in fantasy circles. The key defender averaged 23 touches over the NAB Challenge for scores of 81 and 88 – totals I'll certainly bank given his price and the few reliable options in defence on Thursday night.
TOP PICK:
It's easy to get a little too cute with your Moneyball selections but Bachar Houli's ($7,200 DEF) selection isn't the time or the place. As we've come to expect with these single-game contests, the FWD and DEF pools are shallow in terms of reliable options, with Bachar the standout backman available to us on Thursday night. With scores of 116 and 122 over the NAB Challenge and pedestrian alternatives in his position, there is literally no sane reason not to pick Houli this week.
While we'll focus on the awesome Saturday Slam Special in this section because of the huge payouts going on, there are a couple of sneaky guys to look out for in the GWS vs Melbourne clash. As the lads mentioned in the Match Committee podcast (see above!), Nathan Wilson ($4,000 DEF) is coming off scores of 81 and 107 and looks to have zipped past Zac Williams in the secondary rebounding role for the GWS. Others like Jack Steele ($5,300 MID) who's coming of a big 123 MB game, breakout contender Jack Viney ($6,300 MID) after averaging 93 MB over the NAB Challenge, and even the evergreen Steve Johnson ($6,800 FWD) after his prolific pre-season are worthy of your consideration.
Join the ridiculous $10,000 Saturday Slam Special.
The big focus game for me will be Gold Coast vs Essendon, as it will likely be for all future Bombers games. They allowed a ridiculous 7 Moneyball tons to the Eagles in a belting and that's a trend I expect to continue as they struggle to hit the scoreboard.
Thanks to some generous pricing, there are a few Suns on the bargain radar. Gary Ablett ($6,400 MID) is ridiculously priced for a guy that busted out a 189-point monster last year, and should smash his value tipping point even if he is underdone. Aaron Hall ($5,800 MID) is a no-look lock after his pre-season and Kade Kolodjasnhij ($6,700 DEF) deserves your undivided – if you think he's over a niggly calf complaint, of course.
AVOID:
He's been a long time fantasy hero for us in the imaginary footy world, but it's probably wise to give Brendon Goddard ($8,200 MID) a pass this week. There are just so many unknowns for BJ and his Bombers… How much footy does the Essendon midfield even get access to? Will Goddard be targeted as one of the only senior onballers left out on the field? At a slither over $8k, it's best to let this saga play out and then we can use what we learn in future Moneyball contests.
SMOKEY:
If you're looking for a POD in the ruck line – possibly thinking that Goliaths in Todd Goldstein ($9,000 RU) and Sam Jacobs ($8,000 RU) cancel each other out as they do battle – then you need to consider Jarrod Witts ($5,700 RU).
Brodie Grundy has been given the flick by Bucks after a lukewarm pre-season and Witts has shone in his stead; winning 29 hitouts, collecting 17 touches and laying an impressive 8 tackles for 101MB in the last game of the NAB. Youngster Corey Gault ($3,500 FWD) is his only aerial conflict from a teammate point of view, so all signs point to Witts outperforming his price-tag.
TOP PICK:
Unless you've been living under a Sandilands-sized rock, you'll have heard about our new ball-magnet Overlord and future Ruler of the Disposal Universe: Matt Crouch ($5,400 MID). Priced at just 55 after producing scores of 86, 104, and 108 in the NAB Challenge has prompted the phrases "insanity", "craziness" and "bullshit cheap" to be bandied around. Don't get cute and miss the Matty Crouch Train, because it's leaving the station and it's not waiting for you to be convinced he's the real deal.
The first thing I noticed was that while the FWD line is stacked with a plethora of viable options, we have to dig a little deeper to find promising scorers in defence. I'm not loving the names of Roberton, Paparone, Broadbent and Gilbert amongst those above $6k, so it's down the value-bricked road we go. Daniel Rich ($5,700 DEF) is one that tickles my fancy after his Beams-forced move back into the midfield started bearing serious fruit. Teammate Ryan Harwood ($3,500 DEF) is an option for minimum cash, scoring 70's this pre-season in what looks like a relatively safe and consistent role off the halfback for the Lions.
For me, the ruck position picks itself. Tom Hickey ($4,400 RU) is about as useful as a newborn deer, Matthew Lobbe ($6,100 RU) wishes he was even that useful and Nic Naitanui ($7,200 RU) is coming up against oppressive opposition in Stefan Martin ($9,000 RU). The Lion ruckman has been wrestling the chocolates off NicNat in recent times, outscoring the Fijian 122 vs 78 and 125 vs 88 in head-to-head battles. Bank the guaranteed points in the ruck on Sunday with Martin and search for your value elsewhere.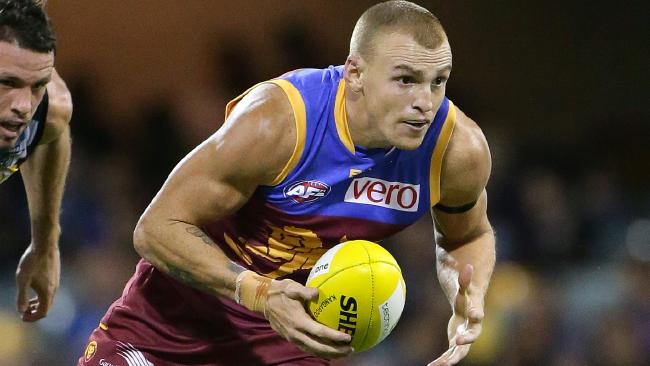 AVOID:
I heart Tom Liberatore ($9,000 MID) but I don't heart his hefty price-tag or his ordinary NAB Challenge average of just 58 Moneyball points. Over the course of the year Libba will be good – but not $9k good. Let's give him a few weeks to catch his breath and, hopefully, an uptick in production (when he gets comfortable with his reconstructed knee and the high AFL-level tempo) will coincide with a cheaper price tag.
SMOKEY:
We're screaming out for a decent DEF in the Sunday Funday Special and that's where the Governator, Jeremy McGovern ($5,100 DEF), comes in. Scores of 106 and 88 have piqued my interest and further investigation suggests that the extra freedom that comes with having Eric Mackenzie in the side helps generate increased scores. Named at CHF, we might just see some more of that geographical freedom on Sunday evening.
TOP PICK:
The Lions are Beams-less, Zorko-free and desperate for midfield grunt – enter Mitch Robinson ($7,100 MID). Robbo has a big opportunity to capitalise on a midfield vacancy and if his form at the end of last season (scoring 110+ MB points in 6 of his last 7 games!) is any indication, then his price-tag of $7,100 can be classified as way unders. A tackling beast, The Waterboy had seven double-digit tackle games last year and we've come to expect the extra 30-40 points you get for cuddles every week now.
Both the Cats and Hawks have opted to leave out a couple of young guns in what will be a fierce battle on Monday, with Daniel Howe ($3,500 DEF) and Daniel Menzel ($3,500 FWD) basement-priced options whose magnets we'll have to remove from the whiteboard. This is slightly surprising – Howe was one of Hawthorn's best performers in the NAB Challenge, averaging 93 MB points. Likewise, Menzel looked promising as he collected 19 touches and laid 4 tackles to bring his total up to 67 MB points in his only pre-season appearance. Their absences hurt, removing a pair of minimum-priced players in the shallow FWD and DEF pools.
Join the $5,000 guaranteed Cats vs Hawks Special.
Patty Dangerfield ($8,600 MID) scored the equal-most Moneyball points of any player in the NAB Challenge, topping three-digits in all 3 games and looms as a must-pick midfielder. His presence probably allows Joel Selwood ($7,700 MID) to run around tag-free, which is always a tantalising proposition given the quality of the Selwood family name.
Selwood finished off last year strongly, averaging 115 MB in the final 8 games and he comes off a ripping VFL match that sealed his Round 1 availability. However, if I was to play Devil's Advocate I'd point out Joel's lack of a fitness base and maybe even highlight the fact that he struggles against Hawthorn, topping 110 just once in his last six tries against the Hawks. This one could go either way.
AVOID:
With value being the name of the game, it could be wise to let Mark Blicavs ($8,200 RU) slip through the hiring process. The Blitz has had an erratic pre-season, adjusting to a shiny new midfield role with MB scores of 93, 60 and 35. To be clear; I think Blicavs will be solid and he'll utilise his elite endurance to score freely while others fatigue. However, speaking practically, he is priced at approximately 100 MB and I'm favouring the value that someone like Zac Smith ($5,600 RU) holds with our sole ruck selection.
SMOKEY:
The absence of Liam Shiels and Bradley Hill gives someone like Jono O'Rourke ($3,500 MID) a big chance to carve out a role in a stacked Hawthorn midfield. As we know, Jono is a former high draft pick and coming off a 75-point MB game (20 touches, 5 marks, 3 tackles), he's ticking a lot of boxes. At basement price, acquiring O'Rourke's services could be the key to fitting in the smorgasbord of big-name midfielders into your squad.
TOP PICK:
Obviously, it's going to be hard to squeeze all of Dangerfield, Selwood, Mitchell, Hodge, Lewis (and the rest) under a modest $60k salary cap, which is where Mitch Duncan ($6,500 MID) comes in. The emerging Cat was one of the NAB challenge's most prolific players on a per-minute basis and is coming off an injury-interrupted season that leaves him generously underpriced. A very low-risk play with a lot of upside – Duncan scored 145 and 155 in successive weeks last year, so he definitely has the ability to go supernova.
Until next week, Moneyballers.