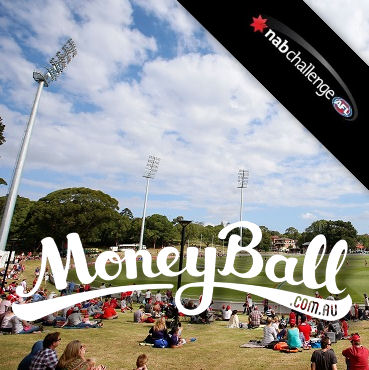 Tbetta here, and welcome to the self-proclaimed top resource for keen Aussie rules Moneyball punters! DFS (Daily Fantasy Sports) is taking off around the world and Moneyball have the perfect platform for you to turn your AFL Fantasy prowess into cold hard cash. Signing up is easy – head to moneyball.com.au and you could be ballin' within minutes.
If you're unsure how DFS works, be sure to head to the 'Help' (https://moneyball.com.au/#/help)  section for all the info you need to start cashing in on your AFL Fantasy knowledge.

Thank God for Moneyball… because fantasy punting is likely the only competition we'll see on Thursday night. Gold Coast have flow over the bottom half of their list all the way out to sunny Perth, while West Coast are gradually injecting some senior faces into the young side they rolled out for NAB1.
Key Eagles in Nic Naitanui ($7,200 RU) and Matt Priddis ($7,900 MID) headline the inclusions for the Eagles and the highly touted pair alone should easily account for a listless Suns midfield. Both are strong options in terms of TOG considering their absences last week and the following 10-day break before they attempt to knock off Essendon at home. Teammate Elliott Yeo ($6,400 MID) was slightly disappointing in a weakened NAB1 unit, so I fully expect he'll bounce back this week – if not for pride, then at least due to the easier ride with increased quality surrounding him in the guts.
Join the $1500 Eagles vs Suns special.
The Suns have labelled Jack Martin ($4,500 FWD) a guaranteed starter and he's certainly underpriced for the amount of talent stored up inside that slight frame. Speaking of, the Moneyball FWD options are just as thin, so he could be very handy logistically. Jarrod Harbrow ($6,200 DEF) is the lone premium Sun backman and will need to carry the back six to some sort of acceptable defensive performance.
AVOID:
Make no mistake; this will be a belting on both the real life and fantasy scoreboards, so avoiding picking too many Suns is a smart (albeit obvious) tactic. The exemption to the rule could be Aaron Hall ($5,800 MID), the single big-ish name midfielder named for Gold Coast. Hall has proven he can swim against the current, averaging 106 FP in the final 7 games of last season when the Suns' injury curse was at its most dire.
SMOKEY:
Swingman Jeremy McGovern ($5,100 DEF) will slide into a guernsey for the first time this year and we'll finally get some clues as to see how Adam Simpson plans to use him this season. With Ezy Mackenzie and Mitch Brown both named, the Governor could be unleashed up forward or perhaps even in the air. Either way, the potential for increased statistical impact is there.
TOP PICK:
Opposition sides can't stop Andrew Gaff ($8,400 MID) from accumulating the footy, and that's when they don't have their NEAFL side on the park. Gaff is pricey but is super consistent – he dropped below 23 touches just once last season. Moneyball gold.
Surprise, surprise! With both teams afforded the luxury of not travelling, the teamsheets have been influenced slightly and we're seeing VERY strong sides slated for Friday night. The Swans midfield will be out in full flight, boasting names such as Dan Hannebery ($9,000 MID), Tom Mitchell ($8,200 MID), Josh Kennedy ($8,200 MID) and Kieren Jack ($7,700 MID) for our consideration.
As accomplished as that lot are, I'm most excited about their forgotten comrade Luke Parker ($7,500 MID) at a discounted price. Stashed amongst all that talent and with a season-ending knee injury late last year, it's easy to forget that Parker is the type of cat who can bust out stat-stuffing boxscores such as the 8-week streak where he averaged 124 FP last season.
For the Giants, a fantasy favourite of mine in Devon Smith ($6,900 FWD) will play his first game of the pre-season but he'll be overshadowed for fanfare by veteran recruit Steve Johnson ($6,800 FWD). SJ will be forced to play closer to the sticks at his age, but no one's suggesting that he can't outscore his modest pricetag by hitting the scoreboard hard on Friday night.
Other options to strongly consider include perhaps the only ball-winning defender on offer in Heath Shaw ($7,900 DEF), highly acclaimed Swanlet in Callum Mills ($3,500 MID) and the dizzying roller coaster ride that is the Toby Greene ($6,900 MID) experience – if you think he'll hit a peak, rather than a trough, this season.
AVOID:
Kurt Tippett ($6,400 FWD) was an absolute monster at the end of 2015 (132 FP avg in the final five games of last season), but the aerial situation has changed this year. Callum Sinclair ($6,100 RU) is another ruck ingredient and with Shane Mumford ($7,400 RU) a hungry customer, I'll be steering clear of potentially overpaying for Kurt.
SMOKEY:
Moneyball prices haven't changed since NAB1 but my opinion of Jake Lloyd ($5,900 MID) certainly has. His 126 FP performance last week screamed break-out and he's cheap enough to risk betting on history repeating itself, even with the big midfield names returning.
TOP PICK:
I talked up Dylan Shiel ($7,500 MID) last week but unfortunately he didn't make the final squad, and nothing has changed in my eyes. Shiel's super cheap for what he was producing regularly in early 2015 and he's one of the best in the business at winning his own ball – a skill he'll probably need to call upon this week against arguably the deepest midfield in the league.

We have no interstate-based mass restings with 4 Victorian teams doing battle on Saturday, which gives us the opportunity to pick from relatively strong Collingwood, Geelong, Essendon and North Melbourne squads (by NAB Challenge standards).
The Magpies have been given a boost by sliding Scott Pendlebury ($9,300 MID) into the fray, who will be a worthwhile Moneyball addition given that he won't need to be managed after missing NAB2. Similarly, a nicely priced Taylor Adams ($7,800 MID) was rested after half time against the Cats and common sense dictates that he won't be asked to do another Half-Game Harry this week. Swan, Sidebottom and Treloar are all missing, so their midfield time is up for auction.
Join the $1000 Saturday Slam special.
In scanning through the options available to us this Saturday, there's no shortage of value options with runs already on the board. Mitch Duncan ($6,500 MID) was busy for 90 FP last week; David Zaharakis ($6,100 MID) posted a game-high 97 FP against the blues; Jordan De Goey ($4,800 MID) exceeded all expectations with 104 FP of his own and new Bomber Craig Bird ($4,500 FWD) was encouraging with 64 FP in just 60% game time.
AVOID:
At 34 years young and after playing a full hit out last weekend, there has to be serious concern as to whether Corey Enright ($7,400 DEF) plays out a full match – if he even makes the final squad at all. Boris' scoring will always be solid if not spectacular, but I'm not convinced he'll play the minutes to justify the selection.
SMOKEY:
Todd Goldstein ($9,500 RU) headlines the ruck options this week, but that doesn't make him an automatic pick. Mark Jamar ($3,500 DEF) is basement price for his first game in red & black, and has had hot flushes of fantasy relevance in the past. Theoretically, he only needs to score 37% of what Goldstein dishes up to break even in terms of value.
TOP PICK:
I've always liked what Josh Caddy ($7,200 MID) dishes up, but unfortunately he's often handcuffed to a forward flank and that stunts his scoring a little. With both Selwood's still spending time in the rehab group and considering his absence in NAB2, I expect we'll see a full game out of Caddy in the guts. Historically, that's a recipe for success and a Moneyball bargain.
Games between the Bulldogs, Saints, Lions and Demons as a collective might not make huge waves on a public interest level, but there is a surprisingly large amount of fantasy ability between the clubs.
After disappointing as a late withdrawal last week, Matthew Boyd ($8,800 DEF) fits the "first game, full game" rule and obviously has the scoring chops to match his price tag. There's not much to love in defence on Sunday so he's likely going to soak up a bit of your Moneyball salary. Likewise, Nathan Jones ($6,600 MID) will pull up the socks for the first time and is a sneaky under-priced MID worthy of your attention.
We face a tough decision in the ruck with both Stefan Martin ($9,000 RU) and Max Gawn ($7,700 RU) proving late in 2015 that they are super consistent types – worth their weight in gold in DFS formats. If you're paying big, you want to limit the downside, right? We haven't seen Martin just yet throughout this NAB Challenge but Gawn had 42 hitouts for 98 FP against no scrubber in Lobbe, so it's unlikely that anyone from the Bulldogs' ruck mess will worry him.
Nick Riewoldt ($8,400 FWD) has been slated for a new, shiny midfield role this year and I'll believe it when I see it. In saying that, memories of Richardson's reinvigoration at 33 years young – once he was released up onto a wing – sit at the forefront of my mind. The NAB Challenge is designed for trial and error, so expect him to give this wing gig a crack even if it doesn't survive into the season proper.
AVOID:
Maybe avoid isn't the right word – 'deliberate' probably makes more sense. Tom Liberatore ($9,000 MID) is super popular in season-long fantasy formats but he doesn't benefit from the same pricing discount in Moneyball. An absolute gun, but buyer beware; you're paying full price.
SMOKEY:
Jack Billings ($7,200 FWD) struggled with fitness last year yet still averaged 91 FP points from nine games. A lot of 'ballers will be put off by his 21 FP in NAB1, failing to realise that it came in just 37% game time. Billings could be a big POD for your forward line, don't count him out.
TOP PICK:
It's hard to look past a fit Tom Rockliff ($8,100 MID) who, to be honest, is a Rolls Royce that you can drive home for the price of a Mitsubishi. Rocky finished last season with Moneyball totals of 124, 131, 149, 139, 159 and 160. Need I say any more?