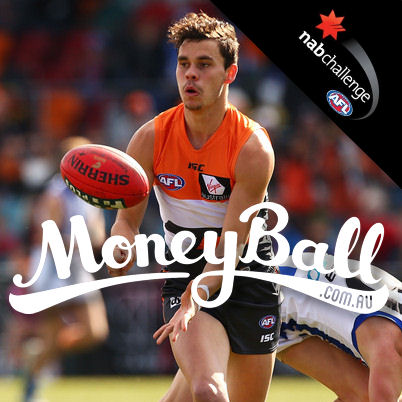 Tbetta here, and welcome to the first edition in what will hopefully become the go-to resource for keen Aussie rules Moneyball punters! DFS (Daily Fantasy Sports) is taking off around the world and Moneyball have the perfect platform for you to turn your AFL Fantasy prowess into cold hard cash. Signing up is easy – head to moneyball.com.au and you could be ballin' within minutes.
If you're unsure how DFS works, be sure to head to the 'Help' section for all the info you need to start cashing in on your AFL Fantasy knowledge.

As we've come to expect throughout the NAB Challenge campaign, both the Giants and Doggies have left out a handful of blue-chip talent for their first clash, which culls our Premium options a tad. Of what's remaining, if we're looking purely at scoring power, you can't go past Jack Macrae ($8,400 MID) in the absence of teammate Tom Liberatore ($9,000 MID). Jackson's been a fantasy beast over the past two seasons and is exactly the kind of outside player that will take advantage of these meaningless bruise-free practice matches; especially as his elite skills help him avoid all those -3's you get for clangers!
Join the $1500 Giants v Bulldogs special.
He'll be going head-to-head with some exciting GWS talent however. Dylan Shiel ($7,500 MID) is super cheap compared to what he was producing early last season before injury hit – averaging  a huge 112 FP in the first 8 rounds. I expect him to come out very hungry with a point to prove (EDIT: cut from final squad). Similarly, Stephen Coniglio ($7,100 MID) had health concerns of his own but always pumped out big totals when on the park. Nigs is priced at an 87 FP average but should be much closer to 95 and beyond based on his efforts last year – especially given he spent a fair bit of time tagging, which is unlikely to happen in a meaningless NAB Challenge hit out.
Other value options to consider include:
'The Package' Jake Stringer ($5,900 FWD), who's supposed to be having a heap of success in intra-club matches. Stringer is slightly underpriced but I have a sneaky feeling he could be managed in this game given his history of soft-tissue injuries. Could go either way.
Lachie Hunter ($6,600 MID) is incredible value after finishing last season with a 106-point average in the final 8 rounds. Hunter's end to 2015 was essentially a huge statement that he intends to be a part of the Bulldogs' engine room moving forward and I expect him to push that claim in front of the coaching staff again on Thursday night.
Without a lot of our elite options, we don't have to go searching too deep for basement-priced value. However, Dawson Simpson ($3,500 RU) is too cheap to disregard in a team without Mumford against a Will Minson ($5,500 RU)/Campbell tag team. Dawson should easily hit the 43 points required to breakeven from a banker's POV, with the potential to go far beyond it.
TOP PICK:
Zac Williams ($5,300 DEF) is priced at 64 FP, yet averaged a hearty 85 when he wasn't vested last season. The Giants love his run off halfback, and as a result, I love his value in fantasy land. He's far from a household name, so you'll likely have a handy advantage over your fellow Moneyball competitors by investing in Williams.
Don't pick: Boyd, Honeychurch, Hamilton, Dale, Adcock, Shiel, DAvis and Himmelberg in your @Moneyballcomau teams tonight. #NABChallenge

— DT Talk (@DTTALK) February 25, 2016
Both Collingwood and Geelong have named strong squads for this clash of two Victorian heavyweights, with a few notable exceptions. Pendlebury has nothing to prove so he's been given the night off, whilst Geelong will head into Friday without a pair of Selwoods or a single Bartel, leaving plenty of room for youngsters to soak up those extra midfield minutes. Josh Caddy ($7,200 MID) has always been a strong pre-season performer and should spend more time in the thick of it rather than his classic hybrid forward role (Edit – cut from final squad). However, the Cat I'm really excited about is forgotten wingman Mitch Duncan ($6,500 MID). He averaged excellent figures of 23 touches, 6 marks and 3 tackles just two years ago but unfortunately couldn't get healthy in 2015 – yet still churned out Moneyball scores of 145 and 155 across the season. I've pegged Duncan for a big comeback year and you'll want to be on board before his modest price heads north.
Join the $1500 Cats v Magpies special.
If you're looking for value, the NAB Challenge offers up the chance for young players to hit the fantasy scoreboard and we're blessed with some promising options on Friday night. With the forwards available in DFS particularly weak, Daniel Menzel ($3,500 FWD) is too cheap to ignore and with that 95-point belter in his comeback game last year, he's shown he can score with or without actual knees. Jordan de Geoy ($4,800 MID) tackles all day, James Aish ($4,000 MID) will want to silence any doubters early and Sam Menegola ($3,500 MID) was a WAFL ball magnet, making them all worth the plunge.
Other options to consider:
It's Patrick Dangerfield's ($8,600 MID) first game in Cat colours, and he might even escape a tag amongst the rainbows and marshmallows of the NAB Challenge. With very few top price options to spend your hard-earned cash on, Danger would be very fun to invest in… But buyer beware – he's exactly the type of player that coaches love to manage through the pre-season and I wouldn't be shocked if he played just the half, like Nat Fyfe did last week.
I mentioned Mitch Duncan earlier but Levi Greenwood ($6,900 MID) is in the same basket. Greenwood's had a much better pre-season this year in terms of training loads, he has the potential to smash his asking price and he probably will.
You might notice that the cupboard is bare in defence, which is why you should strongly consider the geriatric duo of Corey Enright ($7,400 DEF)and Andrew Mackie (6,800 DEF). Their age is a slight risk from a resting/management perspective, but both showed with strong finishes to 2015 that the big scores are definitely still there.
TOP PICK:
Both sides have effectively named every ruckmen they can think of, with all of Grundy, Witts, Cox, Blicavs, Vardy, Z. Smith and Stanley making the extended squad. Who knows who'll get the ruck minutes in that mess, so I'll be playing it safe with Mark Blicavs ($8,200 RU). The Cats have already said they'd prefer to see Blitz play less in the ruck this year, which suggests that we'll see his famous endurance skills shining through on a wing. If Blicavs was a fantasy stud as a ruckman (failing to reach 85 FP on just two occasions last year!), imagine what he can do when let off the leash?

Saturday will see the Hawks take on the Tigers while Port will face the Demons, meaning we have plenty of juicy Moneyball options to whet our whistles. The first thing that you'll notice is that without top billing stars such as Deledio, Gunston, Roughead and Bruest, we're left with a FWD line lacking depth and clogged with key position giants. Save yourself the stress and lock in Chad Wingard ($7,400 FWD) – he only went goalless once last year (even kicking multiple goals 14 straight weeks), so you know he'll show up on the day.
Don't miss out on the $1k Saturday Slam Special!
The Hawks are normally fantasy dynamite but it might be worth treading carefully when considering those in brown and gold. Top options in Jordan Lewis ($8,900 MID), Josh Gibson ($7,300 DEF), Grant Birchall ($6,800 DEF) and even young Taylor Duryea ($6,700 DEF) played the majority of last week's match in Launceston and could be capped in TOG and therefor scoring potential. The opposite applies to Bachar Houli ($7,200 DEF), who skipped the Freo clash and should see maximum minutes on Saturday as a result. Bachar averaged 92 FP in a super consistent 2015 campaign and is my top pick out of the pricey defenders.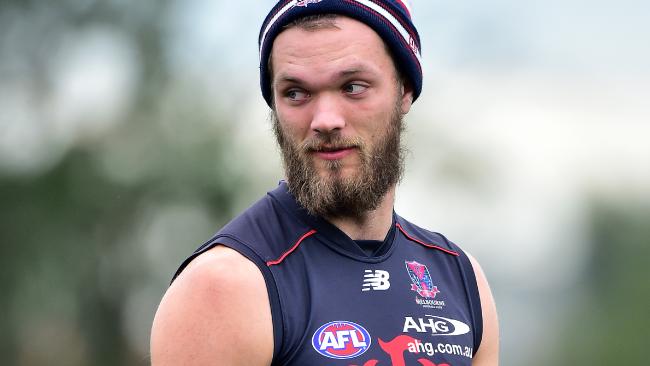 Other value options to consider include:
Matthew Lobbe ($6,100 RUC) has been on the radar even since Ryder's sabbatical was confirmed, but I'd be spending a bit of extra coin and looking at Max Gawn ($7,700) Max has enjoyed a lot of hype this pre-season, and with a 103 FP average in the last 11 games last year, it's thoroughly deserved. Both ruckmen should be solid value for money.
We always need our cheapies to fit the squad under the $60,000 cap, and that's where Christain Salem ($4,900 DEF) could come in. Roos loves him in that sweeper role and I expect him to get every opportunity to make that job his own on Saturday. Salem finished last year with a 110 FP stunner against the Giants, so we know he has the potential to outperform his price-tag.
Top 10 draft picks in successive years will go head-to-head on Saturday, and both are priced too tastily to ignore. Ollie Wines ($7,200 MID) and Dom Tyson ($6,200 MID) have both eaten at the same table as fantasy superstars in the past and are reportedly flying this pre-season.
TOP PICK:
Once again, I've opted to go with a non-household name to try and boost your chances over your oblivious competitors. Sam Gray ($5,900 MID) might be the lesser known of his surname at Port, but that's in direct contradiction with his keen knowledge of finding the pill. Gray finished off last season with a trio of 34-disposal outings and was the top scorer in a weakened Power side in NAB1 with 73 FP and zero assistance from teammates. This'll change on Saturday with Port naming a strong side, and Gray should still see his midfield minutes courtesy of last year's blistering run.

We have a few interesting sides deploying for our Sunday Funday, and there's no doubt that some hold more Moneyball significance than others. Carlton has named a bare bones squad without a few of its prime movers in Murphy, Cripps and Kreuzer which, ironically, means I'll be scouting out their opponent's lawfully bare squad in Essendon for value instead.
The first newbies that jump of the page are recyclables in Craig Bird ($4,500 FWD) and
Jonathan Simpkin ($3,500 FWD). Both are named as forwards and will cost you significantly less than what they'll dish out in a vacuum. I especially love Bird, who has had a full AFL pre-season and should suck up all the midfield minutes he wants (if the promises Essendon made him in luring him from Sydney are to be believed).
Join the $1k Sunday Funday Special now.
You might have heard that Matthew Jaensch has shocked the AFL community with his immediate retirement, which means that the stacked HBF position at Adelaide becomes slightly less convoluted. I much prefer Rory Laird ($7,300 DEF) over his teammate Brodie Smith ($5,800 DEF) – mainly because he actually looks like he wants to touch the footy these days. Laird was a Moneyball stud last season and I can't see that changing with extra experience and a full pre-season.
Other options you might consider:
Shaun McKernan ($5,700 RU) is my pick of the longer limbed attendees, given that there is very little on the ruck depth chart for Essendon on Sunday. With scores of 116 & 139 at the tail end of last year, he's worth the modest investment in the hope of a hefty windfall.
Rory Sloane ($7,800 MID) is cheaper than he'd fetch on the open market and didn't play last week. Ticks for value and job security – lock him in.
He'll be fun to watch, but you should probably give freshman Darcy Parish ($3,500 MID) a bit of time to find his groove. He'll need to go through AFL puberty sooner rather than later, but NAB2 isn't the time to be banking on a debutant for Moneyball success.
TOP PICK:
I love all the news that's been leaking out about David Zaharakis ($6,100 MID) this pre-season and he has the pricetag to make him more tantalising than simply tempting. Zaka is one of Essendon's few surviving blue chip midfielders and he'll be required in the trenches as much as possible to stem the bleeding. Excellent value for a guy with a ceiling as high as what he's displayed historically.