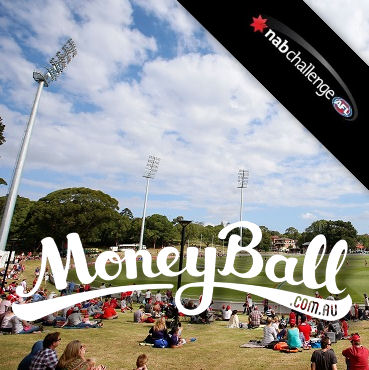 Tbetta here, and welcome to the self-proclaimed top resource for keen Aussie rules Moneyball punters! DFS (Daily Fantasy Sports) is taking off around the world and Moneyball have the perfect platform for you to turn your AFL Fantasy prowess into cold hard cash. Signing up is easy – head to moneyball.com.au and you could be ballin' within minutes.
If you're unsure how DFS works, be sure to head to the 'Help' (https://moneyball.com.au/#/help)  section for all the info you need to start cashing in on your AFL Fantasy knowledge.

The midfield options available to us on Thursday night are at smorgasbord proportions, courtesy of the unwritten rule of NAB4 – coaches are picking the best squad available. Cherry picking the right MIDs will make or break your Moneyball evening because, let's face it… The lower positions tend to pick themselves.
Join the $1500 Tigers vs Power special.
Case in point: Bachar Houli ($7,200 DEF) is one of the few accumulative defenders on the table and thankfully he's in red-hot form, churning out 116 FP against the Hawks. With Ivan Maric unavailable for the Tigers, Matthew Lobbe ($6,100 MID) basically selects himself despite managing just 62 FP against the Demons in his only other NAB hit out. I'd be surprised to see many successful teams avoid this pair, even if selecting Lobbe is a bit vomit inducing.
AVOID:
He's a jet at full tilt, but it might be best to leave Brett Deledio ($8,000 FWD) on the rack. Constant calf and Achilles issues have sentenced Lids to life in cotton wool and I expect that he'll be managed either through effort, role or exposure this Thursday night. Don't get me wrong, he could be good; but I'll be spending my $8,000 on a target that's not made of soggy toilet paper.
SMOKEY:
Jimmy Toumpas ($4,700 MID) seemingly went into spite mode in NAB 2, collecting a team runner-up 82 FP against his former club earlier in the NAB Challenge series. Despite some warranted best 22 concerns, he's been given a serious opportunity to cement his place in a nominally strong Port Adelaide outfit. I'm not sold personally, but it's easy to forget that Toumpas is a former high draft pick and he obviously has the potential to outscore his price tag, freeing up cash for you elsewhere in the process.
TOP PICK:
On value alone, Trent Cotchin ($7,300 MID) has to be one of the first picked in your side. Despite being a bumpy ride, he's been a fantasy premium for five years now and his 102 FP effort against the Hawks is a good omen that he might be soaring back up to his soul-crushing 2012 antics. Besides, having the best hair in the AFL has to have some scoring upside, surely?
After almost knocking off reigning Grand Finalists in West Coast with half a side last weekend, is it possible that Rocket Eade has decided that NEAFL-quality midfields are the way forward? If not, then the Suns will eventually start rueing the unavailability of their on-ball brigade and that will most likely be this Friday night. Hence for Moneyball purposes, I'll be focusing on the side with blue on their guernsey, because as Confucius once said "He who avoid Crows, be Raven mad".
On the list of possibilities are young Rory Laird ($7,300 DEF) fresh off a 92 FP effort, plus midfielders Rory Sloane ($7,800 MID) and Scott Thompson ($7,500 MID) who are priced slightly below their best work. While we're here, pretend I'm tapping my nose slowly and looking into your eyes knowingly before whispering Tom T. Lynch ($7,400 FWD) softly into your ear. The flaming flanker has been going about his business very quietly this pre-season, turning link-up stats into solid scores of 105 and 90 FP so far this NAB Challenge.
Of course, the same applies to those high-flying Swans over a rebuilding (the nicest adjective I could think of) Carlton list. Luke Parker ($7,600 MID) top-scored last week and there's no reason to suggest his resurgence will stop here. Young teammate Callum Mills ($3,500 MID) has been equally impressive, averaging 76.5 FP at a much lower hit to the old hip pocket. And, if you absolutely must round out your list with some sort of Carlton presence, then Bryce Gibbs ($6,100 MID) is technically undervalued if you can forgive his 59 FP effort earlier in the NAB Challenge.
AVOID:
Once again, here is a public service announcement: Brad Crouch ($8,200 MID) ain't as cheap as you think he is. If you absolutely must pick a Crouch, I suggest taking a long hard look at his brother Matt ($5,400 MID). The younger ball magnet has kicked and handballed his way to scores of 86 and 108 so far this pre-season, screaming bargain status.
SMOKEY:
I can't say that I love his scoring history, but there's no doubt that Trent McKenzie ($4,000 DEF) is worth mulling over after a monster 103 FP total against the Eagles. Is he finally ready to fulfil the promise he showed as an inaugural Suns midfielder? Will Rodney Eade release him as a designated kicker off half back, or will The Cannon be waterlogged in a key defensive post yet again this season? I don't have the answers, but McKenzie might just be cheap enough to justify the gamble.
TOP PICK:
I find it hard to go past Aaron Hall ($5,800 MID), who did herculean things without any midfield support last weekend, notching 16 tackles to breach the magical 100 FP barrier. In a Gold Coast midfield sans Gary Ablett, Jaeger O'Meara, David Swallow, Dion Prestia and Jesse Lonergan, he'll be called upon to do it again. With role security coming out of his ears, there is only upside for Hall at that price.

Both the Bulldogs and Magpies are proving to be very potent fantasy sides this pre-season and that should only continue in the full dress rehearsal that is NAB 4. Collectively, they have a bunch of relevant guys that are obvious options, but doesn't mean it's smart to overlook a couple of Pups in Koby Stevens ($6,700 MID) and Lachie Hunter ($6,600 MID). Both are priced in that mid-range tier and could fire off similar output as say a Macrae or a Liberatore, but at a sizeable discount. At the other end of the age scale is Matthew Boyd ($8,800 DEF) who hasn't partaken in the NAB Challenge and should be a relatively safe DEF scoring option.
With Roughead out long term for the Hawks, we now get a chance to see what the Jack Gunston ($8,000 FWD) and Luke Breust ($6,100 FWD) tag team can produce in fantasyland without the foil of an intimidating KPP behind them. Breust, in particular, is one that I could see improving his volume and is a strong chance to outperform his price-tag.
Join the $1000 Saturday Slam special.
Form is a fickle beast in a NAB Challenge landscape, but there's no doubt that we have a swathe of pre-season performers that are leaking value. A 100-point effort from Sam Gibson ($5,600 MID) has him firmly back on the Moneyball radar, Mitch Duncan ($6,500 MID) hasn't dropped below 90 and Michael Barlow's ($7,500 MID) scores of 93 and 128 are way overs for what we're being asked to invest in him.
AVOID:
It's almost rude to suggest that you should sidestep Todd Goldstein ($9,500 RU) in the ruck department given the scores that he's selflessly gifted us in the past 12 months, but this is purely a fiscal recommendation. As Sandilands is absent for the Dockers, Jon Griffin's ($4,600 RU) expected output rises dramatically and he only needs to score half of what Goldy puts up to be considered a win.
SMOKEY:
With Enright resting and Thurlow hurting, there's a spot open in the Geelong backline and it's historically been a potent one. Youngsters Tom Ruggles ($3,500 DEF) and Jake Kolodjashnij ($4,800 DEF) have both been groomed in that capacity over their short careers and I expect at least one of them to slide in and pick up some extra numbers on Saturday.
TOP PICK:
Alex Fasolo ($5,700 FWD) has shifted his career out of 2nd gear so far this pre-season and looks ready to fulfil the potential he showed all those years ago. His PPM has been insane so far, and he has a nice mix of forward stats (3.5 goals, 4.5 kick-to-handball ratio) to go along with some serious accumulation (17 touches, 8 marks). There aren't very many FWD options that have me licking my lips in the early Bulldogs vs Collingwood clash, making Fasolo's selection a no-brainer.

The NAB Challenge marathon finishes with a triple header on Sunday and we have some interesting DFS options to consider. Brisbane and St. Kilda will play just their second matches of the pre-season after cyclonic weather thwarted them in NAB 3, meaning some value can be found if you're looking between the lines while other 'Ballers concentrate on exposed form.
I was high on St. Kilda duo Nick Riewoldt ($8,400 FWD) and Jack Billings ($7,200 FWD) last week and nothing has changed. Both have been touted for more midfield time than their position eligibility suggests this season, and I doubt they'll be managed after the Mackay downpour fiasco. The forward line is stacked this week, so you might need to get creative if you want to fit in Devon Smith's ($7,900 FWD) name for his first hit out of 2016.
AVOID:
Essendon was absolutely belted last week, and we all saw how cancerous that was to their Moneyball scoring as a collective. Against a full strength West Coast unit at their fortress is not an easy way to return to scoring prominence, so I'll be avoiding anyone with a red sash and any kind of price-tag.
If we are searching for an exception to the rule, you could reach for a Jonathon Simpkin ($3,500 FWD) or a Mark Jamar ($3,500 RU) type at basement price. Both failed to reach 50 last week, so I'm hardly optimistic about their prospects – just be aware that they are available for pennies if you're struggles to fit under the hard cap.
SMOKEY:
There has been nothing but good vibrations coming out of Brisbane about Ryan Harwood ($3,500 DEF), a rebounding mainstay who put up sneaky good numbers in 2014 but couldn't get a good run at it last season. If Harwood can replicate his 71 FP effort from earlier in the NAB series, then that's a huge win for salary-conscious Moneyballers.
TOP PICK:
It's getting to the point now where we simply can't ignore the ascension of hard-work poster boy Jack Viney ($6,300 MID). He's averaged 85 FP in the shortened pre-season matches this year and finished off 2015 with scores of 128 and 129 – Viney is the real deal. At just a slither over $6k, you can't go wrong.