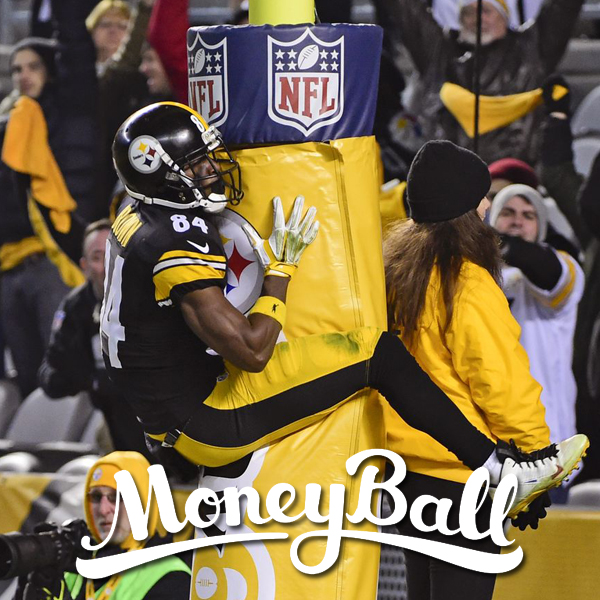 Week 14 already. Time flies when you're having fun. Just a month of regular season games to go. In season-long leagues the finals will be starting this week or next, so if you didn't make the finals, you don't have to feel left out, there's always a daily comp for you to jump into.
As per last week, I've listed the teams which play indoors, or have a retractable roof. Keep them in mind for home games: Atlanta, New Orleans, St. Louis, Detroit, Houston, Arizona, Dallas and Indianapolis.
This week's moneyball.com.au action:
Guaranteed Contests
$2K Hail Mary Special All ($15 entry, 156 person)
$2.5K Sunday Blitz ($15 entry, 196 person)
Other Contests
Sunday

Spike Early
($10, 112 person)
Sunday

Touchdown Late
($10, 56 person)
Double-Up Contests
Hail Mary $10 Double-Up
Sunday
Blitz $10 Double-Up
Single Game Contests
$1K Cardinals vs Vikings Special ($15 entry, 78 person)
$1K Dolphins vs Giants Special ($15, 78 person)
Texans vs Patriots Special ($15, 75 person)
Members also have the ability to create their own contests from as little as $2
Click here to take part in an Aussie Daily NFL Game.
As of today, William Hill's higher total game scores are as follows:
New Orleans @ Tampa Bay (50.5)
Pittsburgh @ Cincinnati (49.5)
Buffalo @ Philadelphia (47)
Players I like this week.
Quarterback
Tyrod Taylor (Buffalo, $7900)
Scored over 20 points in his last two, mainly because of Watkins getting his hands on the ball. Philadelphia have been giving up a lot of fantasy points through the air.
Alex Smith (Kansas City, $7400)
Shares many similarities to Taylor, above. Scored over 20 points in his last two (because Maclin). Plus San Diego have been giving up fantasy points.
Johnny Manziel (Cleveland, $5500)
Is said to get the start this week, pending on him not going on a bender before his game. Cheap and playing the 49ers.
Running back
Javorius (Buck) Allen (Baltimore, $5800)
Faces Seattle this week, but might be a great contrary play considering he had over 100 receiving yards on 12 receptions last week.
David Johnson (Arizona, $5200)
Showed what he can do last week when given the lead dog duties. Keep an eye on whether Ellington plays. Johnson may get benched if he has fumbling problems.
Shaun Draughn (San Francisco, $5100)
Scored a TD against Chicago last week and shouldn't have any issues finding the end zone agains versus Cleveland. 
Wide receiver
DeVante Parker (Miami, $5500)
Has scored double-figure points the last two, plus Matthews is still battling cracked ribs.
Brian Hartline (Cleveland, $4500)
Has been getting the receptions and the yardage recently, just needs a TD, which is doable this week.
Dorial Green-Beckham (Tennessee, $4500)
Had his breakout game last week and hopefully it's a start of things to come for the highly-touted rookie.
Tight end
Antonio Gates (San Diego, $5400)
Had 50 yards and  6 receptions last week which isn't terrible, considering the Chargers lack of offence lately.
Austin Seferian-Jenkins (Tampa Bay, $4900)
This will be his second game back from an injury lay-off and the Saints allow the most points on average to TEs.
Scott Chandler (New England, $4500)
Homebrand Gronk is still basement priced, and has scored around 14 in his last two.
Defence
Seattle ($5400)
They're playing Baltimore's second-stringer at home.
Green Bay ($4700)
At home versus Dallas who are top-5 for giving up points against defences.
Miami ($4500)
Facing Eli Manning who is a bit banged up, so they might be a chance to repeat last week's effort.
Kicker
Chris Boswell (Pittsburgh, $5100)
Scored over 10 fantasy points his last four games.
Dan Bailey (Dallas, $4800)
Playing the Packers so they might have to lean on him again this week.
Matt Prater  (Detroit, $4500)
Experience at a bargain price.
PLAY MONEYBALL NOW.
Click here to take part in an Aussie daily NFL game.