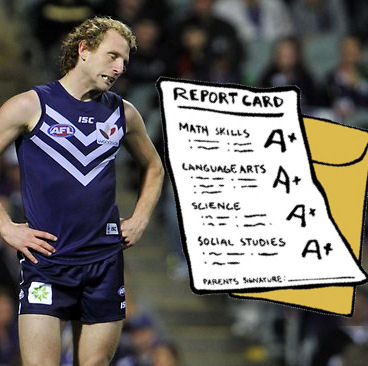 Hello all,
Ugh. Fair to say this year has seen the worst start in many years for a lot of us, and its not really much different in a lot of my 2015 Left Fielders, lets have a look how we are travelling.
For those of you who want to, this is the link to the original post which will go through how/why I selected a few of these players.
On a side note, whatever happens this year jump on Maric to go nuts next year. In 2013 I selected Stefan Martin – he did nothing special then exploded in 2014. In 2014 I selected Brodie Grundy – did nothing then this year has started like a train. Clearly I am forgetting that Rucks take longer to develop than other players lol
DEFENDERS
Andrew Mackie –
Fail (so far…)
0, 55, 0, 0
Obviously injury has killed the start of Mackie's year – but put him on your watchlist as he will be ridiculously cheap after he comes back – especially if the Cats follow last years management plan and sub him in the first 2 or 3 games back. Could very easily slip down to around $350,000 at which price I will be seriously considering getting him in as D6/D7 for the second half of the year
Jarryn Geary –
Win
90, 74, 57, 97
Geary is ranked 22nd overall in the defenders but is only 24 points behind 10th and has scored more points than early season team favourites like Newnes, Shaw, Pearce, Ibbotson and Burgoyne. I am happy I started him over Hibberd in my squad – yes Hibberd has scored 8 more points but given 'Hibbo' has lost $44,000 and Geary has made $46,000 that's a combined $90,000 win so far – sorry Warnie I had to throw that stat in there…
Sam Butler –
Win
76, 0, 63, 135
Yes Butler has missed one week – but with a season average of 91.3 he is currently the 6th highest averaging defender (who have played at least 3 games in 2015). Now whether last week was a fluke I guess we will find out in the next month – but I personally think we will see a few more of these big scores from Butler this year. As talked about in earlier article he seems to really like that link role between defence and midfield – the issue will be whether the Eagles persist with him as the loose man or they attempt to get experience into a younger player.
MIDFIELDERS
David Mundy –
Win
108, 152, 102, 97
The 4th highest scoring midfielder so far has really started well in 2015. With the expected extra attention going to Fyfe and Hill, "Barra" has been allowed to free wheel even more so far this year. Thankfully to date Ross Lyon appears to have chosen Barlow as the Freo mid to make way for the new crop like Lachie Neale and Mundy seems to be spending just as much time in the midfield as last year. The $50,000 he has gone up so far isn't to be sneezed at either!
Bradley Hill –
Big Fail
64, 84, 0, 51
Yuck. I really got this one wrong and about all I can see if anyone still has him is jump off now. Don't even think about it just call it a blessing he missed a week so he has only gone down $16,000. Get rid of him quickly and wash your hands afterwards.
Trent Cotchin –
Fail
54, 111, 119, 85
Cotch has not started the year as we had hoped – then again not many of our elite midfielders have! He has lost $39,000 mainly on the back of a horror round 1, I personally have held him – although has been more to do with other issues taking precedence every week! If we just look at his last 3 weeks he is going ok – keep an eye on him but for me will be left in my side as long as possible as you just know the week you trade him out he will score a big 130
Brent Stanton –
Win
57, 92, 115, 130
Still only owned by 0.5% of the competition, Stants had a horror in round 1 but has worked hard to get back in my good books since then. Between Lewis and Stanton I reckon I reckon I changed my mind over who to captain last week about 30 times last week – only for the 2 of them to both knock out a 130!captain last week about 30 times last week – only for the 2 of them to both knock out a 130! It is not too late to bring Stants in – and with the Bombers draw leading up to the bye going Saints, Freo, North, Lions, Tigers, Cats and then Eagles I can see more of these 130 scores coming our way…
RUCKS
Ivan Maric –
Fail
91, 68, 67, 105
The Flying Mullet has had a bit of a slow start to the season, however I will be sticking with him for now. Big Sauce and Goldy do look the standout Rucks of 2015, but with Kreuzer due to come back for Carlton soon I think I will be leaving my ruck upgrades for a bit later in the year. Plus that stare from Maric just frightens me too much to trade him out at this stage – talk about stone cold…
FORWARDS
Luke Dalhaus –
Win
The number 1 forward of 2015 in both average score and total points, Dalhaus has been fantastic. What I cant understand is why he is in under 5% of teams still?? That is less than 1 team per league on average – are you guys not checking scores or something? 5% REALLY?? Get him in now and enjoy watching him go to work. A real good mix of inside and outside player, hard not to like his game and quickly becoming one of my favourite players to watch. PS I hope a certain rookie guru is reading this – he was incredulous I picked Dalhaus for our cash league…
Dale Thomas –
Epic Fail (think Hurleys 'manbun' – yep that bad!)
4, 0, 0, 0
Injured in first contest in first game of the season was very unlucky. I thought he showed some balls getting up and sprinting off to try and do the right thing by his team – good luck with the recovery Daisy.
Justin Westhoff –
Fail
75, 97, 68, 79
Something doesn't seem right with Jesus this year – not sure if he is carrying something or if the introduction of Ryder is cutting down on his marks? Either way it is time to move him on if you have not already done so, I cant see the big scores of 2014 returning any time soon.
As always cheers for reading, hopefully you started with some of the winners and not too many of the losers, keep an eye out soon for a weekly trading article we will be doing. We will list the vanilla trades of the week and I will provide a few different options to try and get the jump on your oppositions.
Thanks