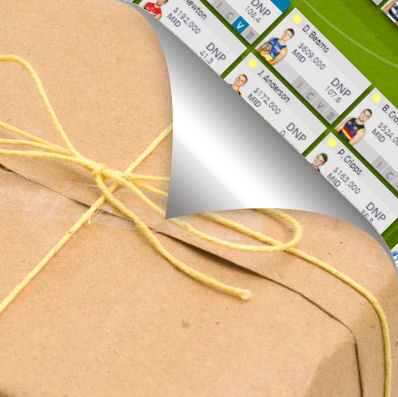 Given that we are halfway through the NAB Challenge, I thought it would be fun to do a team reveal piece. Between now and lockout, I have no doubt that my lineups will change 1000+ times but basic principles still apply.
Using the loose analogy of building a house, here are a few points that should get your mind ticking…
Design (Team Structure)
Designing your home and Fantasy team needs careful attention. Shall I have an outdoor entertaining area with all the bells and whistles or is the kitchen more important? Should I spend more money in my forward line or midfield? Ultimately, what gives you a good BALANCE across all areas? My 'Premo-Midprice-Rook' structure for both Fantasy and Dreamteam is near identical…
Defenders 3-1-2, Mids 4-1-3, Rucks 0-2-0, Forwards 4-1-1
After playing with every possible combination, I feel at ease with my current structure but others may see it differently. Note that structure will only change when a rook or midpricer is on the cusp of something big.
Building the Foundations (Picking your Premo's)
These are your keepers that will 'hold up' the rest of your team until improvements can be made. My premo's…
Ablett – Needs no comment.
Pendles, Beams and Selwood – Consistent performers that will give you three figure scores week in, week out.
Brad Crouch – Up and comer that is set for a huge year. In my Fantasy team only as the price of rooks have forced me to pick a 'cheap' midfield premo.
Dusty, Gray, Buddy and Swan – Top 6 averaging forwards at seasons end barring injury.
Devon Smith – I always pick a smokey or two. I like Smith because he is a point of difference capable of averaging a ton in the early rounds of the season. Fantasy only given the risk.
Newnes – Big midfield role set for the young Saint. Got to have him.
Malceski – Born leader and competitor who will love the vast spaces of Metricon Stadium. Easily a Top 6 defender.
Brodie Smith – With Henderson and Van Berlo now fit, I sense more midfield time for Smith this season.
Sorry @RoyDT…no Rockliff. He's just too expensive.
Adding the Walls and a Roof (Picking your Rooks)
A defining component of any home that gives it character. Picking your rookies will shape your team and your season. Job security, job security, job security! The rooks in my teams aren't the cheapest but all should play a decent chunk of senior football this year. No point having a non-playing rook sitting on your bench collecting donuts.
Catch up on my pre-NAB Challenge articles here:
Finishing Touches (Picking your Midpricers)
No matter hard you try, you can't ignore all the midpricers. Value needs to be recognised and they are the final pieces of any team. My mid pricers…
Ryan Griffen – Underpriced, no question. Should carve up the Saints, Dees, Swans, Suns and Eagles in the first five rounds. Don't forget he averaged 105 in 2013.
Tom Mitchell – Has endured a full preseason and is fitter as a result. No more job security issues in my opinion and finding the ball has never been a problem.
Jarryn Geary – Funnily enough, I've started with Geary before and been burnt however I feel that Alan Richardson has big plans for him this season. A better option than Henderson, Sheppard, McDonald, etc.
Bellchambers – No. 1 ruckman at Bomberland. Will provide decent scores until he can be upgraded to Jacobs, Mumford, etc. Easy choice.
Leuenberger – Hanging by a thread at the moment after some mediocre NAB Challenge performances. Should still average 65+ which is acceptable given his price.
Jeppa's Fantasy Squad
Jeppa's Dreamteam Squad
Well what do you think? Don't be shy to discuss teams, players, etc in the comments section below! If you've got any questions, shoot 'em through and I'll answer as many as I can.
Stay tuned for my massive rookie guide after the NAB Challenge and my weekly rookie reviews throughout the year.
Remember you can follow me @JeppaDT for all rookie relevant topics and more!