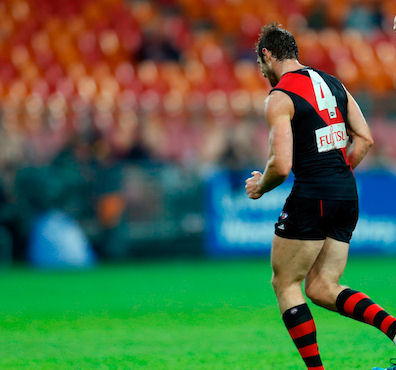 Before I start dissecting my first ever dilemma for DT Talk, Jobe Watson had approximately 59,000 owners before lockout last week. We now see that this figure has dramatically decreased over the last couple of days as coaches rally to trade injured star.
Unfortunately, Jobe Watson finished the game on the bench with a quad complaint halfway through the last quarter putting the heart in the mouths of the many owners.
Watson, who went 5 weeks consecutively without a ton, turned around his disappointing form to justify to the fantasy football world just how good he really is. With scores of 149, 116 and 114 he was looking like a 'must have' in your midfield.
The 15 point win over GWS leaves Essendon just outside the top 8, but the triumph for the red and black ultimately infuriates the owners of the former Brownlow medallist.
As per usual, we shouldn't be distorted at the fact that another one of our true stars have toppled to a heart breaking injury, with Watson set to be sidelined between 8-10 weeks.
With this in mind we need to make a decision on a replacement for the midfielder and at a price of $545,001, a wealth of options are at our disposal.
Hopefully you have some cash in the bank, which could enable you to pick up some of the inform gun midfielders that are currently gracing the fields around Australia.
Tom Rockliff ($624,623) should be your first on your Round 13 trade wish list. The Brisbane star comes at a price but in AFL Fantasy you pay for quality. Averaging a monster 124 points, he is your go to man and has GWS, Fremantle and North Melbourne over the next 3 rounds.
Only costing you $79,622, this trade is an ideal one that doesn't include any warranty: Rocky just never quits.
If the back pocket is not as bulging as much as you would like, someone like Steve Johnson (537,336) is also a good choice. Ever since the hard tag he received from Crowley, he has struggled to maintain the blistering form he showed earlier in the season, recording a whopping 168 vs West Coast in Round 4.
You may lose money this week as his breakeven again seems unreachable, but the gains will outweigh the losses in the long term. With St.Kilda, Gold Coast and Essendon approaching the Cats, Johnson looks set to record some big numbers sooner rather than later.
If an upgrade is not preferred or reachable, a downgrade to some performing midfielders in the competition could also grant you the same success. David Zaharakis ($505,256) is in some incredible form at the moment. He has averaged 131 over the last 3 rounds and getting tagged does not seem to be the problem for the 24 year old.
Zaharakis was up and down last year, ending with an average of 82. He is capable of putting together some huge scores and with Melbourne, Adelaide and Geelong coming up it seems his rich vein in form may continue.
Another possible downgrade option could be Andrew Swallow ($445,460). This trade is financially rewarding, earning you $99,541 but the risk may not be greater than the reward. A troubling Achilles injury sidelined Swallow for the first half of the season, but due to some courageous VFL performances 'Spitter' returned to the North set up. Starting slowly, Swallow has put together 2 tons in a row and does seem like the Swallow of 2013 who took the AFL by storm early on.
Averaging 102 and 94 over the last two seasons, we know he is capable of going big. Whether he returns to this type of form is inevitable, what we do know is that obtaining Swallow now may end in heart break.
Whatever you do this week, make sure you have a clear plan in mind. Don't go wasting your money on a replacement that won't improve your team. By this stage of the season the pretenders should well and truly be gone, with only the true stars remaining.
Discuss the Watson trade in the comments below.
Read Roy's Trade Talk on AFL.com.au and discuss other trades and selection issues in My Team.
Loading ...