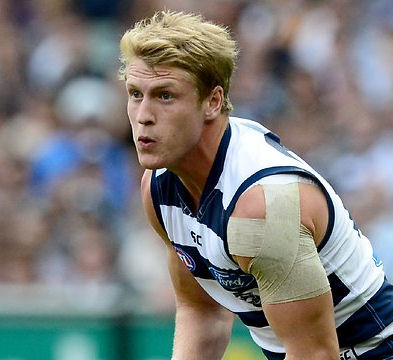 Brings you The Caddy Conundrum
Without doubt Josh Caddy was the man of the preseason. Taken at pick 7 in the 2010 draft, Caddy played 24 games for the Suns before sealing a move to the Cats in 2013, so he could return to his native Victoria. Over the preseason he produced scores of 84, 121 and 123 in an average of 78% TOG. Given his mid/fwd status he was a no-brainer selection for most heading into the fantasy campaign. With the greater midfield time afforded to him by the loss of Joel Corey and his continued development as a hard runner, all signs pointed to a great season!
Round 1 v Adelaide
(TOG: 75%)
Caddy, begun his season with a score of 85 against the Crows. He'd had an 86 in the same fixture last year, showing that he did have some form on them leading up to this. In the quarter-by-quarter break up, he scored 28, 12, 22 and 23 respectively. He copped an accidental hit in the head from Selwood which led to a lot of bleeding, but this occurred late in the 2nd term and didn't particularly affect his time on ground. Overall it was clear he was in good form and although not producing a stellar fantasy score, he certainly made his large ownership smile.
Predicted Score: 80+
Actual Score: 85
Round 2 v Brisbane
(TOG: 76%)
This time Caddy had a slow start, producing 22 first half points before finishing strongly with 37 in the second. Josh had scored a 79 on the Lions in 2013 so expectation of him increasing on that performance had merit. Unfortunately for Caddy owners this didn't happen. He was playing mainly through the midfield with bursts in a high half forward role also (which can also provide reasonable fantasy results, as seen by Paul Chapman's recent exploits). Nonetheless given this was his first quiet performance in the last 5 matches, counting the NAB games, the general feeling amongst coaches is that this was a one off effort, and thus could be counted as an outlier rather than the mean.
Predicted Score: 80+
Actual Score: 55
 Round 3 v Collingwood
(TOG: 75%)
In his two previous runs against the black and white, Josh had failed to score over 50, so expectations shouldn't have been especially high heading into this one. In the first half, Caddy was well on his way to a blistering score,  producing 49 first half points. The second half was not what we wanted to see, as Josh could only find the ball twice and tackle twice for 14 points. Whilst this is worrying that he had such a poor end to the game, given the way he finished against the Lions last week I am unwilling to state that this is a trend, or ramifications of a poor tank. Whilst it was very exciting to see that he can play a half of AFL footy which had him on track for the best part of a 100, the worry is undoubtedly that he can become uninvolved for very long periods.
Predicted Score: 80+
Actual Score: 63
Scoring Potential
 One of the first things to note with Josh Caddy's scores thus far is that he has had limited game time in all 3 games, playing no more than 76% on any occasion. In stark contrast midfielders such as Pendlebury & Ablett regularly play 85-90% of the game. Immediately they have another 14 minutes and 24 seconds more time per game to find the ball, if we use 87% as our mean. Given Caddy averages 0.75 points per minute, that'd mean another 10 or so points per game, lifting his seasonal average from 68 to 78. Unfortunately Josh doesn't have the tank yet, so can't deal with this extended stay out on the ground and thus must be playing very well to produce the 80+ scores that are desired. I suspect Caddy is a little out of form at present and at some stage we will see a run of 80-110 type scores, the question is when will this occur and for how long will it be sustained. I have as much chance of answering this question as any of the readers out there, so go to your crystal ball for answers on that one.
NOTE: To make matters more intriguing Caddy did produce an 86 in a half (coming on as the sub) against the Eagles last year.
AFL Fantasy Verdict
(Break Even: 67)
 The rest of your side should determine this decision of whether you're able to pursue attacking trades (such as moving Caddy out) or whether you simply have more pressing concerns (dealing with injuries or other underperformers). Do I think it likely that Caddy will beat the 67 break even he is set this week? Yes. Does that necessarily matter? No. AFL Fantasy is a game, which relies on upgrading your squad as quickly as possible, and thus you must attempt to generate cash as quickly as possible. A move to the Brisbane Lions' Lewis Taylor (-11 BE) or Essendon's Jackson Merrett (BE -2) may be worthwhile considering the sheer amount of trades at your disposal. Another option is to upgrade and given the performance of Lance Franklin last week (BE 59), you could do far worse.
Loading ...
Real DreamTeam Verdict
(Break Even: 89)
 Unlike AFL Fantasy, we have trade limitations in this game and thus we must use every trade as wisely as possible. Now this does not necessarily mean don't trade, it just means consider the reasons for your trade. Don't go sideways to a mid pricer. At the end of the day you may generate funds quickly but you'll also lose your trades when we head into the last weeks of battle. Consider your options… Most of the rookies have changed price, but if you did miss a Lewis Taylor type you could still get on at $144,600 and a -42 break even. Alternatively if you have the funds you could move to a keeper target. Nonetheless holding Caddy through this little trough and having faith may prove the best decision. It's a difficult decision in this format, so spend plenty of time analysing and make a decision that you have faith in.
Loading ...
So what do you guys think? Remember to give me a follow on twitter @B_Gogos and tune into AFL Fantasy Radio Live at 7PM this Friday! Ask questions using the #FantasyFM and we'll answer them in the lead up to the Tigers Pies match at the G and then continue with a fantasy commentary of the game! Good luck with all your fantasy sides this weekend!