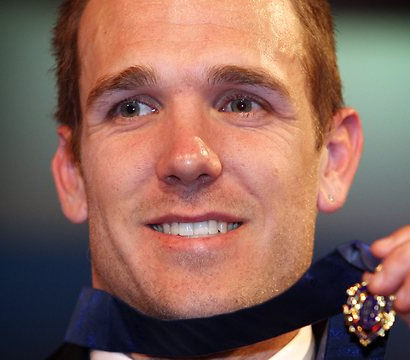 Brings you the Dane Swan Dilemma
The Great Dane has been the unchallenged immortal fantasy god for years now. Week in, week out he has shuffled around the ground picking up disposals, marks and goals in trademark 'when I'm bothered' fashion. He's produced a seasonal average of beyond 133. Yes, that's right, Swanny averaged over 133 fantasy points a game during the 2012 season. But why has Swan's scoring been down so much over the first two weeks and what should we do about it? One of the biggest early season fantasy questions we've had in recent seasons, certainly worthy of some in-depth fantasy analysis!
Round 1 v Fremantle
(TOG: 85%)
A score of 97 wasn't a fantastic effort by any means. In the previous 5 meetings against Fremantle, Swan had scored 111, 172, 125, 131, 158 for an average of 139.4. He was heavily picked as a captaincy option and had ownership numbers of 47,422 for AFL Fantasy (around 25%) and 8,227 for Real DreamTeam (also around 25%). In terms of quarter by quarter scores, he produced 30, 25, 21 and 21. In the third quarter he seemed to have pulled his groin, which may have led to a slightly lower second half total. He also played too much time forward, which made it very difficult considering the lack of time the ball spent in Collingwood's attacking 50. Overall I wasn't too displeased with Dane's game, but the time spent forward was worrying.
Predicted Score: 125+
Actual Score: 97
Round 2 v Sydney
(TOG: 83%)
This was a disastrous night for Swan, visiting the slippery ANZ Stadium and providing his coaches a score of 68, 49 points below what had been paid for. Now looking at his previous scores against the Swans he had produced 94, 85, 106, 125 and 110 in his last 5 for an average of 104. The expectations were low on him heading into this game as a result, and a score of 90-110 would've met expectations. The forward time was again a primary issue, even in a game where the Collingwood forwards had far greater opportunity than they did the previous week.
Predicted Score: 90-110
Actual Score: 68
Scoring Potential
This is now the key question. What do we expect him to be scoring for the next 20 Home & Away football matches? I think his scoring is completely determined by role. He's a fantasy beast who when given time in the middle will produce. That's the bottom line, Swan in the midfield equals points. @FantasyFreako was kind enough to send me through this information…
@b_gogos played 40% on the weekend. Averaged 20% last year

— Fantasy Freako (@FantasyFreako) April 1, 2014
This is proof of what the eye had suspected. Swan's forward time has doubled. Historically excessive forward time does drop averages. It's fact. The only time when this doesn't effect scores is when you have a consistently dominant team around you, although even in this instance over the course of the season you'll generally have a lower output. The simple thinking process is that the ball is always in the midfield, there is never a guarantee that the ball will go into the forward line. Thus midfielders have more opportunity to score points.
Buckley spoke on The Couch on Monday night and had this to say on the Brownlow medallist;
"Swan is one of the proudest footballers you'll ever meet. Whilst it's well documented his training standards aren't elite, his consistency of performance is. That was a poor game by Swan. His work rate wasn't high enough."
Mike Sheahen replied; "You've got a premier midfielder who's playing forward?"
"Yeah, we've got Pendleburry and Beams who are our in form midfielders and we're playing Macaffer as a tagger. We've sat our guys who'd prefer to be 100% midfielders forward, but the fact is the games gone beyond that."
These quotes speak volume. No longer does Buckley eye his tattooed ball magnet as an out and out midfielder, and more to the point he doesn't believe he demands the first crack at it in the middle. I also have the feeling that Buckley really despises the way Swan trains as he was the polar opposite as a trainer. Given Bucks has a young side and wants to build from the ground up, the thinking may be that he wants to show the youngsters that you're rewarded for working hard session to session and can't just get by with the bare minimum.
WARNING- Buckley is attempting to take over Ross Lyon as Fantasy Kryptonite Captain!
AFL Fantasy Verdict
(Break Even: 153)
For the 2 trades a week game, he must go. Even if he whacks out a 120, he's still set to plummet with a breakeven of 153. There are a few options to trade to and there's no right or wrong answer. The most blatant move is to trade to a like for like replacement scoring wise, like Pendlebury or Johnson. You could go down to a Josh Kelly or James Aish and spend the other trade to upgrade a rookie like a Michie or Patton, who don't appear to have too much value left in them. Keep in mind that if this role continues he's likely to be reclassified by FanHub as a midfield/forward later in the season, which would easily make him a top 6 player in that position. Personally I'll be looking forward to a further 50-80k drop before bringing him back in. Consider your options wisely, but see you later Dane.
Loading ...
Real DreamTeam Verdict
(Break Even:224)
This decision is a little less obvious in the restricted trades format, although most fantasy coaches are still strong on trading him. Ultimately a high percentage of owners will move him on for a Scott Pendlebury or a Steve Johnson. Now if Swan can average 115 from here on in, it's undoubted that the best decision will be to hold him. We don't want to sideways trade this early in the season. I realize he'll drop in value, but this is offset by the fact that he's a keeper and a drop in cash is better to stand than the loss of a trade, which may not gain you any points. In saying all this I suspect the comments that I've provided from Buckley and Fantasy Freako have to come into calculations when deciding where we expect Swan's output to be and thus he's likely to find his way out of sides very quickly.
Loading ...
So what do you guys think? Remember to give me a follow on twitter @B_Gogos! Good luck with all your fantasy sides this weekend!