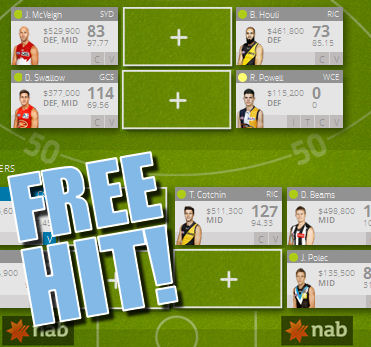 We've pumped through the first weekend of round one. Yep, the split round sucks balls but it has added something 'fun' and new to the strategy around AFL Fantasy Classic with the free-hit this round.
Now when I say 'fun'… it's more challenging and we could change that word to 'frustrating' as I'm a big fan of setting your side and just letting it go to enjoy your weekend. The beauty is that this is the only round for with it and funnily enough, the free hit concept is growing on me. I know I'm going to be happier with my squad next week as my teams in the 'other' games are pretty 'meh'.
Below is how my squad currently stands. I had Dane Swan with the VC and by stupidity, disguised as strategy, I decided not to go with Gary Ablett (he had 141) to save cash and spread it around a bit more. Ugh, that was a fail.
What wasn't was using the emergency loophole on Tom Langdon. This brings Tbetta's boy Rowan Powell onto my ground so I can take him. I tried this loophole with Harry Cunningham (he should have bloody had an 80+ score that I would have taken if he touched it in the last quarter) and with Gary Rohan. Both haven't quite scored enough to take their scores. Aaron Sandilands was basically benched for the VC loophole. I was always confident I'd take 70+ from him, but obviously he was awesome.
I have a current score of 1341 from the 13 players that have played. This is with my captain to come.
I have spent $6,694,600 on the 21 players in my squad so far, leaving $3,305,400 to fill the nine on field positions I have left.
At the moment I have Sam Mitchell as a lock in the backline with Jarryn Geary a massive chance to fill that D5 position. Other slots are very much up in the air. Shaun Higgins and Josh Caddy will most likely be my F4 and F5, but I'm still not sure on F1 – thinking possibly a Jack Gunston type.
In the mids, Xavier Ellis looks likely for M7, but for the other two midfield places and my ruck, I'll have to do some maths. Could it be two premium mids and get in Tom Hickey as the other ruck? Or do I spend up big and get Dean Cox there and roll with a premium and Liam Shiels in M6? One thing is, I need to have a captain option I'm confident with… damn not picking Gaz!
I'll be looking at a lot of different combos to spend my $3.3M over this week.