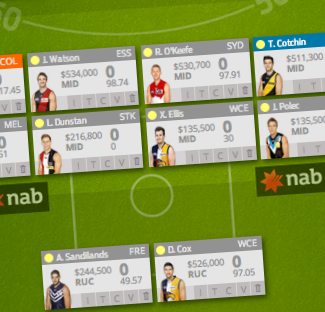 Whether you like it or not, the boys at FanHub have introduced the Round One "Free Hit" for AFL Fantasy this year. It means the casual fan can avoid the confusion of the split first round and partial lockouts, andreset the pieces of their shattered Darren Glass-filled sides (I honestly had to look up whether or not he was still playing…that could have been embarrassing). However, it also serves as an opportunity for the hardcore fantasy players – basically the ones reading articles like this – to conduct some deep research into the strategy of a erasable team. Out of the goodness of my footy-obsessed heart and in lieu of more pressing engagements, I would like to share with you some of my findings.
(All stats are from our good friends at dream-stats.com and footywire.com)
The Strategy
Go cheap on your bench. The aim of the game in Round 1 is to maximise the value on your field according to fixture strength, a player/team's history against the club, and their potential to break out with a positional change (always happens in the first rounds – Westhoff…). So, it makes sense to spend as little as you can on your bench, especially since there should be some guys at $115k who might play anyway – more on them later.
The rolling lockout is also important when you consider the rookies to put on your field. Pick the guys who should be good regardless of fixture (McDonald, Tyson, Polec etc.) but then look out for the vest candidates to avoid. Be vigilant in checking the starting 18s and, with the shortlist of rookies I'm sure you all have, pick the ones who pop up as starting before each game. Picking for opposition should be secondary to job security (or vest security).
The Fixtures
I'll lay out each fixture like this. The club will have a slash line next to it that shows how many players average above 80 in their last four against that opponent, followed by how many average above 70, and lastly, how many average above 60. For each game, I'll pop a sneaky pick underneath, and a player to avoid to think about.
Collingwood (10/12/21) vs. Fremantle (5/12/21)
Using the first game as an example, we see that Collingwood has a field day against the Dockers, with 10 guys averaging above 80. Fremantle, conversely, has only five. This means that it would be smart to pick up Swan, Pendlebury, Beams and maybe some fringe stars like Cloke, but unwise to bank on the fringe Freo elite scorers – say, Mundy and Fyfe.
The lines also show the potential for rookies. When a team like Fremantle has the propensity to inflate every Collingwood player's score when they play each other, picking someone like Jackson Ramsay to fill that last spot on your field could be a smart move (unfortunately, they can't all be premiums – trust me, I've tried).
Sneaky Pick: Paul Duffield (95 from his last four against Collingwood)
Avoid: Colin Sylvia (93 – but still don't be tempted…)
GWS (3/8/15) vs. Sydney (11/18/20)
Sneaky Pick: Adam Treloar (93)
Avoid: Josh Kennedy (101) – there are better options against GWS
Gold Coast (9/15/17) vs. Richmond (12/16/22)
Sneaky Pick:  Trent McKenzie – averages 93 in his last four. Also, CANNON!
Avoid:  Gary Ablett (104) – hamstring issues, one of his worst DT opponents, never great against Daniel Jackson
Carlton (13/14/21) vs. Port Adelaide (6/11/19)
Sneaky Pick:  Andrew Walker – 97 last four, all above 85 and two hundreds
Avoid:  Bryce Gibbs (89) and Justin Westhoff (85)
Geelong (6/13/20) vs. Adelaide (8/13/21)
Sneaky Pick:  Matthew Wright (88 – under-priced, can you rely on him for even one game?)
Avoid:    Stevie J (67, includes a 1, but the others are uninspiring 66, 99, 100), Patrick Dangerfield (84)
North Melbourne (8/18/23) vs. Essendon (8/13/17)
Sneaky Pick:  Drew Petrie (94)
Avoid:   Lachlan Hansen (81) – his end of 2013 form will trick too many, don't be among them
Hawthorn (10/16/23) vs. Brisbane (5/9/13)
Sneaky Pick:  Brad Sewell (101)
Avoid: Tom Rockliff (88) – sorry…
St. Kilda (9/15/20) vs. Melbourne (8/14/25)
Sneaky Pick:  Shave Savage – average isn't relevant but no Steven, Hayes or Montagna against Melbourne…
Avoid:  Jack Grimes (88) – never again, never again, never again
West Coast (16/18/22) vs. Western Bulldogs (9/12/16)
Sneaky Pick:  Josh Kennedy (110)
Avoid:    Chris Masten (69) and Tom Liberatore (90)
The Players
I'll go through the "safeties", the "uniques" and the rookies that I like the most, followed by a sample "free hit" team. The "safeties" and the "uniques" will mostly have their average from their last four games against that opponent next to them. No narrative, straight stats.
The Safeties:
Defenders:
Jarrad McVeigh (108)
Nick Malceski (93)
BacharHouli (109)
Paul Duffield (95)
Andrew Walker (97)
Sam Mitchell (109)
Luke Hodge (103)
Trent McKenzie (93)
Heath Scotland (92)
Dane Swan (135)
Michael Barlow (113)
Dayne Beams (111)
Scott Pendlebury (110)
Ryan O'Keefe (114)
Kieren Jack (107)
Trent Cotchin (124)
Brett Deledio (115)
Callan Ward (101)
Marc Murphy (106)
Kane Cornes (110)
Joel Selwood (110)
Jobe Watson (115)
Brent Stanton (108)
Brendon Goddard (107)
Matthew Boyd (109)
Matthew Priddis (111)
Scott Selwood (102)
Rucks:
Aaron Sandilands (103)
Dean Cox (119)
Forwards:
Tom Mitchell (113)
Dustin Martin (108)
JarrydRoughead (91)
Josh Kennedy (110)
Mark LeCras (98)
The Uniques:
Defenders:
Heritier Lumumba (57)
Greg Broughton (87)
David Swallow (62)
Kade Simpson (68)
Matthew Broadbent (93)
Hamish Hartlett (80)
Andrew Mackie (87)
Jimmy Bartel (78)
Corey Enright (73)
Michael Hibberd (74)
Lachlan Hansen (81)
Jed Adcock (81)
Pearce Hanley (62)
Matt Suckling (87)
Grant Birchall (75)
Jarryn Geary (68)
Jack Watts (78)
Jack Grimes (88)
Sam Butler (87)
Shannon Hurn (87)
Nathan Fyfe (73)
David Mundy (69)
Tom Liberatore (90)
Brandon Ellis (89)
Gary Ablett (104)
Dion Prestia (84)
Andrew Carrazzo (100)
Dale Thomas (83)
Bryce Gibbs (89)
Brad Ebert (94)
James Kelly (99)
Stevie Johnson (67)
Rory Sloane (100)
Scott Thompson (99)
Dyson Heppell (61)
Levi Greenwood (101)
Nick Dal Santo (96)
Jack Redden (96)
Tom Rockliff (88)
Brad Sewell (101)
Jordan Lewis (100)
Chris Masten (69)
Luke Shuey (100)
Shane Mumford
Matthew Kreuzer (91)
Matthew Lobbe (68)
Hamish McIntosh (86)
Sam Jacobs (85)
Matthew Leuenberger (86)
Craig Bird (94)
Adam Treloar (92)
Colin Sylvia (93)
Lance Franklin (77)
Matthew Pavlich (78)
Travis Cloke (77)
Jack Riewoldt (80)
Mitch Robinson (94)
Justin Westhoff (85)
Chad Wingard (67)
Matthew Wright (88)
Patrick Dangerfield (84)
Paul Chapman (89)
Drew Petrie (94)
Brent Harvey (88)
DayneZorko (99)
Jack Gunston (63)
Nick Riewoldt (90)
Shaun Higgins (74)
Jack Darling (84)
Alexis Georgiou
Luke McDonald
Tom Clurey
Ben Griffiths
Angus Litherland
Will Langford
Brodie Martin
Dylan Buckley
Tom Langdon
Jeremy Laidler
Jimmy Webster
Matt Fuller
Nathan Wright
Clinton Young (86)
Dom Tyson
VivMichie
Jared Polec
James Aish
Patrick Cripps
Martin Gleeson
Harry Cunningham
Luke Dunstan
Jack Martin
Sean Lemmens
Eli Templeton
Dom Sheed
Alex Woodward
Andrew Boston
DerickWanganeen
Rucks:
Daniel Currie
Tom Derickx
Fraser Thurlow
Forwards:
Matt McDonough
JarmanImpey
Jay Kennedy-Harris
Robin Nahas
Gary Rohan
Ben Kennedy
ZacMerrett
Lincoln McCarthy
Mitch Honeychurch
Traverse the mountain of stats and glean what you will. Happy Hunting.
Tim.