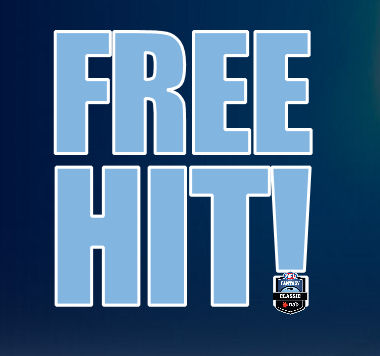 A new rule for the 2014 AFL Fantasy season is the round one free hit. That is, we have unlimited trades between round one and two meaning that the team we field this round can be completely different to what we take into the rest of the season.
In short, this rule was brought about due to the split opening round putting a lot of casual coaches off. Whilst the a few people who read this website might consider this stupid and they can cope, they're not the people who this is aimed at.
At the end of the day, we're all in the same boat and as 'good' coaches, we should look to play this new rule into our hands.
For the record, overall scores count from round one… so if you're after the cash, nailing this week is important.
Basic strategy is that we should pick a squad for this round that will maximise points for this round only. Think of it as a match day type game just for this round. We discussed a fair bit about this on our Mad Monday podcast this week.
Keeping it pretty simple, some tips for this round:
THROW AWAY YOUR BENCH
There is a rolling lockout over MOST of the round. AFL Fantasy Classic will go into full lockout mode next Friday at 7:50pm AEDT at the start of the Essendon v North Melbourne game. This means we'll be able to take advantage of the rolling lockout for 6 of the 9 games. A lot of your players may come from these so chances of a late out will be minimised.
To play it safe, if there is a rookie priced player named, make them your emergency for the respective line. At the very least you can throw your last bench spot with a $115K player.
LOAD UP YOUR MIDFIELD
Most AFL Fantasy Classic 'cash cow' strategy will see quite a few rookies, or cheaper players, grace the midfield. For this week, get in the high scoring mids. Dane Swan has scored 111, 172, 125, 131 and 158 in his last five against the Dockers. He's a walk up captain (or vice captain… more on that later) for this round. Dayne Beams offers value and scored over 100 in every match he's played against Freo, Brent Stanton has a great record on the Kangaroos and Brett Deledio and Trent Cotchin are in great form and their numbers are nice against the Suns.
LOOPHOLE IT… MAYBE
Calvin won't like me treading on his turf here, but we can employ the loophole across this round. Not only for the captaincy… but also with emergencies. If there's someone you're not sure about, or he could be a risk (as long as he is playing in the first five games), you can whack him on the bench and if you like his score, replace him with non playing rookie… or if he fails, you can then go about picking a guy who hopefully scores more.
There is risk here though! If you go with the loophole, you basically throw away your chance of an emergency for that position. The other part is… you'd only generally do this with a 'cheaper' player and with the way you're spreading your cash for this round, maybe it's not worth it.
I'm not really going to offer too much more than that.
TAKE A SCREEN SHOT OF YOUR 'REAL' SIDE
Most of the pre-season I've been working on my 'best' side that I'd like to take into the season proper. So I've been taking screen shots of that to keep so that I don't get blinded by the round one scores. A fair bit of thinking will happen after round one – especially the rookies who will get their second successive game. Remember that prices change after round two.
Alright… so above is a sample side I've thrown together with a few players I'm keen on for round one. Not too much thought has gone into it, but it's a bit of a pre-teams squad that could work for this free-hit round.
Discuss your round one squad in the comments and add in your strategy for this free-hit round.