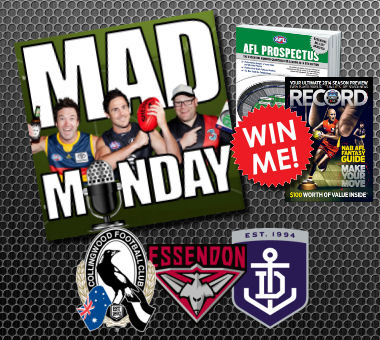 We're back for our seventh pre-season Mad Monday podcast on the verge of the 2014 AFL Fantasy season opening for 2014! Subscribe now in iTunes and feel free to give us a rating and comment.
This Mad Monday we talk about:
How our teams are tracking this preseason and some news
We look at some fantasy relevant players from Collingwood, Essendon and Fremantle
A great competition where you have a chance to win an AFL Prospectus and AFL Record
Audio clip: Adobe Flash Player (version 9 or above) is required to play this audio clip. Download the latest version here. You also need to have JavaScript enabled in your browser.
Thanks for listening! We'll take a couple of weeks off to enjoy the Xmas and New Years festivities. Feedback is always appreciated. Hit us up in the comments here and if you're feeling nice, a review on the iTunes page would be great!
As mentioned in the podcast, we have a giveaway this week! To win your own personally signed (this is optional) copy of the AFL Record which the boys have written for and the awesome AFL Prospectus, all you need to do is comment on this post below with an AFL Fantasy team name for a player of your choice. Be creative! Our favourite answer will win. Entries close 12pm AEDT on Sunday 9th February, 2014. Winner will be announced on the next podcast and contacted via email.