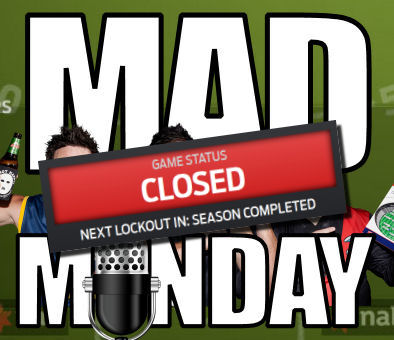 Listen to the last DT TALK Mad Monday Podcast for 2013 as we wrap up the Grand Final and the season just gone. Subscribe now in iTunes and feel free to give us a rating and comment.
This Mad Monday we talk about:
Around the grounds for one last time.
+3 votes, -3 votes.
How our season ended up.
We chat to Hook, the winner of the $50,000 in AFL Fantasy this year.
It's presentation evening as we award the rookie of the year, most improved and the Golden Stubby!
What we thought of the rule changes and some suggestions for next year
We look ahead to 2014 with some bargains.
Make sure you join our AFL Fantasy Match Day Finals league (Code: 612437).
Thanks everyone who contributes to DT Talk and makes it what it is! Pre-season isn't far away!
Audio clip: Adobe Flash Player (version 9 or above) is required to play this audio clip. Download the latest version here. You also need to have JavaScript enabled in your browser.
Thanks for listening this year… feedback is always appreciated. Hit us up in the comments here and if you're feeling nice, a review on the iTunes page would be great!