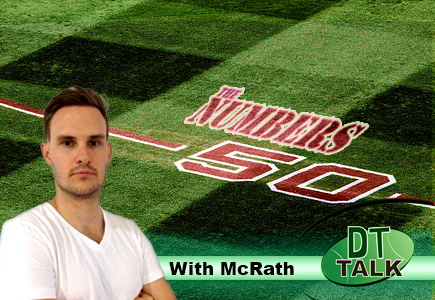 Numbers… let's be honest – it's what DT is all about. Price changes; averages; break-evens… the list goes on. In 2013, on a weekly basis I will strip the records clean and scour the AFL for the numbers different to those we spend our days staring at… Staring at in the hope that we'll have a fantasy football epiphany; and all of the secrets of the DT Universe will be revealed.
The Numbers… a unique look at the world of Fantasy Football.
2 – Number of pissed off coaches going by the surname of Scott on Sunday after North's close loss to Geelong. I certainly would not want to have been the ground manager for Etihad as Brad Scott got right up in his grill following the farcical circumstances that saw the elements play tricks with the players during the game (Melbourne weather – who would've thought?). Both coaches continued their disquiet in the post-match conference as they laid out verifiable and logical arguments. The answer is simple – it's an inside stadium, close the roof. As Brad Scott clearly noted – "Just close it. It's not that hard."
4 – AFL Clubs that new Collingwood 'rookie' Ben Hudson will have played for this time next week after Pie's injury magnet Darren Jolly came from the ground clutching his ribs in his team's win on Sunday. Magpie powerbrokers will be breathing a sigh of relief on their choice to take Hudson in the preseason rookie draft, as he will most likely be called upon to take the field whilst Jolly recovers. Whilst not a high Fantasy scorer, his battle-ready mature body will be invaluable as the Pies' will look to keep momentum up with big games to come against Hawthorn, Richmond and Essendon.
5 – Was the goal tally of the round it seemed (only to be bettered by Jack Riewoldt and Stewart Crameri) as 5 players went on to kick a bag of five goals on the weekend. Two players in particular caught my eye, with unfashionable Port forward Justin Westoff and 2nd year Magpie Jamie Elliott both kicked their way to huge Fantasy scores. Whilst few coaches are likely to have either in their Dream Teams, those with them in draft leagues would've been all smiles as Westoff in particular went on a rampage against GWS, tallying 25 touches, 14 marks and a huge 154 points. Elliott on the other hand was a thorn in Carlton's side as he continued to find space and bob up at the right time to help put away the Blues in a see-sawing contest. Sidenote: Do yourself a favour and stay away from them in AFL Fantasy – do not chase their scores. They will not produce these numbers regularly enough to be a viable option. As they say – a Flash in the Pan.
9 – It was the number that had to be mentioned. Patty Karnezis was the blight on an otherwise improved week of AFL Fantasy for most coaches. In what was commonly the difference between a 2100-2200 score and just scraping over the 2000 mark, Brisbane Coach Michael Voss continues to frustrate the Fantasy community as he not only gave our preseason ace the green vest, but left him but 16% of game time and little room to put up any kind of decent score. With an annoying break-even of 64 and being the sub in a losing team; 11% (and rising) of coaches have already jumped ship expecting his fortunes to fade. Let's just hope he's not dropped as he faces Gold Coast and Melbourne in the next 3 games, which could put him right back on track.
18 – Melbourne's current standing on the ladder, and likely where they will stay as they have a dismal round 2 rolling percentage of just 28.4 in their winless start to Season 2013. After being humbled by Port last weekend by 79 points, they were thrashed by a rampant Essendon team by a monumental 148 points. It remains to be seen how they will react to this pressure from both outside and inside the club – honestly, where do they go from here?
32 – Despite his age, reigning Carlton Best & Fairest Heath Scotland is a vital cog in the Blues' midfield make up. His run, carry and poise off half back and the wing creates a lot of rebound for the Navy Blues, as well as providing a steady head established over his 244 career games (191 with Carlton). With 'Scotto' a very likely inclusion into the team that will face the undefeated Cats on Saturday, the Blues will thereby steel their backline, allowing both Yarran to be freed up further and Gibbs to remain in the middle for even longer portions of the game. There are many positive signs for the Blues as they're missing just Waite, Betts and Hampson from their best 22 and have a far healthier list moving forwards in 2013. Now they just need to start winning.
78.5 – Jack Redden has started the year mirroring the Brisbane Lions as a whole, with his opening two scores of 80 and 77 underwhelming to say the least as he invites those coaches who took the risk on him to move him on before he leaks cash at the R3 price change. Is he a victim of Moloney's presence? Or is he simply not performing to expectation in line with the Lions' current fortunes? One thing's for sure – he will improve as his team starts to pick up their act. So hold strong – he's still an absolute gun.
2,310 – Still on the theme of Melbourne's dismal opening to the season, they are the clear bottom of the competition in many areas – most relevant to us is their overall DT points, over 300 points less than the nearest rival after just two rounds (Brisbane – 2613). They also rate down the bottom in key areas including: disposals (558 – 18th), contested possessions (229 – 18th), marks inside 50 (13 – 17th), clearances (62 – 17th) and tackles (89 – 17th). So, in short – they can't clear the ball let alone find the ball; can't put pressure on their opposition (given up most uncontested possessions in 631 in R1 and R2); and are not able to give themselves any kind of decent scoring chances on the off chance they get the ball in their attacking 50. It's going to be a loooooooong season for Demons' fans.
3,450 – Chants of 'Jaeger-Bomb' that rang across the ground of the SCG as the brave Suns fell away to the more experienced reigning premiers at the weekend. Second-gamer Jaeger O'Meara had an inspired first three quarters as he topped the ton with his 25 disposals (16 contested), 7 tackles and 3 goals. He finished with 104 points in a display worthy of a Rising Star nomination.
84,247 – In what is commonly described as the biggest sporting rivalry in Australian history, Collingwood rallied with three late goals to triumph over a tired Blues to take out the inaugural clash 117 points to 100 on Sunday afternoon. Forget the Ashes, forget Rugby League's State of Origin – this is the biggest conflict you'll see outside of a war (hold the phone on that one).
Send me your 'Numbers' for the week @McRathDT
Talk of the Town
All eyes were on one Brisbane ruckman, Matthew Leuenberger as he made a successful return to AFL footy on Saturday with a solid 74 points in his team's 19 point loss to the Crows. Coaches everywhere are looking to get the big man into their teams as he looks to live up to the hype of being the mid-price player to have in 2013. Playing 79% of game time, many will be hoping he can quickly find his way back to his best as he looks to come back strongly from last year's achilles injury.
The Benchmark
After a brilliant R2 score of 2210, 'The Mick' coached by Mike is sitting pretty at the top of the rankings. Starting without popular preseason premiums Goddard and Ablett, his risk appears to have paid off at this point; and a few of his unique picks appear to be bringing him good fortune in Stanton, Kreuzer and Monfries – all playing well above their expected average to start the year on positive notes. Time will tell if these picks pay off in the long-term, but if they don't then the 2-trades per week put him and other coaches like him in the enviable position of an easy sideways trade with their expected early price rises.
Whore of the Week
Beating out star-studded rival Jobe Watson and ball-magnet Brent Stanton, 2011 Rising Star Dyson Heppell makes his WotW debut in 2013 with a career-high 147 DT points on the weekend in what can only be described as a massacre of the tumultuous Demons side struggling for answers. 36 disposals, 9 marks, 4 tackles and 2.2 goals makes for nice figures as the young Bomber looks to make the transition to the midfield in 2013. Could we be witnessing the 2013 occurrence of Brett Deledio's now famous 2012 transformation? Jump on now before his price is out of reach!
Value Pick
Based on a simple Dollars/Points ratio, I give you a simple way to display value (admittedly biased towards rookies given their low starting cost).
This segment has been brought back, if only for this week as we finally had some good news in terms of rookie forwards in 2013. After a preseason bereft of solid starting options, basement-price Pies' rookie Sam Dwyer had a fantastic game on the weekend to score 90 points and avoid the vest after donning it in Round 1. At just $89k, he has a DP Ratio of just $992/point from Round 2. With a projected R3 price change of $55k and a BE of just -72, it's no wonder over 8% of coaches have already pulled the trigger to bring him in for round 3. Now we just have to hope he keeps his spot long enough to make some cash. Oh – and only if it's not at the expense of other popular forward rookie Brent Macaffer (I Hope you're reading this DT Gods).
Your Numbers
After the abomination of last week that saw a barrage of justifiable criticism targeted at the 'Doctor'. Seriously, surely it's time Albert Lord PHD took over…
Speaks for itself really – who would've thought, hey? Dare I say it – in 2013 Port Adelaide are quite DT relevant.
Cheers Cam – Bartel is definitely proving himself to be a 4th quarter specialist, helping his team over the line in both round 1 and 2.
Got a number you want to share? Send it to me @McRathDT
The Round Up
Highlights – Safe to say that you'd be stoked if you have a team full of Bombers as Heppell (147), Watson (143), Stanton (142) and Goddard (121) all had big scores in their demolition of Melbourne at the weekend. The return of Leuenberger and Jaeger O'Meara's ton were also prominent in a slightly better week of AFL Fantasy.
Lowlights – Karnezis tops the list for everyone here I dare say, with his 9 points and green vest becoming the bone of contention on an otherwise good weekend for fantasy football. Zorko (75) continues to disappoint his owners after a bad start to his 2nd year.
Team McRath – An improved effort saw me score a respectable 2049 in Round 2 and climb the rankings to 2,306 and inside the top 1%. Heppell, Goddard and Kennedy were stars as well as rookies O'Meara and Goodes continued to excel. Karnezis let me down big time as he cost me a 2100+ score and a possible avenue to the top 1000. But overall, I'm happy with the direction of our team and won't be making massive changes this week as I stick to my 6-gun midfield structure.
How did you do in Round 2? What's your ranking? What were your highlights and lowlights?
Feel free to shout out some feedback in the comments, or perhaps put forward your own creative Numbers for the week. Also – if you're not already… follow me on the Tweetvine @McRathDT