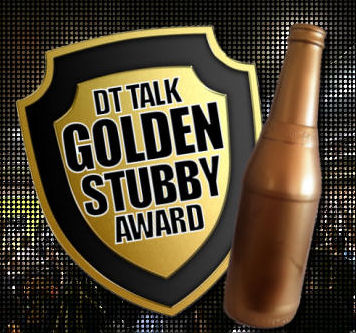 Golden Stubby – Round 2

Every round I'll be asking for your nominations on twitter for the player most deserving of this prestigious accolade. This isn't necessarily the highest scoring players of the round. But the players who stepped up in a fantasy scoring aspect when you most needed them to. Whether it's a highly paid premium who put in a massive effort to drag your team over the line in a head to head battle or a rookie priced player who stepped up and scored well above his expected average.
Lets have a looks at a few players who narrowly missed out.
Pearce Hanley – 124 is a massive score for a defender. Played his role perfectly as a rebounding defender, racking up the mark kick combo's for his coaches.
Brent Stanton – Always unlucky to miss out on a nomination when posting 142. Champion effort if you have him but overshadowed by a few team mates.
Justin Westoff – Highest score of the round goes to this bloke with 154. Obviously missing out on a nomination due to a low ownership rate but if you are one of the .7 who had him then well done.
The Nominations are in!
Dyson Heppell, 147 – After a below expected first round score of 76, Heppell was absolutely everywhere against a hapless Melbourne team. Amassing 36 disposals and 2 goals, HeppD now sits at a healthy 2 game average of 111, putting his BE at around 33, meaning he will be costing more to anyone who is still without him after round 3.
Lachie Whitfield, 102 – After taking awhile to adjust to find his feet at AFL level last week, Whitfield came out firing this week. For any coaches who stuck by him on the field he notched up a healthy 60 point first half where he dominated a wing. Slowed down a little in the 2nd half but still managed to notch up his first (of assumed many) Fantasy tons.
Jobe Watson, 143 – I was surprised with Watson not making this list last week as I thought he really stamped himself on that game. But after backing it up (and possibly with a few coaches going Beams->Watson) he is obviously very deserving of a spot this week. Collecting a very respectable 38 disposals in the Dons mauling, Watson's 143 would be a handy inclusion in any mid.
Jaeger O'Meara, 104 – Paying $108k for a 104 point return? That's a dream come true for Fantasy coaches! While a lot of our supposed premiums worth 5 times as much are limping towards hopeful 100's, O'Meara took full advantage of the freedom given to him by an Ablett/Bennell conscious Sydney putting in a BOG performance for his Suns.
Andrew Swallow, 115 – Unlucky to not pick up enough nominations last week after his 141 effort, but with an extra 3% of coaches adding him to their teams this week he did not disappoint. Even with an apparent 'abductor injury' during the game he still pushed hard and led his team from the front.
Vote below for the player most deserving of this rounds Golden Stubby.
Loading ...
Tune in to the boys live webshow during the week to see the winner!
Was there a player you felt was more deserving? Don't forget to get your nomination in during the round next week by tweeting me at @AnthonyDSmith86 and including the hashtag #GoldenStubby