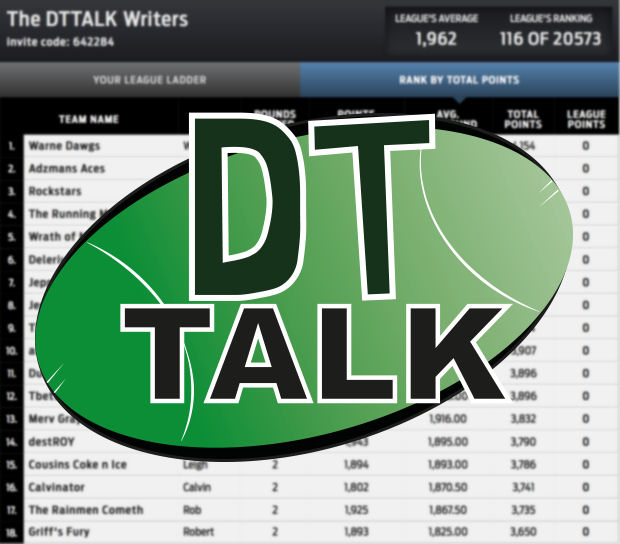 Welcome to a new weekly article. This is the place where you can put a team to the names and check how they're are travelling in the overall scheme of things.
Here you will see the results of your favourite DT Talk writers and personalities going head to head in an AFL Fantasy league.
Below is a list of the participants with their team names and twitter handles. Be sure to give them a follow, even to just watch the smack talk intensify as the season progresses!
Here is how the Overall ladder looks going into round 3.
The standouts are Warnie and Adzman who have jumped out to the front, managing to dodge most of the major carnage to score over 2000 in both weeks.
Unfortunately on every ladder there has to be a bottom, RLGriffin and Rainman find themselves on ours with a combination of bad luck and speculative picks letting them down. As we know though, these guys are fantastic coaches and will no doubt already have a strategy in place to best utilise their 2 trades a week and make up the difference. With only 500 points separating 1st and last anything can happen!
This week signals the start of head to head competition. This is where things get interesting as I've found that it doesn't really matter where you are on the overall ladder, it can still come down captain choices, bench options and the bounce of the ball.
Here are the match ups for round 1.
Warne Dawgs VS Jeppa's Boys
Adzman's Aces VS anNEALEiation
DestROY VS Rockstars
Dunny's Destroyer's VS Calvinator
JedAnderson's Army VS Tbetta Than You
Griff's Fury VS The Running Man
Merv Gray Autos VS Wrath of McRath
Delerium TeeTees VS Cousins Coke n Ice
The Rainmen Cometh VS The Fear Boners
This is where it all starts. Which coach will finish the season on top? Which coach will have a season to forget? Be sure to check back each week to see the results and follow the guys on twitter to catch the trash talk during the rounds!