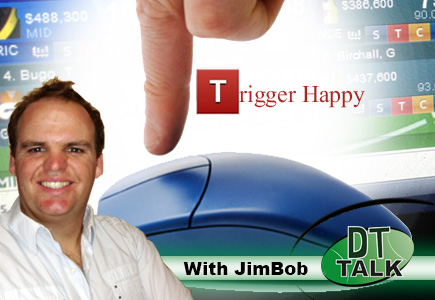 Welcome to renovation round!
This is the round that you flick the under-performers or speculative picks, and pick up those players that somehow slipped trough your 1000s of hours of pre-season research. How did that happen?
Even back in the stone age where we didn't have 2 trades a week, it was common practice that you use your first 2 trades of the season to right the wrongs of the first 2 rounds . In these days of YOLO there is definitely more than 1 strategy worth trying to see you try and improve your team.
1. Trading for cash generation – This one is pretty simple.  Sideways trade those unique rookies you thought would come out of nowhere and take the game by storm, or were picked just because they were named round 1 (Scott Lycett, I'm looking at you) to the rookies that have been looking like premiums. Here is a list of blokes you NEED to have in your team if you want to make sure you have enough cash generation
| | | |
| --- | --- | --- |
|  Rank | Player | Projected price increase after rd 3 |
| 1 | Jaeger O'Mera | $84,300 |
| 2 | Brett Goodes | $78,600 |
| 3 | Ollie Wines | $74,200 |
| 4 | Jack Viney | $65,700 |
| 5 | Lewis Stevenson | $64,300 |
| 6 | Heath Campbell | $56,000 |
| 7 | Sam Dwyer | $55,600 |
| 8 | Jake Neade | $53,500 |
| 9 | Lachie Whitfield | $48,500 |
| 10 | Matt Jones | $48,300 |
Some of the popular rookies being traded out are green vest specialist Kane Mitchell, yet to debut tiger Nick Vlastuin and the bloke with one of the coolest gangster names in the AFL Jimmy Toumpas.
If you kept your finger on the pulse in the preseason, you would likely have 60% of these players already and maybe brought some of them in last round. As long as you have 7-8 of these players, you have got plenty of cash generation for the first part of the season.  This is a pretty conservative strategy, but tried and tested none the less.
2. Trading to prevent cash loss – Those premos that promised lemonade but gave you lemons?  Trade their sorry asses! With more trades than Melbourne's percentage, team loyalty has been thrown out the window this season. You didn't give me a 100? oh but you were being tagged by 2 players in the wet? The roof was open??? I don't care! You're outta here!
Here are some players who will lose the cash after they complete round 3.
| | | |
| --- | --- | --- |
| Rank | Player | Projected price loss after rd 3 |
| 1 | Brock McLean | $56,000 |
| 2 | Mitch Robinson | $46,500 |
| 3 | Toby Greene | $41,900 |
| 4 | Shane Tuck | $33,700 |
| 5 | Andrew Gaff | $32,300 |
| 6 | Dayne Zorko | $31,600 |
| 7 | Patrick Dangerfield | $28,600 |
| 8 | Jack Redden | $26,400 |
| 9 | Gary Ablett | $16,400 |
| 10 | Dane Swan | $13,800 |
** Greg Broughton owners, you will have to wait another 2 weeks before you lose money on him.
The idea about giving the flick to the premos, is that you jump on of the gun rookies due to skyrocket,  or a  Midpricer like JJ Kennedy, Westhoff,  or Moloney who have shot out the blocks. This gives you some cash in the bank from the downgrade and ensures you still keep generating cash.
The big question you have to ask with this strategy is 'Will the players I traded in score as many points as the guns I traded out?'  after all, the aim of the game is to get as many points as possible.  It's a super ballsy strategy and the main flaw I see is that when you plan to get these sort of guys back in to your team in 2 or 3 weeks time when they have bottomed, you may have bigger fish to fry in other areas of your team.  Westhoff has turned back to a pumpkin? JJK re-injured his ankle? (knowing the eagles' luck). You could be stuck with expensive duds in the prime cash cow culling season, or missing out on the next bubble boy.
While I don't want to sound too pessemistic about this strategy, it's high risk and high reward and could put you out ahead of the pack. A lot of luck will be needed and my experience tells me that any trades you plan to make in 3-4 weeks time is generally more wishful thinking, with a million variables between then and now.
The Ty Vickery Award
This year, I am deciding to give an award each week to the player  who shows a purple patch of form and traded into a bazillion teams, only to return to their former glory the next week.
The inaugural winner of the Ty Vickery award is a pretty clear cut winner Ty Vickery!
Vickery came out in round 1 with all the promise of a 'Breakout' season, tonning up and followed this display with a Melbourne effort  of 34 and  a red vest. Fortunately he has a b/e of 8 so won't lose any money, but can't be relied on as a consistent scorer – I did tell you last week!
Stubby's Holder's and Folder's
Patrick Karnezis – $238,500 B/E 64 The name that has turned to mud in DT circles quicker than  Israel Falou changes codes, Karnezis gave all a big FMDT when he was given the green vest for a paltry 9 points. Now the most traded player out this week and involved in 1 out of every 10 trades, it should be a no brainer to Fold him. Not quite.  His break even is is very gettable if he plays a whole game, he plays Melbourne and GC in the next 3 weeks and the season ending injury to Claye Beams may help him stay in the team and also out of the vest. While his job is to make money, he shouldn't bleed too much money so he stays another week in The Running Man – HOLD
Kane Mitchell $119,300, B/E 22 Kitchell hasn't been let off the leash yet, getting to know the Port green vest intimately for the past 2 weeks and thus has given us an average of 21.5 when he has got on the park. Conditioning says that he either gets a full game or is dropped to SANFL for a run down there. Will obviously make your decision easy if he is dropped and won't generate cash as quick as other rookie mids.  Stays in my team this week as I have bigger fish to fry but the majority will likely – FOLD
Jack Watts $360,600, B/E 153 – Why was he even in your team in the first place? Because a number 1 pick HAS to improve at some point? He's been put down back and he's a super reader of the play? not yet! – FOLD
Zac Smith $300,700, B/E 95 – Like so many players in Gold Coast Smith has hit the fabled 3rd year of AFL and may start to get the hang of things as a ruckman – not yet. With a paltry average of 41 in the first 2 games, many picked  him based on structure and to keep Leuenberger's spot warm until he returned. Well this week, the Smith to Leuey trade will make you $65k. Welcome Leuey! FOLD
The Round up
The Running Man had a pretty good week with the defenders being the stars. Heppell, Goddard and Birchall all shone in the 2074 and a ranking of 1373 is my best ever. This week I'm making the conservative trades of Lycett and Bradley Hill (Speculative pick that didn't pay off) to Wines and Neade and locking in the pig for a 3rd week running. Backing my premos and hoping for big ones from Dangerfield, JJK and Cox.  Hoping to crack the top 1000 for the first time ever this week.
Finally, I will leave you with some light entertainment for the up coming Saturday night game. Don't get too drunk!
Who are your renovation trades?
What strategy are you employing?
discuss below!
As always give me a follow on Twitter @jimbobholder