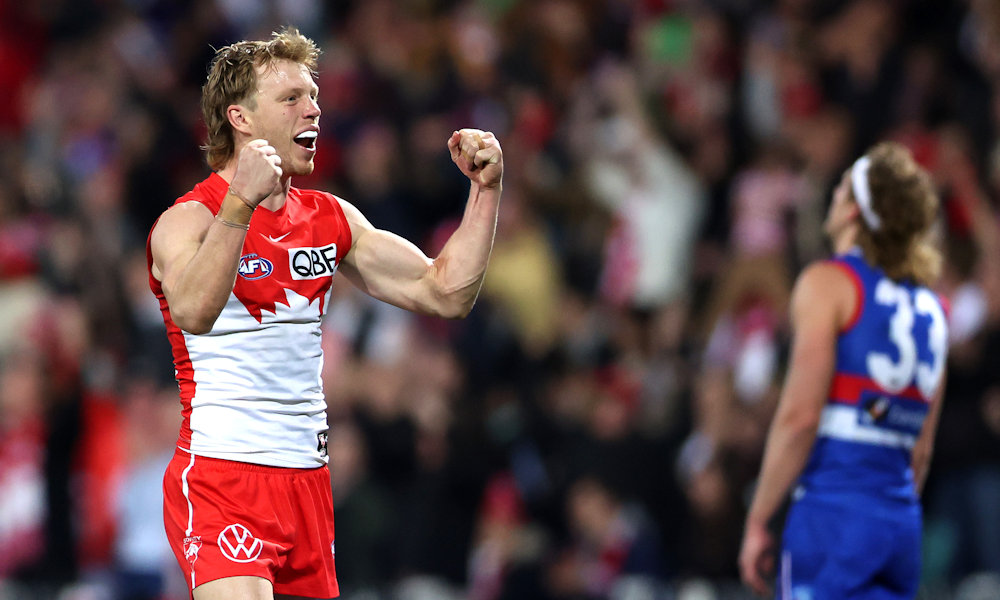 It happened. It finally happened. A few bad scores would have had steam coming out of my ears. Last weekend had me ready to give up. If anybody out there thought they didn't have anything go their way over the weekend, just wait for this sh*t. Let's just get this over with… It's time for the weekend wash-up.
LEGENDS
Gulden (126) – I will be going hard at value again this season, but not picking this guy is going to be next to impossible. What a stud.
Bontempelli (142) – This guy is killing me every week without fail. He has gone to a whole new level this year thanks to his new found love for a hug, and he comes in for me no matter what this week.
English (140) – He may not have had much competition, but he still had to perform. And perform he did. Dominant.
Gawn (162) – My god…. It's almost as if Max Gawn is the best ruck in the competition and shouldn't have been playing at full forward and half back? 29 disposals is some statement. I'm not sure we'll see Grundy again and Max is a legit chance to be a top 2 if not the number 1 ruck for the remainder of the season. Go get him.
Petracca (115) – Hopefully he can pick up forward status before the end of the season. The role is yuck but he is dominating.
Daicos (132) – I was getting frustrated at his pointless half back role, but Craig McRae has finally played his wildcard. This guy is a legitimate freak. He has probably picked up 12 votes in 4 weeks since moving into the middle, the Brownlow is done and dusted.
Flanders (120) – He's high on my watchlist for next year, but if you're strapped for cash and want a POD for the run home, you could do a lot worse than Flanders. The hype was fair.
Houston (156) – Anybody who plays draft knows Dan Houston is good for one of these games a year. Just hope you're not facing him when he does it. Don't do anything silly in Fantasy…
Rozee (111) – It's time to give Rozee his flowers. That makes it 8 tons in a row and he has put the Butters argument to bed. Dominating.
Atkins (122) – It's official, Geelong are the weirdest team of all time. Gone are the days of dominant fantasy forces like Bartel, Ablett, Corey, Selwood, Dangerfield… Now we have Tom Atkins and Max Holmes…? Mark Blicavs is in the middle. I can't even figure out how they're any good. Bizarre stuff.
Laird (131) – That shoulder knock was a concern and it wasn't looking great, so his final quarter was a huge effort. And let's be fair, he bloody needed it. Not the same dominant Lairdy as last year but a top 8 lock nonetheless.
Dawson (123) – Yawn. Gun.
LDU (138) – If you laid out all the options I had on the table last week, I'm pretty sure I picked the worst one out of every possibility. The Finn tag scared me off LDU and look where we are now. I own bloody Callum Mills and LDU is back to looking unstoppable. I'm guessing he wasn't fully fit for those 5 games when he came back, because I watched those first two games as an owner and he was unstoppable. A priority for me this week. He'll get tagged now.
Scott (136) – I have not given this guy nearly enough credit. He hasn't gone under 80 since Round 8, averaging 102 over the last 2 months. Those are legit numbers. Gun.
Sheezel (112) – He's not done yet… This score hurt non-owners, if he has the right role he could be in for a huge few weeks.
Day (111) – Read above. Will Day doubling my Sicily score, I didn't have that on my bingo card…
Worpel (127) – This score just summarises Round 18 doesn't it. What a joke.
LOSERS
Mills (71) – Ok, here we go. Let's just list of my team shall we. Callum Mills. What the f**k happened to you mate? Big off-season? It's no longer the role that's the issue, it's the ability. He has none. As bad as it gets, he's $650k for a reason. Get rid of him.
Macrae (71) – I hope no one was fooled by this guy. His days as a midfielder are over, just consider him a solid 90-95 average forward.
Daniel (67) – Yeah… Small potato. I don't know what he was taking earlier in the season but this is the Caleb Daniel we all know and hate. Bevo. Bulldogs. Just avoid them if they're not named Bontempelli.
Neale (75) – What a shocker. Lachie Neale has to face some actual opposition and he goes completely missing. Thank god for Cal's rocket. You bring this guy in for the easy fixtures, then you jump overboard like you're on the titanic. Get out. Get the f**k out.
Darcy (74) – The walking hospital ward was at it again on Saturday. Bloody Darce-ole. I don't think I could ever do it to myself again. It would be nice if someone from Freo could give us an actual update on him… Luke Jackson Round 2 anyone????
Anderson (85) – Have mercy. Apparently Anderson was getting attention from Windy, the first player they decide to tag all year apparently? The issue is he will never tackle his way out of it, so if he does have someone stand next to him consider yourself f**ked. 68% CBAs is also a concern, way down from the 80+% without Touk and Flanders in the team. There's red lights flashing all over the cockpit and I can't turn them all off. Disaster.
Crouch (89) – I don't know what the hell I'm supposed to do with that second half effort. 30 points. If this turns in to his Round 6-10 vacation I may as well give up now. Pull your f**king finger out mate.
Cerra (62) – If I can find a positive, and that's bloody hard to do… It's that Cerra was my only legitimate option worth considering over Tom Green at the time. He looks set to miss this week and would have turned out just as bad. Greaaaaat.
Hewett (72) – Come on. We're not really considering George Hewett are we? Are we?!
Walsh (76) – What the hell. I need a Royal Enquiry into what has happened to Sam Walsh and I need it now. That's 6 weeks in a row without a ton, averaging under 80. UNDER 80. He was almost averaging 120 in his first 5 games. Carlton look to have gone away from the chippy chip game style and it's working, but guess what Sam… You can still bloody tackle. Disgraceful.
Docherty (88) – Disaster class. How do you have an 8 point quarter? How is that possible. $900k for what? Useless.
Butters (68) – Ah, here he is. Weak as piss Zak Butters. We're giving this bloke a free ride, but he has averaged 83 in his last 4 games. People are rightfully flat at guys like Hobbs, Himmelberg and Mills… But what is this bloke doing? If you have a luxury move, I would be using it on this guy. Gone.
Stewart (79) – His record at GMHBA is a total myth. I'm not sure what everyone was on about. Add him to the list of 15 blokes that need to be axed from my team. Woeful.
Merrett (80) – Geelong. Where fantasy scores go to die. They sent Mark O'Connor to him after the first quarter and honestly, I don't see why every team wouldn't. One of the most dominant players in the game when allowed to run free, total piss ant when a player actually goes within 5 metres of him.
Hobbs (63) – I need some help here. Every time I switched the TV over to this game, I saw Hobbs winning the ball. Dominating in fact. He was in the middle and around the ball plenty. So HOW DID HE ONLY SCORE 60. 23 disposals? The time on ground is nothing short of a disgrace. Get so far gone out of my team it's not funny. I let him overstay his welcome and that's on me.
Keays (70) – Keaysa. Keaysy. Brother. I need you. I need you to show the Crows why they should be playing you in the guts. Instead you showed them why you should be playing in the SANFL. It's hard to see how they keep him in the midfield after that effort. In fact it's hard to see how he stays in the team. Back to being a pressure forward you go. The train is already off the rails.
Himmelberg (77) – The trail is off the rails so let's cover it in gasoline and light it on fire. This is not the HH we saw dominate at the end of last year. Posting a 160 from 37 disposals and 16 marks. Posting 8 tons in his last 12 games. This is basically watching Simon Prestigiacomo go about his work, only I own him in my fantasy team. Just end the season. Call it off.
Sicily (65) – People that got stuck with their Harry Sheezel and Will Day, enjoy your ultimate kissed moment. Because let's face it, neither of those guys were in anybodies top 6. Every player in the competition would have swapped them to Sicily in a heartbeat if they had the chance or the coin. And it sickens me. It f**king sickens me. Almost as much as sick dog does.
THIS GAME SH*TS ME
If Tom Green does his hammy on Wednesday, I have Bont instead of Mills and I don't get Sicily. Just another crossroads that has taken me further off the path to a cap. But you know what? Who even cares at this point. I don't. Clearly. This doesn't hurt at all. I actually had a great weekend. Twelve. I had 12 out of the 18 losers. How is that even possible? That skipped the angry phase and took me straight into a deep state of depression. It's a bit whatever from here. Those d*ckheads that have cost me can take a look in the mirror and decide if they want to actually have a crack. Because I don't have nearly enough artillery to rocket them all. As I said, whatever. Don't even care. Did I mention that already? God, this game sh*ts me.
THE OTHER BITS AND PIECES
Get ready for this. Men who had 5+ rookies probably outscored me this week. 2208. The laptop nearly got sent packing typing that out. If you wanted to see a collapse, you got it. No rookies on field and I drop from 50th to 170th in the space of two weeks. My ranking more than doubled this week. That's really hard to do. And it was all my premiums. Every single one of them deserve the worst.
The best part? There's nothing I can do about it this week! Not without 15 f**king trades. So I guess I just let it ride and hope a few of those dead set cowards decide to rock up this week. Unbelievable.
Hobbs can go what an absolute travesty of a player he is, and Lachie Neale simple has to go as he doesn't play the Eagles or Richmond every week. I can't go another week without Bont and LDU looks back to his best. BE WARNED. Every player I have traded in the last two weeks have scored 70. If I manage it this week it will be one of the great achievements. Sorry in advance.
Hobbs -> LDU
Neale -> Bont
Good luck this week guys blah blah blah luckiest man or women win blah blah peace out.