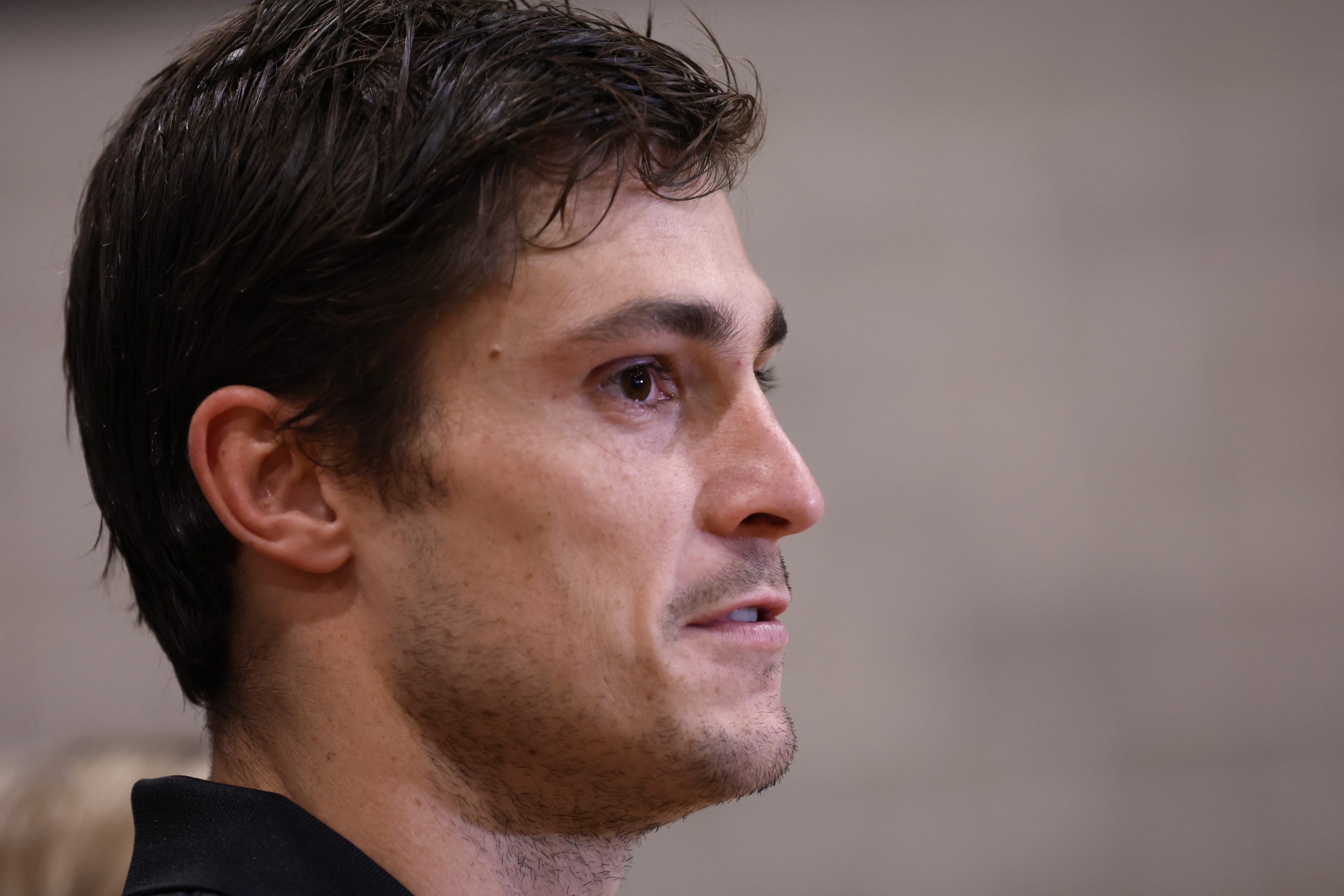 The 2023 season has come to an end, and it's time for one final vent. No, I did not get my second cap. Yes, I am a massive bottle job. There's a few men I have to thank for that… Let's get into it. It's time for the weekend wash-up!
LEGENDS
Merrett (146) – Nobody has a higher ceiling than this man. Vice captain Zach would have won a lot of leagues last weekend. He just finds a way to average 110+. Legend.
Brayshaw (134) – So… How about that Finn tag hey? Nice of Andy Brayshaw to finally show up after a lot of people lose their patience. Not his best season but he still averaged 110. That's not a bad floor.
Serong (120) – Not bad for a bloke who started the season priced under 90. What a gun. This is the price bracket I'll be targeting in midfield every year, looking at you next year Jai Newcombe.
Larkey (162) – What a season this bloke had. I doubt he was even owned in a draft league, but if he was… Congratulations on your league title.
Scott (123) – Bailey Scott is a huge name I missed on the weekend. Thankfully this move alone didn't cost me a hat, because it was purely and simply an oversight. His form has been incredible. Gun.
Flanders (146) – Speaking of. What a bloody legend!! I'm not sure what Stuey Dew was thinking here. Flanders had one score under 90 after their bye, averaging 105. His price just skyrocketed next year and he's still my first picked. Almost got me over the line…
Marshall (132) – Rowan Marshall's end of season form is actually pretty wild. He averaged 126 in his last 9 games. 126!!! Set and forget rucks were fun, but jesus good luck doing it again next year. We might need to hunt some value…
Liberatore (127) – Libba's season is hugely underrated. Ignoring his injury affected 22, Libba averaged 121 in his last 5. I don't think anyone saw that coming. Legend.
Treloar (131) – LEGEND!! Trelly and I had our bumps over the season, but what a finish. Will I ever select him again? Absolutely not. He's down the race every 10 minutes and a 70 is just around the corner… But it's thrill a minute.
Bontempelli (125) – Fantasy non-ruck of the season. We always knew Bont was capable, and his tackling went to a new level this year. What a season, he deserves a Brownlow to go with it.
Smith (160) – Isaac Smith hey? This definitely won a few draft leagues, what a finish.
Walker (164) – Guys…. I f**ked up. Really bad. I would do anything to rewind back to Thursday afternoon. Not only did I have the Texan in, I had him viced. Heading to the game and ranked almost 200, I thought why not roll the dice? And then… I guess I'm just not made of the right stuff. Embarrassing really. Almost as embarrassing as Jeremy McGovern's defending. What a disgrace. Well done to anyone who went Tex. Lesson learnt.
Rozee (138) – Rozee went under 100 just ONCE after Round 10. Wow. You could make a very valid argument that he's underpriced heading into next season. Legend!
Mills (155) – Not a legend. The total opposite of a legend. This was another one of the multiple blunders that cost me a cap. After his flukey 117 I found out he was 1% owned in the top 100. And I had him for a 60 every week for over a month. Makes sense. Anyway… Never again lists are dumb and Mills will be one of the first picked in 2024. It can't be worse… Can it?
Gulden (142) – I don't know how I'm going to live without Gulden in my team next year. He went 125+ at a 70% hit rate after his bye. Pick of the year.
Viney (129) – If anybody actually had the guts to jump on board the Jack Viney train….. Wow. Bizarre stuff. 2023 was weird.
LOSERS
Ryan (86) – Luke Ryan. Whenever I hear that name from now on I'm going to become nauseous. It's not even his fault really. He's an 80 guy who occasionally racks up a few extra cheapies. According to Sam Mitchell he's worth playing with 17 men to shut him out of the game. Either way, there's no world where he was the catalyst for me to jump 80 spots into the top 100. So why the f**k did I do it? I'll be asking myself that question for the next 6 months. Embarrassing decision.
Jackson (80) – The worst part was I held this big oaf. This… All Australian big oaf? Are we having an actual laugh? That's probably the worst call I've ever seen in the 44, and I've seen some shockers. If Sean Darcy leaves I'll ride the Jackson wagon again, but I can't really say it was a fun one. There's glimpses though…
Steele (67) – My god. There will be some coaches out there that are permanently scarred thanks to this man, and I can't blame them. My best differential heading into the last few weeks was not having a Jack Steele headache. I hope people go back for more next year. Enjoy your 60's.
Dunkley (78) – My second best differential in the last few weeks was trading out this bloke. I want to give him the benefit of the doubt and say his calf was never right, but this was a common theme this year. He had 8 scores of 86 or lower. EIGHT. We almost paid $1 million for him?! Not a rollercoaster I'll be getting back on until his price plummets.
Crouch (74) – Will the real Matt Crouch please stand up. 26 handballs, 5 kicks, 1 mark and 1 tackle? Thank you. Despite this, I'm still a Matt Crouch maxi and will be willing to look there again in 2024. Sometimes you just need a Crouch brother for the full AFL Fantasy experience.
Gawn (74) – Anybody do the Rowan Marshall to Max Gawn swap? That's a big yikes. Are we winding the clock back and going Max and Grundy in 2024? Perhaps…
Walsh (87) – Cheap next year or cheap for a reason? Total disasterclass after Round 6.
Taranto (71) – Good lord.
Anderson (101) – Now I am hugely against never again lists and for good reason. Listen, if Noah Anderson was to suffer a couple of serious injuries, every man has his price. However… Would I be upset if he had a couple of seasons blighted by injuries? No, no I wouldn't. And that may sound harsh. This bloke had an 8 round average of 93. Ninety-three? If I had to pinpoint one player who let me down to the point where I don't want to ever see their face again, it's this guy. He's bloody Andrew Gaff 2.0 when it comes to tackling. He loves fake leads when he knows he's not going to get the ball. And all I have to hear is how he's a gun and deserving of All-Australian. Have a spell at fine leg. The only thing he's good for is a 20 point half. Never. Again.
THIS GAME SH*TS ME
Everybody has their ifs buts and maybes. They don't do you any good… But my Round 24 one is a corker. I was heading to the Eagles Adelaide game on Saturday night and thought it would be a bit of fun to bring in Tex and make him my vice skipper. I knew I needed to hit a home run, but I also wouldn't have been able to live with myself for missing out on a cap because I traded in Taylor Walker. What does this all translate to? The fact that I am a massive coward. Because on Friday afternoon I reversed that trade and brought in… Luke Ryan? Why, I have no idea. I guess some people are just made of the right stuff and some aren't. Trading Tex in alone would have finished me in 88th, 76th with the VC. So now I have to live with myself knowing my cowardice cost myself a cap. And yes there's some players to blame along the way, but at the end of the day it was my decision that cost me… My god it's going to be a long off-season. This game. It really does sh*t me.
THE OTHER BITS AND PIECES
2570. Which was great without context. However it could only move me from 176th to 138th. A solid season, but a Tex driven 2700 to finish with a second cap would have been special.
https://www.aflfantasywrapped.com/user/1018293
I actually feel worse for the fact that it wasn't actually my players that let me down this year, rather myself.  AFL Fantasy wrapped is a brilliant idea, but what about the mental health issues this may cause. Say, for instance, if someone was to finish 70 points outside of the top 100… and average 116 this year with their captains. 116. 116? What is wrong with me. An average of 119.5 would have had me inside the top 100. I genuinely haven't seen any of my mates, and that includes those ranked at 20,000, who were under 120. That's what you get for trying to be a hero.
In reality my season was doomed after I failed to nail a single rookie all year and was forced to trust blokes like Hobbs, Fiorini and Mills. Getting my hand caught in the cookie jar with those cowards saw me free fall after the byes and it's a lesson to take into next year, but not really one you can do much about. Hopefully Roberts doesn't do his MCL and Hewett snap his ankle in game 1.
Of course congratulations to the overall winner, top 10 and cap winners! We do it all again next season. See you in 2024 legends.