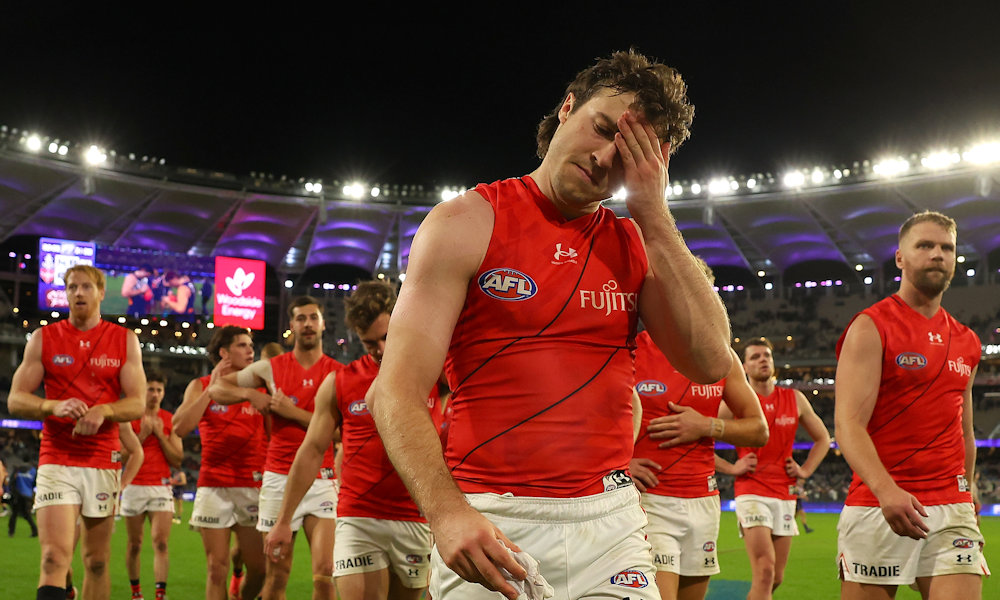 Late as ever, we still need to recap the finally week of those dreaded bye rounds. Or, at least they were supposed to be… I'm going to miss dropping off some of those spuds. It's time for the weekend wash-up!
LEGENDS
Petracca (125) – He's getting harder to ignore as the Clayton Oliver mystery drags on. I'm not gutsy enough to chase him, but he ticks every box as a top 8 mid. Gun.
Duncan (120) – Bloody hell. With 4 more games at GMHBA in the next 6, the Mitch Duncan gamble could be about to pay off. I can't trust it in the same way I couldn't trust Elliot Yeo. But…… If he stays healthy, look out.
Sinclair (130) – Yeah, I think Jack Sinclair is over his slow start to the season. He has looked like the number 2 defender behind Dawson in recent weeks and their fixtures should only cement that. It's a positive to see him amongst the CBAs with the Eagles coming up next week. The ball won't make it down back.
Crouch (116) – When you consider his form along with the Saints upcoming fixtures, Brad Crouch was almost the trade of the byes. Let's hope we see a little tail form over the next few weeks, get on board.
Wanganeen-Milera (102) – There was only one answer in Round 13, and it was NWM. Yes Luke Ryan had a monster week but the cash Nasiah has made is invaluable. What a miss.
Gulden (145) – If anybody was going to fill his boots against the WAFL Eagles it was Errol. It honestly could have been even bigger so as a coward who didn't end up VCing him after locking it in all week, I'm just glad he only had 32 and 3. Gun.
Rowbottom (129) – James Rowbottom scored 129. That's all you need to know about how the Eagles are going.
Warner (128) – There's going to be a season very soon where Cheeks Warner becomes an uber premium. We're just not quite there yet.
Sheldrick (111) – Sometimes the eye test doesn't lie, and it didn't in Round 13. Sheldrick is a gun and it should come as no surprise, just look at his VFL numbers. It may have been the Weagles but 29 and a goal is elite output. What a bloody legend.
Shuey (120) – You couldn't… Could you? No. You couldn't. But… Could you? Yeo 2.0 but .
Ryan (143) – I have just one thought here. Get f**ked. Toss a coin they said. Junk yard king.
Brayshaw (129) – One of the few genuine must haves in midfield. That knee issue is a thing of the past, Andy just fills it up everywhere. Gun.
Martin (112) – Nic Martin's form deserves some credit. The bloke is averaging 112 in his last 5!!!!!! Ridiculously hot at the moment but you can't do it. Still, what a legend.
McGrath (107) – He's still shit. Next.
Hobbs (105) – Hobbsy! The midfield role wasn't exactly there but he doesn't even need it. He will be a priority upgrade over the next few weeks as I don't think he has the ceiling in that role, but by all means ride him out for now.
Johnson (99) – God damnit. This score killed me, talk about kissed! (Gun)
Dawson (172) – Thank the lord…. It must be my year because that is as lucky as it gets. The fact I didn't have this king in the first place was embarrassing. L.E.G.E.N.D.
Daicos (120) – FINALLY. Nick Daicos as a pure mid, hook it into my veins. Best player in the comp.
D.Cameron (106) – Keays or Cameron was a toss of the coin, well they both looked bloody good to me. Great option.
Day (116) – Yeah, so about that aggressive bye trading… Who could have seen this coming though. Still a gun obviously, and a potential target for those that jumped off. Sicily out helped.
Fiorini (115) – F**k off.
Impey (108) – Really? I'm not even going to comment on this as I couldn't believe his name was even mentioned, only to see his recent scores. I guess…..? Bizarre.
LOSERS
Cameron (-3) – Gary Rohan cements his place as the dumbest footballer of all time. That's weeks.
Windhager (42) – I just think we're too deep into the season to be messing around with players the level of bloody Marcus Windhager. He might make you some cash but he'll average 60 while doing so. Just throwaway that bench spot unless you're in the ultimate luxury position cash wise.
Lohmann (27) – No mann.
Chesser (23) – The future looks bright.
Maric (27) – There's a genuine argument he is worse off now than he was 3 weeks ago. Poor bloke.
Petrevski-Seton (36) – If you get rejected from Carlton, I don't know what you can possibly expect. This probably.
Edwards (29) – Honestly give me a game at this point. The ball will accidentally fall to me 3 times during the game.
Gaff (46) – Ok the Eagles bashing is pretty boring stuff but come on. This guy is still getting a game. Accountability not a word in the dictionary of anybody at Eagles HQ. Embarrassing.
Mills (64) – Mills could only manage 64 against that rabble?! Let's be honest with ourselves, he didn't even try. I would expect to see something far closer to a full game against Geelong this week and he will be the number 1 target when he bottoms out. I just wouldn't go early unless you can't afford anyone else.
Lloyd (73) – Jake Lloyd's bye period has been as useful as a grave robber in a crematorium. It's time to go.
Redman (57) – So, about the Mason Redman hype….. yeah let's cool off on that one. Ridley's reality check is coming up next.
Young (61) – Let's have a word Hayden. I'd love to take all the blame as it was up there with my Michael Walters and Shane Mumford aquisitions to be my worst ever trade. But f**k me. I didn't think you were this sh*t? Boring 80's and 90's didn't shock me but I've seen better half backs down in my local ammos B grade. Elite kick? Try getting one first. I've always struggled to answer the question whether I would rather be pathetic or a coward. Well this bloke defines coward. It's all good though, he's gone this week so go and hide in your back pocket and run away from the ball as much as you like. It just seems like such a waste. Bizarre player.
Humphrey (36) – Thank god I don't have to listen to anymore 'Humpa' talk. Maybe in 2025. On your bike champ.
Rowell (68) – The player of the byes. To not have. What a ****. I'll let you decipher that one. I had him written off as a terribly overrated player, and he did a number on me. What a joke. Bloke doesn't know there's 120 minutes of footy in a game, not just 50 stoppages. Never trust a man who eats grass, it's unwritten rule number one. See ya.
THIS GAME SH*TS ME
The biggest challenge of the byes isn't actually being short on players. It's not ruining your team with players that wouldn't get a look in under any other circumstance.  I'm not upgrading to Hayden Young? Or picking Matt Rowell before the byes for *checks notes* $854,000?!?! Idiotic. This game sh*ts me.
THE OTHER BITS AND PIECES
2114. That moves me up to 57 with 8125 for the byes, up from 117th. I'll take it. It should come as no surprise who the two men on the chopping block are this week, but Luke Jackson's time is probably up with Darcy back. He will go next week.
Thanks to my sh*thouse rookie selection, I'm having to take a risk to get those final few uber premos in. Enter, Harry Himmelberg. I actually think he's got more to give than those few games before the bye, and it sounds like GWS have finally figured out his best position is off half back. It's gutsy, but if he can hold up D6 for a good month or so then that will be the key factor to a lot of teams getting close to that 'best 22'. I would bring in Brayshaw for Rowell under normal circumstances, but I ended up having only 5 defenders during the byes so Docherty comes in. Welcome back king.
Young -> Himmelberg
Rowell -> Docherty
Best of luck in Round 16 legends, as always may the luckiest man win!