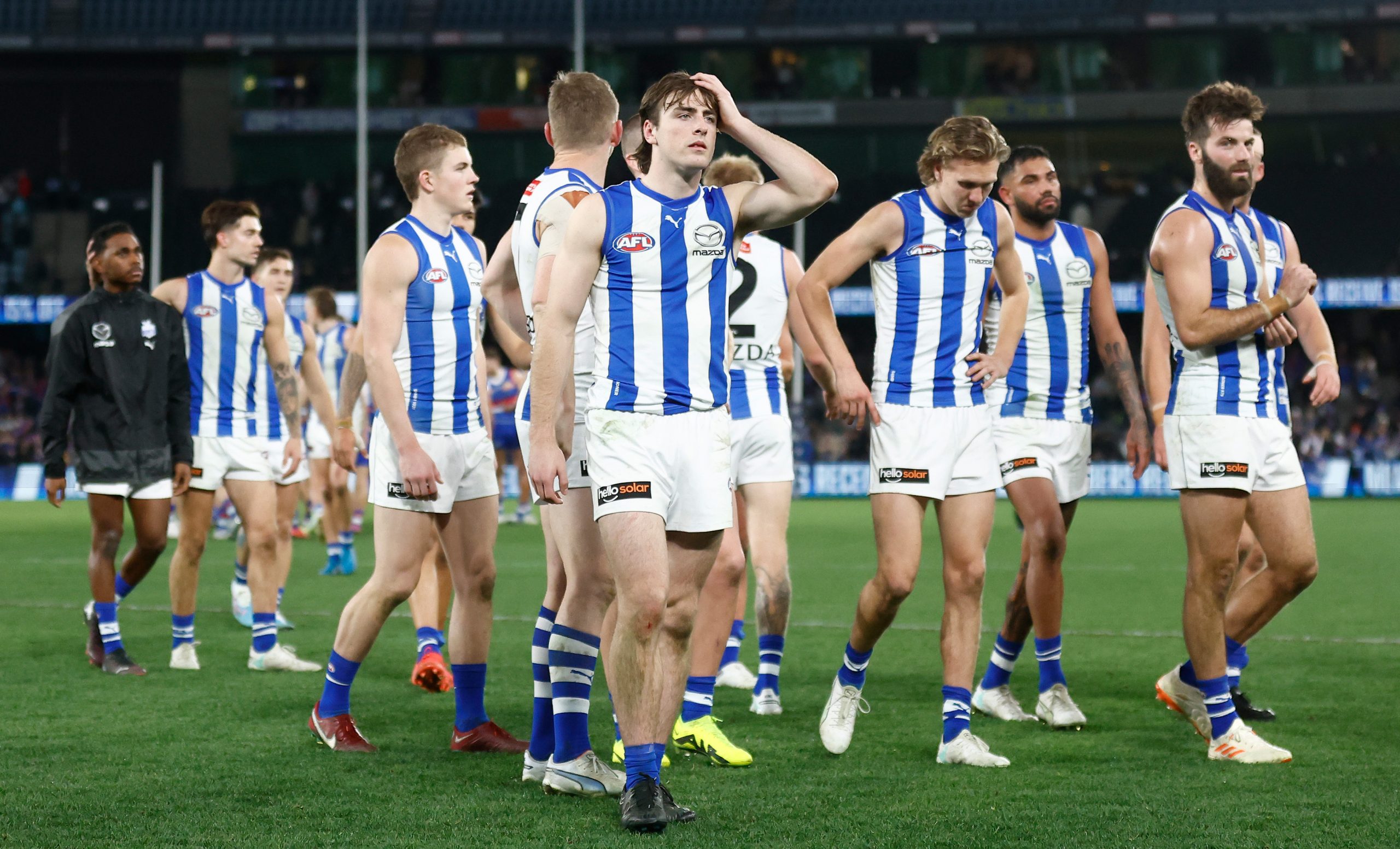 Those wanting carnage from my team will continue to be disappointed, and with just one more bye round in store for us there is light at the end of the tunnel. Here we go, it's time for the quick fire weekend wash-up!
LEGENDS
Dunkley (113) – Not just for this week, but for his 7 round average of over 125. Yeah, I think he has figured it out. Gun.
Bailey (112) – Don't look now but Zac Bailey had a lot of mid time on the weekend. If he becomes Brisbane's clear fourth midfielder he could just become a bargain. 26 touches and 2 goals, massive.
Sheldrick (82) – Unreal. 55% TOG is annoying and restricts what he's capable of, but Sheldrick is looking like him. Legend!
Kelly (120) – The injuries are such a shame because Josh Kelly is an absolute gun. He just can't stay on the park for longer than 3 weeks. If you enjoy a good nights sleep, avoid him.
Coniglio (110) – Not spectacular, but Cogs has been as solid as a rock. I'm not sure whether you call picking him a win but that's a huge score in a round his coaches desperately needed it.
Callaghan (108) – Anyone still own him?! Huge score and what a send off for one of the under rated picks of the year. He's up $260k, a lot more than my Noah Long or Campbell Chesser. Awesome pick.
Taranto (147) – This hurt. I really should have just vice skippered Taranto but of course I tried to re-invent the wheel. The bloke is pumping out prime Dane Swan numbers. Does that mean a 180 is on the way? What a deadset LEGEND. Perma captain.
Crouch (109) – It was looking even bigger in the first quarter, but Brad Crouch is looking like a great pick up off his bye. We know his fantasy pedigree, and the form line looks back to his best. Massive.
Docherty (124) – I can tell you what will be the difference coming down the home stretch. Some coaches have nailed their rookies and will afford to get a gun like Docherty in next week, and the coaches like me will be bringing in someone like Elliot Yeo. Levels. Doch is unreal.
Cerra (122) – I would love to see him maintain high 70%'s CBAs, however he's still scoring incredibly well in his current role. I wasn't a huge fan but he's proving me wrong every week. Gun.
Bontempelli (158) – Not owning Bont isn't a lot of fun. The tackling is something I didn't see coming. His career best hugs average is 5.2 per game. He's currently average 7.8 tackles per game… That's Tom Rockliff and Rory Laird levels! That extra 10 points is the difference. What a beast.
English (134) – Personally I preferred 110+ English over the bloke who ranges between 70 and 140 points every second week. Hard to explain and I'm scared to captain him but English is still a deadset legend.
Sheezel (98) – Not so much for his 98, but farewell Harry. His first month of football will go down in fantasy rookie folklore. L.E.G.E.N.D.
LOSERS
Stewart (66) – What is that? Tom Stewart has thrown 3 absolute turds at us yet I'm still yet to see that massive GMHBA ceiling. Hopefully it's on the way…
Horne-Francis (34) – Remember this pick? Well he's still looking for that first ton. Not near it.
Warner (72) – Cheeksy what is this brother. Warner for 20+ shouldn't even be a question, yet here we are. Dismal performance and his lack of a ceiling hurts so much because his floor is certainly not there. Awful.
Young (79) – Hayden Young. This bloke is a myth. I missed this game but you can imagine my complete and utter shock when I saw Young at the top of the scorers in the second quarter. 68. 68 at the half. How does that end in a 79? Only Youngy could manage that. Boring as bat shit and barely wants the pill, I don't know why I ever got him. Terrible trade.
Ryan (77) – Those round 12 bye defenders are just a total trainwreck. Almost as much as Fremantle. Abysmal.
Fyfe (47) – I don't know how or why Nat Fyfe actually became an option in Fantasy circles, but here we are. Is anyone surprised how this turned out? Because they shouldn't be. He was washed 5 years ago. Hang em up Nat.
Steele (60) – I was questioning last week whether we were just making up an injury to excuse Steele for his poor scores. Well it's pretty bloody clear his knee is buggered, and after this round I would probably be moving him on. 2024 we'll meet again Jack.
Walsh (82) – My best trade out this year. Certainly my most satisfying. He was up to 63% CBAs last week, maybe he just sucks? Is there an injury there we don't know about? His 5 round average is 86. Go figure that one out. Woeful.
Rowell (80) – What else did I expect? The man eats grass. He did take 2 marks though. I repeat, Matt Rowell actually took 2 marks! I had Rowell in for his bye yet he has actually outscored my two 19th scores by a total of 10 points. TEN POINTS. What's the point. About as useful as a pedal powered wheel chair.
Wardlaw (31) – Sadly, this score might have counted for a lot of coaches. All his hard work was undone in 2 hours last Sunday afternoon, what the hell is this. Luckily George's score dropped off for me so I won't let this temper my love for how he goes about it, but that was pathetic.
Greenwood (42) – Bullet dodged. Sheeeesh.
Ziebell (59) – Hall out. Sunday afternoon game. I had this pencilled in for a 110+ with potential for a 150. Just get rid of the 1 and that was spot on. What a disaster. It's just another bullet dodged for me this year, talk about getting kissed. The bull was still an awesome pick and now an easy trade. Farewell.
THIS GAME SH*TS ME
Day 500 and I still haven't looked like getting a captaincy call right. I can't remember the last time I nailed a VC, and when I go and look at Tim Taranto's scores for this year I wonder how the hell I have bottled it this hard. NEW RULE. Again. Always vice Taranto if possible. It's honestly costing me the top 10, how the hell did Taranto get to 150?!?!. This game sh*ts me.
THE OTHER BITS AND PIECES
1953. That has me ranked 60, which I'll take any day and night. Solid again without being spectacular, there's always a couple of names holding us back. Hayden Young can't get out of my team quick enough and Matt Rowell has been a hugely disappointing pick up, but new additions Crouch and Sinclair performed for us last week. Next week is the true test of the bye rounds and I should be setup nicely, with 21 players currently sitting on my field who should carry a green dot. I would classify 3 of those as pretty underwhelming rookies though, so it's the bare 18 as far as capable players go.
My trades fell into place last week and the same has happened again this week. Wardlaw goes down to Kai Lohmann, Sheezel goes up to Jordan Dawson (finally), while my final trade represents how I have attacked the byes this year. It's goodbye Tom Green. Controversial? Maybe. However my team has been close enough to completion that going all out attack was the way to go, so he becomes Rory Laird. As long as your worst player will be a Ben Hobbs type next week, I think you can be aggressive.
Wardlaw -> Lohmann
Sheezel -> Dawson
Green -> Laird
Good luck next week legends, this is the time we're really going to need it!