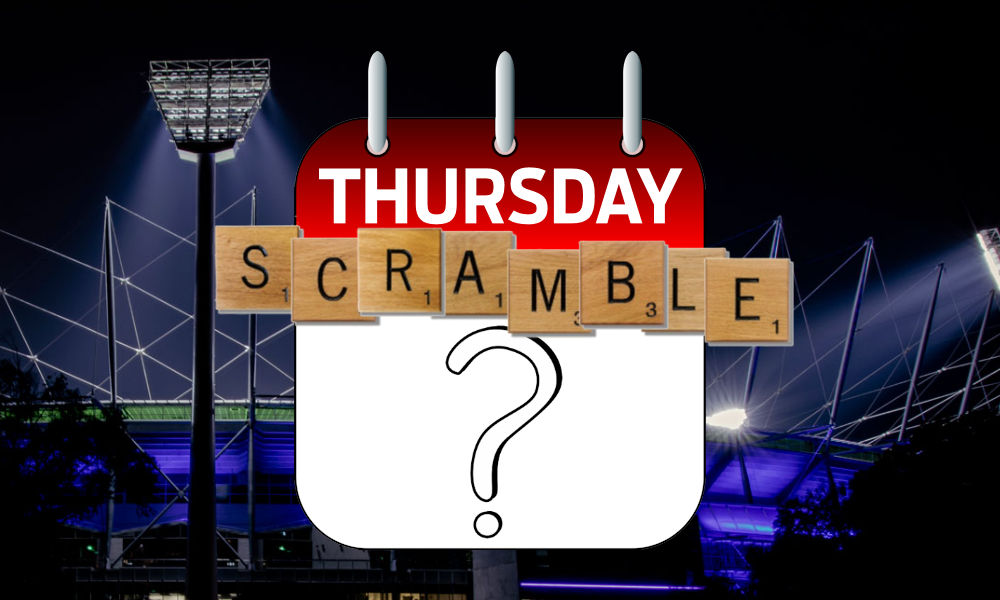 One down three to go as they say and this is one of the better ones for us with just the two teams on the bye this week. Unsurprisingly we have been dealt more blows with more suspensions to deal with.  It's all just part of being a Fantasy Coach right?  There is only one thing that we are all good at in this community and it is Scrambling!
Bye Round 2
Well we survived the first one and as we saw with the Traders, anything can happen with Calvin winning the week and Roy having to do the punishment! With just two sides on bye this week being Geelong and the Gold Coast Suns our options are a lot better and you should have 22 players on field hopefully. This is a situation that we can exploit to hopefully get things moving for us for the subsequent, more difficult, bye rounds.
The fact that we have only two teams on bye this week means that with this being a best 18 round we can sacrifice a player or two on field to get yourself positioned for the last two rounds. You could do this to trade out a R14 or R15 rookie / mid pricer and then trade in a R12 or even a R13 bye premium. This would mean that you have space to be able to make additional trades in the next two weeks to get past of those problems. The best result would be to trade out a red dot / injured player from the subsequent rounds but you could also do it with a playing rookie that is unlikely to count towards your best 18 this week.
Remember that the key is to have the best 18 that you could possibly get for this week on field. But also use this to plan ahead for future weeks. Having a plan for the complete set of byes is the most important thing that you can do in these weeks. Going in without a plan is only setting you up for failure.
Can this game get any harder!
For owners of De Goey and Parker it made this week just that little bit harder by getting themselves suspended at the most important time of year when we are desperate for warm bodies. Add to that news that Clarry Oliver now has been in hospital as he fights and infection in a blister. Most players of AFL Fantasy would have traded him but in RDT and SuperCoach many would have held him thanks to the limited trades. But how random is this for a reason for him to miss another game! Sometimes you just can't win.  With those that have held him there really isn't much in the way of other options, if you have held this long you may as well hold him again in the limited trade games. You have already taken the pain.
In all forms of the game, De Goey is a trade. He will miss effectively 4 weeks thanks to his bye and the 3 game suspension. His scoring has been up and down a little throughout the season so if you  can get a consistent high scorer then that would be a great move. With Parker he has already had his bye and he is out for just the one week so he is one that you could hold in all forms given this week is the 'lighter' of the bye rounds.
It's A Long Round
This round is one that will go on for a while with our first game on TONIGHT! So make sure you get your teams ready to go for this game, but we don't finish the round until Monday afternoon with the Pies and Demons game.  Then we jump straight back into the footy on Thursday night again next week so we all need to be on top of our games at the moment and be ready for anything.
So a reminder that we won't be getting the Monday final teams until Saturday (if past history is anything to go by) so just be aware of this and be ready for a rookie to be missing and have a contingency plan where necessary.
Things to Remember
Trade ins should ideally be from someone that has had their bye already or in the circumstance I mentioned above, from those on the bye this week.
Geelong and Gold Coast players don't lock out until the Monday game starts so they are the ones to use for any loopholing that you want to do.
Any premium you are bringing in is someone that you want in your team for the long haul so don't just jump on anyone, make sure you are truly happy with having them.
That's about it from me this week folks, next week is where the real work starts and remember we will have a shorter turnaround on it as the Thursday night games are back. So make sure those plans are in place and you are ready for anything! Have a great long weekend (for those states that have one this week) and I will catch you all again next Thursday as we launch into the two hardest rounds of the bye with 6 teams missing in each round.