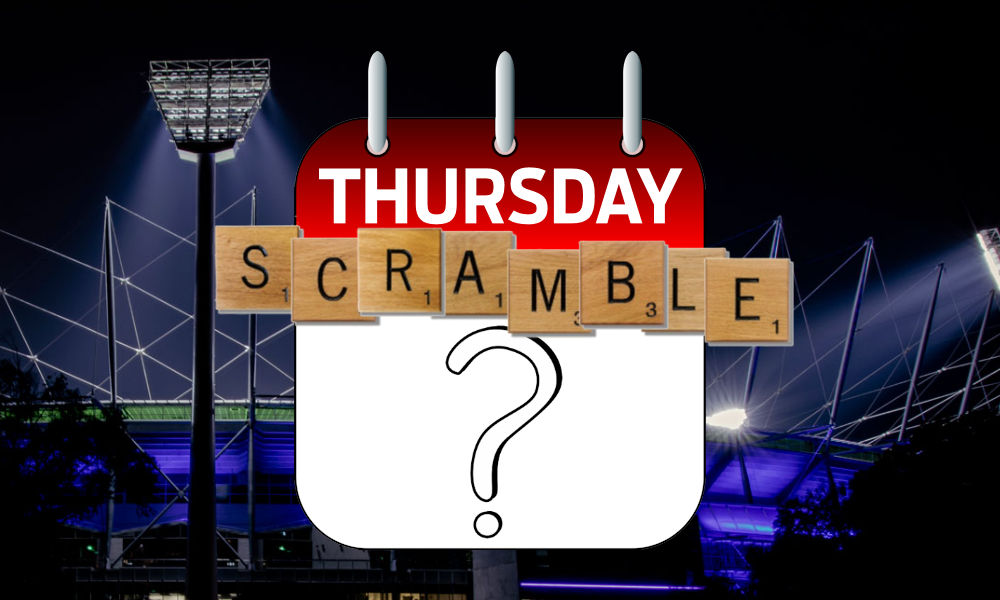 Are the bye's over yet??  Must say I think I  have had enough of them already and with all these issues to do with suspensions too it isn't getting any easier. To be fair the last two weeks have really been just a warmup. The next two weeks are where things get real and that is where we have 6 teams on a bye each week like we have been used to in the past.
The SicDawg Dilemma
Oh my god, could this situation get any worse! Let's just put it out there first, the man can rack up the points. He is having a great year across all forms of the game. So it is bloody a shame that he has been suspended yet again, and as we head into the two toughest rounds of the byes, yes he was missing for one anyway but we are now going to miss him for the all important and bloody hard Round 15 plus the next three rounds after that.
What's that I hear you say? They are appealing his decision, yes they are, but unfortunately that isn't happening until Monday night next week. So the decision you need to make is, do you take the risk and trade him out this week when you would have been missing him anyway and get someone in that you know will be playing both rounds and hence bolster your stocks for this week, or do you hold him and hope that he gets off on Monday and then you have him still for R15 and it would be status quo and nothing lost.
This is a tough decision and one that I am really grappling with. I am really torn on what to do. I am kind of thinking that I might trade because we all know the AFL rarely lose these things and they won't want this to get off no matter how silly the vast majority of commentators think the decision was.
If you were to trade him you could actually unlock a couple of spots in your side. He isn't overly cheap but what it means is you can trade down to another premium and pocket some cash to put on someone else's head to get a second premium in. In a season where cash generation has been bloody hard, that is a very tempting thing to consider. If you do pull the trigger, just be prepared for him to drop huge scores on you if by some miracle he gets off next Monday.
Thoughts about Round 14
I don't know about you, but I thought to myself, "yeah there will be heaps of guys to pick that have already had their bye once we get to R14". Well that hasn't really turned out to be the case.  When I look at the teams that have come off their bye already, there isn't a huge amount of blokes that are screaming "Pick me". With teams like Gold Coast, Geelong and Sydney there aren't a heap of popular players in those teams that we don't have already like Gulden and Stewart. Some people will look at Jeremy Cameron, but I don't like taking key forwards.
We do have Brisbane and Fremantle available to us so that does open up guys like Dunkley, Neale, Brayshaw and Serong. These are the ones that I like most. And most of you would already have Dunkley and a lot brought Neale in last week as well as Brayshaw. The other team, St Kilda, the only one that I like there at the moment is Sinclair. I am very nervous about Steele with the revelations about his knee this week.
So while it feels that we should have plenty of players coming off their bye to choose from, but really I think the pickings are fairly slim to be honest.  Make the most of it as best you can.
Questions
Just a couple of questions this week, I am always happy to give my opinions on things we can do, can't promise they are always right (hey, I would have a few Hi Lux's in my garage if I was always right wouldn't I?)
Rob Drake asks "Does the uncertainty around Jack Steele's knee make him a trade this week?" One thing he isn't and that is a trade in. If you don't have him then you certainly wouldn't be bringing him in. But, if you are in the unfortunate position that you already have him, then I would probably look at trading. Since he came back from his shoulder injury earlier in the season he may have had two scores over 120 but the other 5 scores have all been sub 90. Now with this doubt over his knee I think that just adds to the risk surrounding his scoring and I would move him on. The only issue of course is that we need to make sure we have 18 players this week. So if you are able to field 18 with trading Steele out then you should certainly consider moving him out.
Reece Martin 12 asked who are the best rookie options to generate cash in the second half of the year.  Well this is a tricky one, the problem we have is that there usually isn't much of the rookie stocks coming through. Clearly Wardlaw is our best Rookie at the moment as he is likely to play for the rest of the year and will generate the most cash but he will also be a great bench player for you too. Keep an eye on the mid season draftee's too. Maric at the Eagles is one that we should also consider, with the injury list over there he is a chance to get games going forward. Other than that I don't have too much more to offer on this topic unfortunately. Keep an eye on Fry's Cash Cows on a Wednesday and that will always be your best rookie resource.
Things to Remember
Everyone is going to struggle over the coming two weeks so don't pack it in.
Make sure you are improving your side and not just constantly side swapping.
You don't have to wait until the peak of the price of a rookie to trade, time to trade is when you need the cash to upgrade at a bye.
Best of luck this week. Keep your eye on next week too, but after that we want to make sure we have the best team we can possibly have for the rest of the season. There may be only 6 games to watch this week, but hopefully you enjoy them. Catch you all again next week.