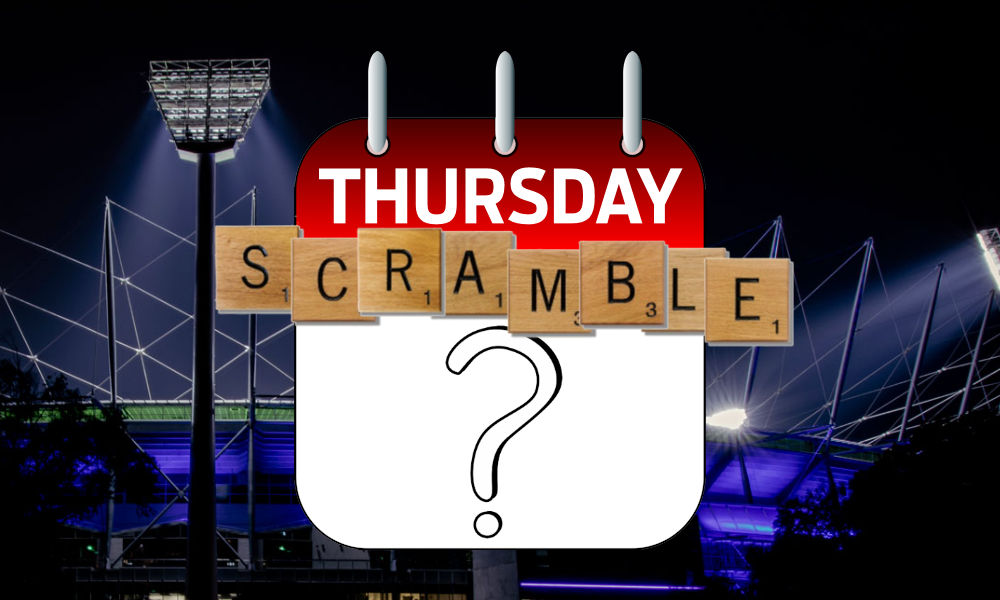 Ok ok, so we all knew that there was going to be some issues for us this week as we have the first four teams on a bye. We were all planning for a nice week with just Fremantle, Brisbane, St Kilda and Sydney all being on the bye this week but just to make it a bit more fun we then go and get people having injuries and the to cap it off a couple of suspensions! This week, more than any we have had so far, it is Time to Scramble!!
Bye Week 1
As mentioned, we have the four teams on the bye this week and you need to move them to your bench if you can. Bur we have other issues to deal with this week. Firstly, at teams last Thursday we saw plenty of the more popular rookies left out of their sides. This put a lot of concerns through coaches as many of us are planning to use these guys over the coming weeks. But now on top of that we are also now missing James Sicily and Luke Parker thanks to some suspensions. We can all be thankful that Adam Cerra and Rory Laird became the first two guys this year to get their suspensions overturned for the sling tackles at the tribunal.
So many of us thought that we would be ok this week but now we are all hanging on team selection to see if some of the guys come back who we were all thinking about. In particular I know a lot of coaches are hoping that we see Cincotta and Drury back this week. I don't have my hopes up for Drury but with a couple of issues at Carlton and his great form in the VFL there is an outside chance we will see Cincotta back this week.
So what's our plan for this week's trades knowing that anyone we trade in will be either on a bye this week or they will have one coming up in a few weeks. Here are a few thoughts of mine for what I will be doing this week.
Trade multi week injuries. If you have someone like Sean Darcy who is rumoured to be missing for up to 4 weeks with a hammy injury he is one that you could trade this week (or next week as he is on bye this week) as you will need someone to cover him for the remaining three weeks of the byes assuming he will be missing all of those. You would obviously be looking at someone like an English or a Marshall. It will basically be whichever one you don't have and that fits your bye structure.
Trade out your "red dots". This is the week to try and get more warm bodies into your team and if you can trade out the rookies or other players that aren't guaranteed to get a game over the coming four weeks they are the next ones to target to move on.
Do any obvious upgrades. Now remember, whoever you are trading will miss a week due to the byes, but if you are able to improve your side and also your bye structure at the same time then this is the time to do it. Remember we get three trades a week for the next four rounds so that is plenty of trades you can make so if you are still looking questionable for round 15 you do have time to make adjustments between now and then but you need to remain focussed on the goal and not just trade randomly. Make sure you have a plan.
Side swap premiums. This is your last resort for trading during the byes. If you are unable to / don't need to do any of the above things then you can side swap your premiums. This week we know that we will still have a bye from them at some stage but if it makes your team better (i.e. you trade out someone that has a few injury issues for a healthy guy or you trade out a premium forward to bring in a premium back). This is not for the faint hearted and must be seriously considered. I know it goes against the golden rules of bye trading but if you have absolutely nothing else to do with your team you could do it.  Obviously this is only in AFL Fantasy as there is no way you would be doing this in SuperCoach or Real Dreamteam given the limited number of trades in those games.
In the limited trade formats of the game, don't be afraid to not trade this week. I will be trading but that is only because I have some issues that I need to address. If I didn't need to then I wouldn't have been doing that.  And how many trades do you need to have left when you come out of the byes?  I would like to come out with 7 or 8 but that may be a stretch if I get too many more injuries.
Remember, you don't have to win every round of the byes either, it is highly likely your rank will drop in one or maybe two of the bye weeks, but as long as your rank at the end of the byes is higher than it was when we started you are in front. From week to week there will be other teams that might pass you just due to the composition of their teams, don't panic as you are likely to have already passed them once or will get them in round 15 as you have prepared your team better.
New DPPs
So we got our new batch of DPP's as well this week, for me, not much to write home about. The only one that I have any real interest in is Jack Macrae. None of the others really shouted at me that they were someone I needed to get in now that they have a new status. There will be a lot of them that may be of use to draft players, particularly in deeper leagues as it will provide a few more options, but other than that I don't think they will bother too many people. Macrae however, is one that will be of use if he can keep the CBA's coming after having a couple of weeks where he wasn't in there as much he could be a very handy forward for you. With an average of 100 in his last 6 and a BE of just 79 in AFL Fantasy, then he could be a very handy pickup.
New Draftees
With the Mid Season draft last night we saw a handy crop of 13 players selected. While we don't expect miracles from these guys there are usually a few that will be able to get a few games and hopefully provide us with a downgrade target with a heartbeat! Who they will be still remains a mystery but the clubs have usually picked them for a need that they have right now based on injury or what they think they are lacking that these guys can offer.
Things to Remember
Players on byes are not locked out until the beginning of the last game of the round.
Players on the bench don't count in your best 18 unless they are emergencies that are used due to a non playing player on field.
Don't blow up your team just to get 18 on field. If something goes wrong, remember it is just one week, don't destroy your team to get one player in.
This is a tough part of the year but it can also be the one that you make the most progress up the rankings in so take advantage of that and try and make a push to get to the top. Plan your weeks out in advance so that you have an idea of who you want to get in after their bye but still be flexible enough to react to situations that come up, and they will come up!  Have a great weekend of footy and catch you all next week.